Diamond Select: Marvel Gallery Comic Iron Man Statue
Iron Man's classic 1990s armor makes its triumphant return in this Marvel Gallery Comic Iron Man Statue by Diamond Select.
Undoubtedly, one of the most famous superheroes in the Marvel universe is Iron Man (Robert Downey Jr.), Tony Stark, besides being a genius, billionaire, playboy, and philanthropist, is also the mind behind his armor.
Thanks to his ambition and intelligence, Stark created several armors that allowed him to fight bad guys and terrorists, and even gods. After breaking free from the image of a selfish businessman, Stark became a role model for new generations of superheroes, and his armor became a symbol of heroism.
The Encephalo-Remote armor, classified as Model XV, stands amid the wreckage of an Ultron lab, firing a repulsor blast. Measuring approximately 9-inches tall, it is made of high-quality plastic and comes packaged in a full-color window box.
Marvel Gallery Iron Man Model XV Figure Diorama by Diamond Select is now available for purchase at the links below. This figure is priced at $44.99, and it's expected to be released in October 2021.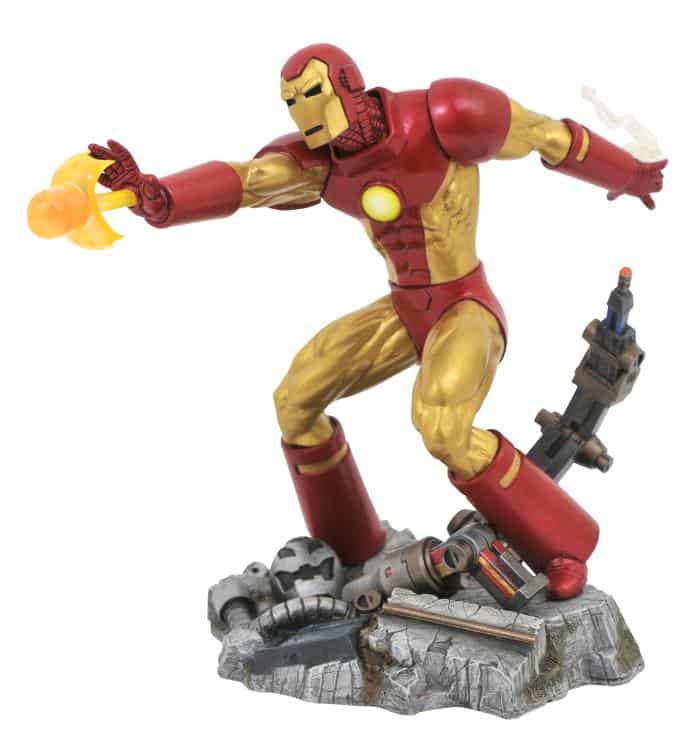 The Armor Wars Saga was initially written and published between 1987 and 1988, between issues 225 and 232 of Iron Man magazine.
The saga revolves around one central fact: the theft, by Spymaster, of secret technology from Stark Companies. At the behest of Justin Hammer (Stark's business rival), Spymaster gets the technology that allows the creation of several other suits, which are then passed on to various techno-villains (Beetle, Stilt-Man, Controller, etc.).
Tony Stark then realizes how his technology has brought pain and tragedy to many people at the hands of the above villains. This leads him on a relentless crusade to get back the armors that possibly use his technology.
Along the way, Iron Man descends into a darker journey in which he becomes an outcast from justice, as he begins to attack even government agents that (perhaps use his technology), even getting involved in international incidents.
In the aftermath of the last issue's explosive events, Tony Stark lies broken and bruised. The superior armor of Firepower has destroyed his red and silver Centurion Armor.
Now, defeated, Tony enters his lab and does the only thing he can…he creates a new and even more powerful Iron Man armor. Introducing the new Iron Man: The Oversize Red and Gold Armor, Model XIV, Mark I (sometimes called the Bulky Red and Gold or the Coffee Can Armor).
The Encephalo-Remote Armor, a.k.a. Self-Motivating Armor, Model XV, Mark I started life as nothing more than a modified version of the Model XIV Armor—an empty suit run by remote control. In the long run, what began as an experiment, would one day save Tony's life.
Model XV, Mark II, was absolutely thrashed by the Masters of Silence in issue #281.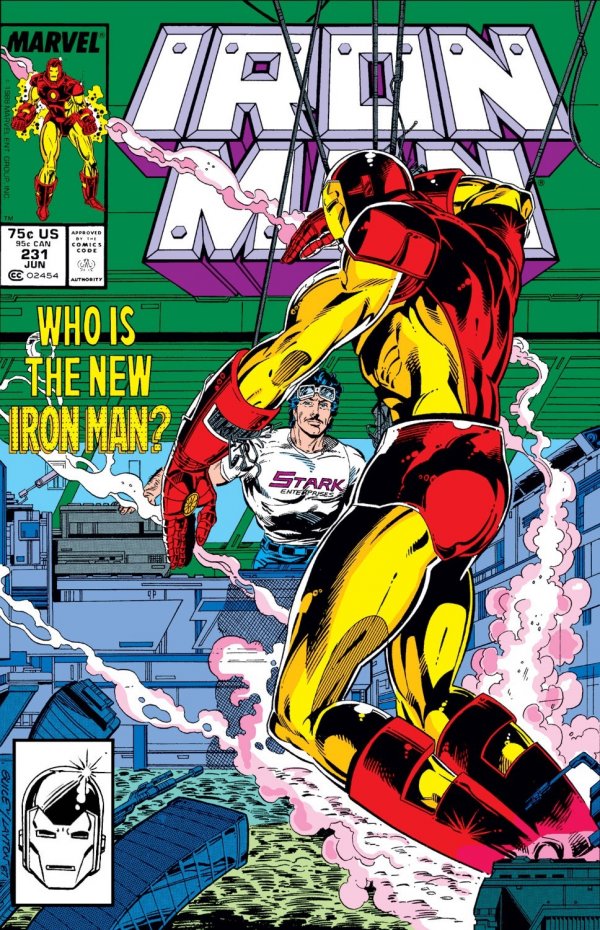 Diamond Select: Marvel Gallery Comic Model XV Iron Man Statue
Available at: