Diamond Select: Marvel Gallery Spider-Man PS5 Miles Morales Statue
Swinging out of his hit Marvel's Spider-Man: Miles Morales video game, Miles Morales prepares to hurl a Venom Blast at his opponent in this Miles Morales Gallery statue by Diamond Select.
In Spider-Man: Miles Morales, the new adventure really begins when Peter Parker has to leave New York, goes on vacation with Mary Jane, and leaves Miles Morales with the difficult task of protecting the city.
Miles Morales suddenly has a massive responsibility on his hands because the giant Roxxon corporation and a criminal group called the "Underground" start fighting all over the city, and Spider-Man has his hands full.
The game gives the boy from Harlem a series of incredible costumes to fight crime as he swings through New York City. From the classic costume to the winter uniform, the new Spider-Man is full of options.
Although Miles Morales has the powers of the original Spider-Man, he is now able to generate bioelectricity. Namely, a devastating electric blast and a spectacular leap in the air before hitting the ground with a punch, causing an electric shockwave.
This Marvel Gallery Spider-Man PS5 Miles Morales Statue is based on the game's costume design. Miles leaps over one blast as he charges up another in this sculpture made of high-grade PVC and featuring translucent materials that catch the light.
With detailed sculpting and paint applications, it comes packaged in a full-color window box. It's designed by Caesar and sculpted by Gentle Giant Studios.
Marvel Gamerverse Gallery Spider-Man Miles Morales PVC Diorama by Diamond Select is now available for purchase at the links below. This figure is priced at $44.99, and it's expected to be released in October 2021.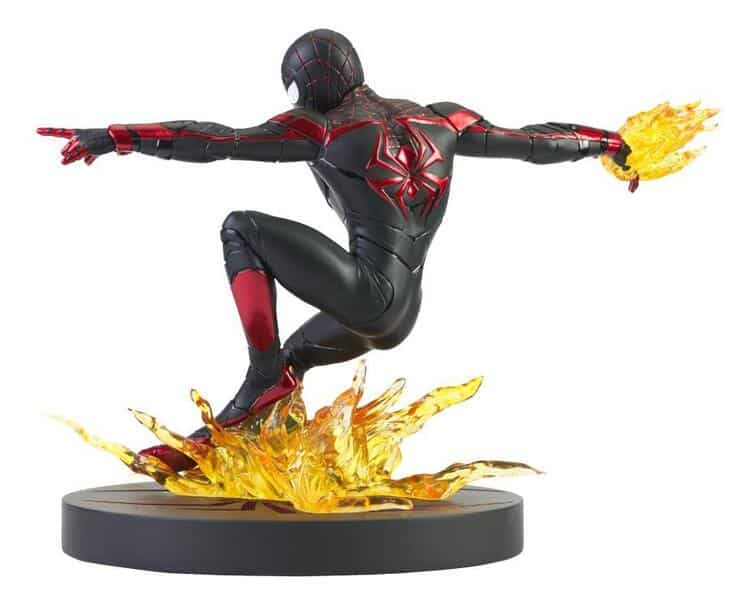 Marvel's Spider-Man: Miles Morales is without a doubt one of my favorite games of the PlayStation 4 era and one of the best representations of what it is to be a superhero in video games.
Insomniac Games has managed to create an open world in a New York City full of detail and personality, with all the content that characterizes this type of game, combined with a narrative worthy of comic books and a few surprises in between, both for fans and newcomers.
We take on the role of Miles, a character created and introduced to the gaming world in Marvel's Spider-Man in 2011.
Miles does not yet have an official suit and is still very green, but his potential is clear. His training abruptly ends when Peter announces that he is traveling to Europe and that he will entrust Miles with the responsibility of protecting New York.
Well, so much for the training wheels, and Miles is thrown to the wolves, having to adapt quickly to his new reality and what it all entails, with growing pains (and ass-kicking) mixed in.
And just like the game starring Peter Parker, players will have the opportunity to find and earn different outfits for Miles, which bring a different style to the hero and feature special abilities.
Diamond Select: Marvel's Spider-Man: Miles Morales Gallery Spider-Man Figure Diorama
Available at: