Diamond Select Toys: X-Men Wolverine 6-Inch Unmasked Bust
A new Marvel Animated Bust is up for pre-order from Diamond Select Toys. The X-Man Wolverine Unmasked Bust is a 1/6 scale bust inspired by the 1990's X-Men cartoon series and is exclusively available at Walmart.
Some characters are born for glory. Only sometimes glory doesn't come soon enough, but when it does… it's a blast. Such is the case with Wolverine, the most popular of Marvel Comics' mutant heroes and the X-Men's best-known member.
A character so popular that, individually, he comes close to rivaling Spider-Man, another of the most famous creations of the House of Ideas. And a success that has also been in theaters since 20th Century Fox started the X-Men franchise in 2000 with X-Men – The Movie, in which Logan, the lone Canadian, is played by Australian Hugh Jackman.
This exclusive unmasked bust of Wolverine shows us what the "Ol' Canucklehead" looks like under his mask and features fully extended claws, a pedestal base, and authentic sideburn action. Measuring approximately 6 inches tall, it features detailed paint applications that mimic the art style of the classic cartoon.
The Marvel Animated X-Men Wolverine – Diamond Select 6" Resin Bust is priced at $59.88. Pre-orders are already live and can be found at the links below. Its release is scheduled for November 28, 2021.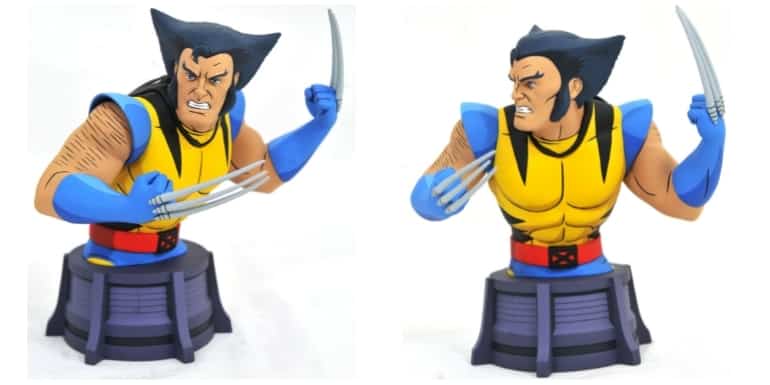 Wolverine's first appearance – very modest, by the way – was in 1974 in a Hulk story. It was the result of a request from Marvel director Roy Thomas, who wanted to include a Canadian character with an animalistic temper in the books. His irreverent tirades and anti-hero manner quickly won over readers, to the point of making him one of the most beloved figures in the Marvel Universe in the 1980s.
Wolverine's story has been refined ever since, and a consensus about his origins was not reached until the early 21st century. It is now known that he was born James Howlett and spent his childhood on a plantation in Canada. It was there that his mutant powers first manifested themselves with dark consequences.
The regenerative ability he possesses blocked the darkest memories from his mind, but he was still forced to flee. The years that followed brought many surprises: he worked in a Yukon mine, lived like an animal in the forest, was exhibited in a circus, fought in the great world wars, and spent several years in Japan. All this before he became a "victim" of the Weapon X program, a government experiment in which he was implanted with false memories and a skeleton coated with adamantium, a virtually indestructible metal.
His fate eventually intersected with that of the team of mutants known as the X-Men, one of several supergroups of which he was a part. But Wolverine never stopped being individualistic. This is also why we love this anti-hero so much who calls himself the best in the world at what he does – just before warning that what he does is not very nice.
Diamond Select Toys: X-Men Wolverine 6-Inch Unmasked Marvel Animated Bust– Walmart Exclusive
Available at: