Disney Treasures from The Vault: Goofy Plush
Relive the magic of Disney with the new Disney Treasures from The Vault: Goofy Plush – Amazon Exclusive.
It was May 2, 1932, when the animated short film Mickey's Revue debuted in movie theaters in the United States, featuring a clumsy, awkward supporting character with a different, funny laugh that immediately delighted the audience. His name was Dippy Dawg, and he was predestined to become one of Walt Disney's most amusing creations.
Today, 89 years after that remarkable debut, the anthropomorphized dog named Goofy has appeared in almost 100 cartoons and has become an easy figure to find in Disney comics produced in several countries.
The story of Goofy is a legendary Hollywood success story, and he's the Sixth commemorative plush in the 2021 Treasures From the Vault Plush collection.
It includes a Certificate of Authenticity and comes in a window box featuring exclusive Disney Vault packaging with gold foil detailing. Ideal for collectors. Donald Plush from Disney Treasures, exclusive to Amazon, is now available for purchase at the links below.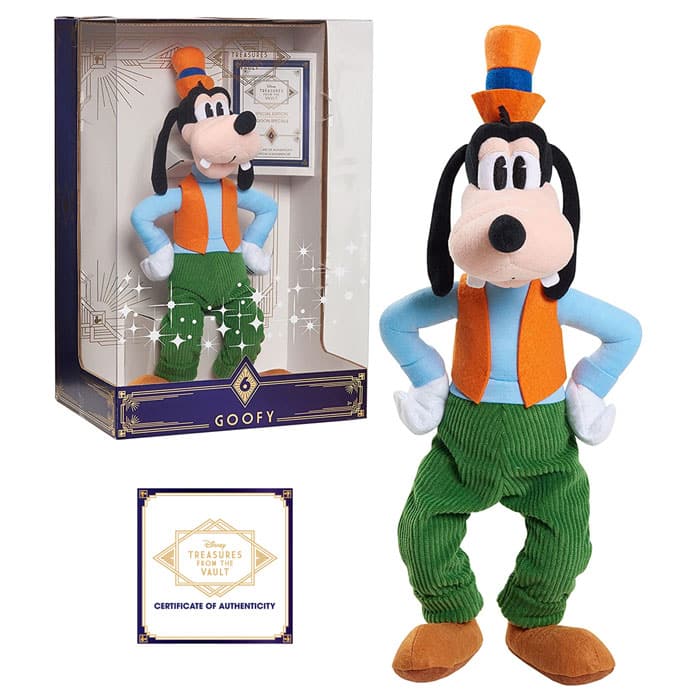 Often cited as having been written by Walt Disney (1901 – 1966) himself, like so many other related characters, Goofy was a collective creation. Chiefly credited is Art Babbitt (1907 – 1992), one of the studio's great animators, with passages in such works as 'Snow White and the Seven Dwarfs,' 'Pinocchio' and 'Fantasia.'
While Babbitt was responsible for the original design, the design came from another in-house artist, Frank Webb. No less important was the dubbing work of Pinto Colvig (1892-1967), who gave Goofy his trademark laugh.
And if we talk about Goofy's beginnings, it is worth noting that in his first appearance, in the animated short 'Mickey's Revue,' released on May 25, 1932, the character was not exactly as we know him today.
A quirky character in animation, this proto-Goofy is a spectator who laughingly accompanies a concert conducted by Mickey. Nevertheless, it's all there: the voice we know, the fuzzy shape, and a look very close to the one we have today, but a bit more aged.
This ancestral Goofy didn't even have that name: he was called Dippy Dawg. After some changes in the design, the character was baptized Goofy in 1939. This year is also the first solo appearance in a short film, in the animation 'Goofy and Wilbur'.