2023 NEW Disney Villains: Cruella de Vil w/ Phone Funko Pop!
Funko Pop! Disney Villains: Cruella de Vil Holding Phone Funko Pop! Vinyl Figure – Funko Shop Exclusive
Available at:
Ready to add a touch of haute couture villainy to your Funko Pop collection? Meet the new Funko Pop! Disney Villains: Cruella de Vil Holding Phone Funko Pop! Vinyl Figure – Funko Shop Exclusive. This isn't just a Pop. It's a bold statement piece – Cruella herself would approve!
UPDATE: Cruella de Vil drops today at 9:30 AM PST! To get your hands on this Pop Vinyl Figure at its release, be sure to check out the links I've provided below – click to jump or scroll to continue reading!
Unleashing Fashion and Folly: The Cruella de Vil Holding Phone Funko Pop! Exclusive
There's something delightfully wicked about this figure.
The way it captures Cruella's larger-than-life personality, her fashion-forward sensibilities, and that infamous cackling phone call—it's a snapshot of our favorite fur-obsessed fashionista in her element.
It's a collectible that tells a story, taking you right back to those cartoon capers with a vivid splash of nostalgia.
You can almost hear Cruella's raspy voice on the phone, scheming and plotting the next oversized fur coat.
The meticulous attention to detail, from her extravagant fur coat to her blood-red gloves, brings Cruella's character to life in miniature form.
This Funko Pop figure is more than a collectible; it's a celebration of Cruella's fierce, defiant, and captivating spirit. Finally, an iconic villain immortalized in vinyl—a must-have for any Disney enthusiast!
The Funko Shop Exclusive Cruella de Vil Holding Phone Funko Pop! can be found at the links below (click to jump!)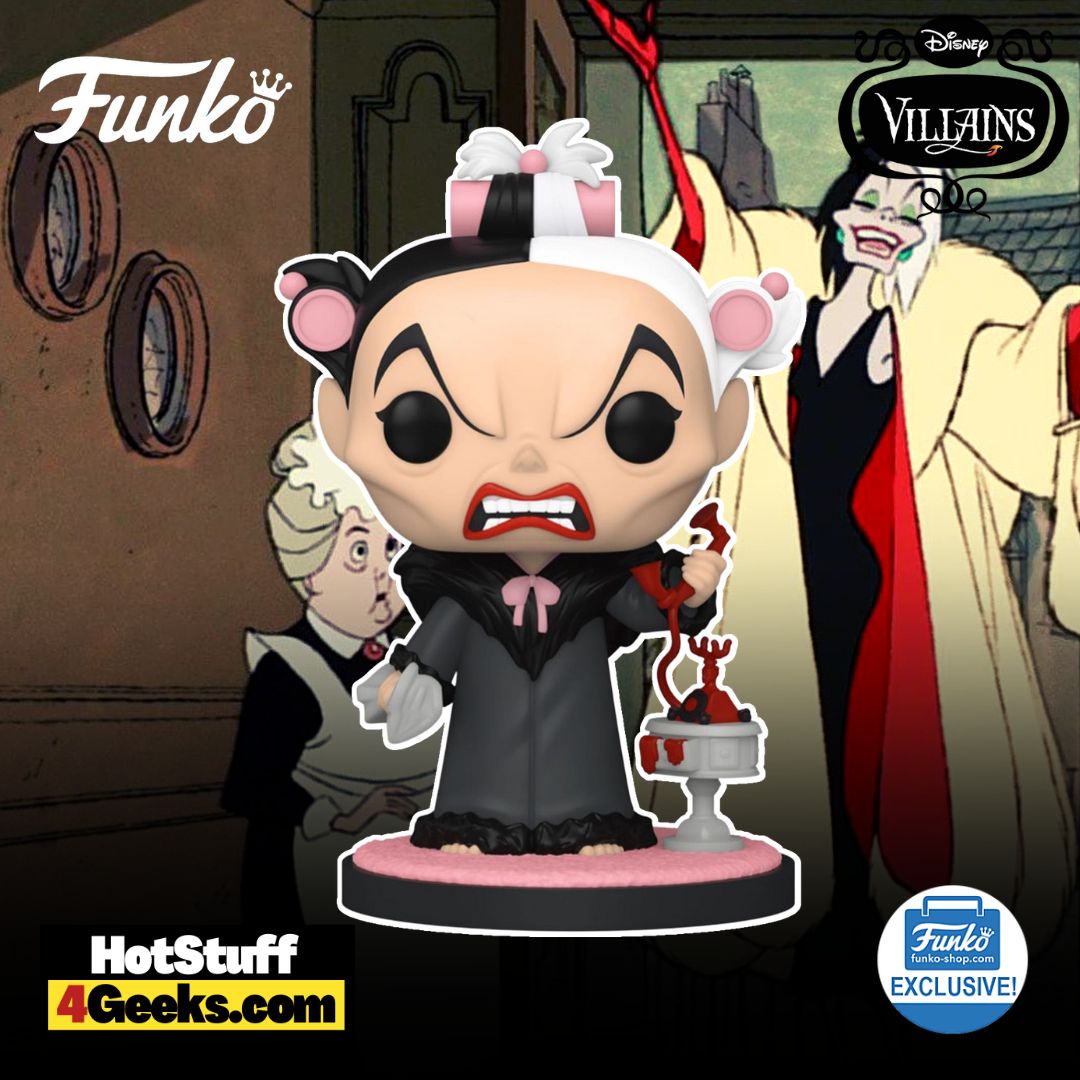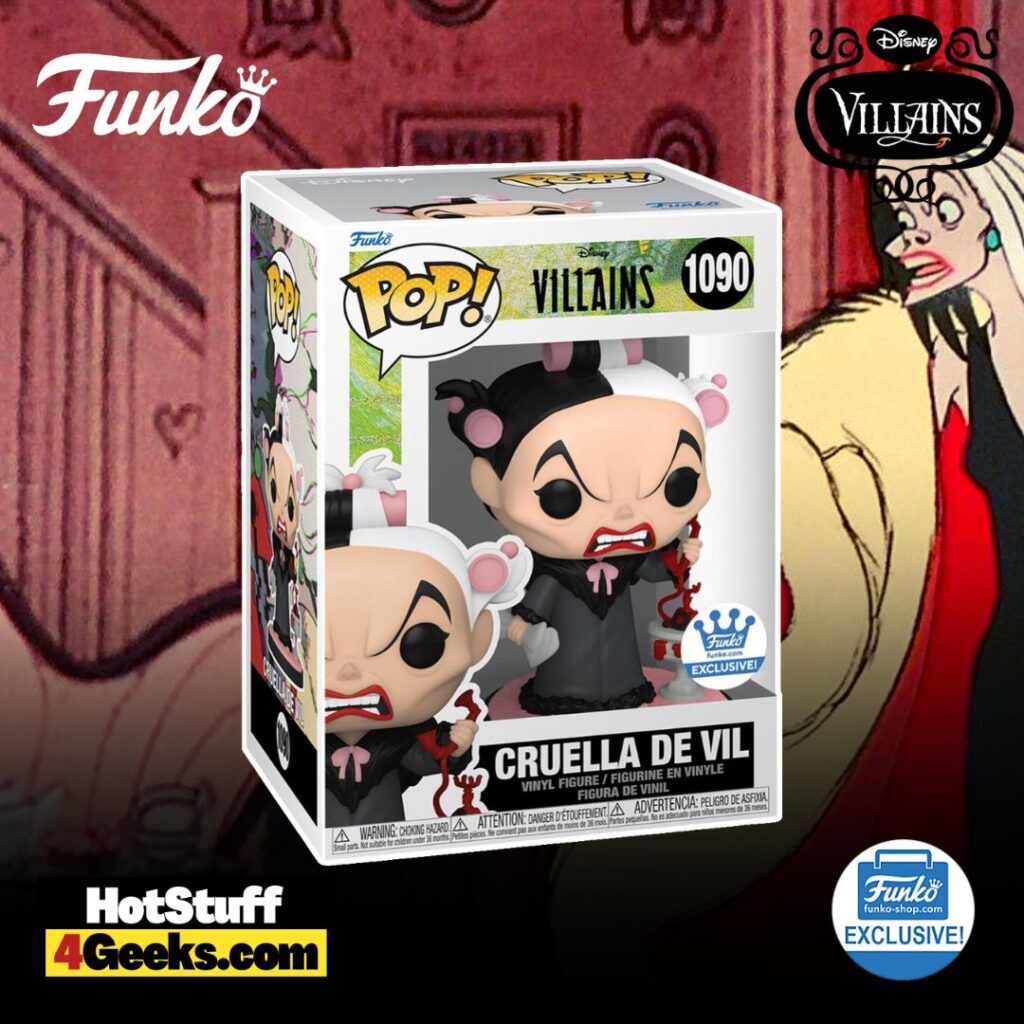 From Fashion Icon to Sympathetic Villain: The Enduring Allure of Cruella de Vil in Cinematic History
When one thinks of iconic villains in cinematic history, a confident fashion-forward, puppy-obsessed diva undoubtedly springs to mind – Cruella de Vil.
The stylish antagonist of "One Hundred and One Dalmatians" is quite the character, leaving an indelible mark on audiences since her debut in the 1961 Disney animated film.
What sets Cruella apart from your run-of-the-mill villains? Perhaps it's her audacious flair for fashion, always outfitted in eye-catching ensembles, that would make even the most dedicated fashionista turn green with envy.
Or maybe it's her larger-than-life personality, a delightful blend of sass, wicked wit, and a dash of madness.
Yet, despite her villainous tendencies, Cruella has a certain 'je ne sais quoi' that makes her impossible to outrightly despise.
In recent years, Cruella's character has evolved substantially, transforming from the high-strung heiress of the original novel into a more sympathetic figure.
Audiences now see her as a woman of grit and determination, one who built her fashion empire from scratch with hard work and ingenuity.
Sure, her tactics are a bit unorthodox (dognapping, anyone?), but there's a certain charm to her audacity and relentless pursuit of her dreams.
One key aspect that heightens Cruella's appeal is her humorous side.
It's tough not to chuckle at her outrageous antics and sharp-tongued retorts.
Coupled with her relentless determination, Cruella offers a unique blend of traits that make her a villain you can't help but root for.
Cruella de Vil, with all her captivating complexity, is a testament to the power of character development in storytelling.
She's not just a villain; she's a character who's intriguing, stylish, and remarkably human in her ambitions.
So, here's to Cruella – a villain we love to hate and yet, somehow, can't help but admire.
As an Amazon Associate I earn from qualifying purchases
Funko Pop! Disney Villains: Cruella de Vil Holding Phone Funko Pop! Vinyl Figure – Funko Shop Exclusive
Available at:
Want more stuff like this?
Get the best viral stories straight into your inbox!
Don't worry, we don't spam