2023 NEW Dolly Parton (1977 Tour) Diamond Funko Pop! Excl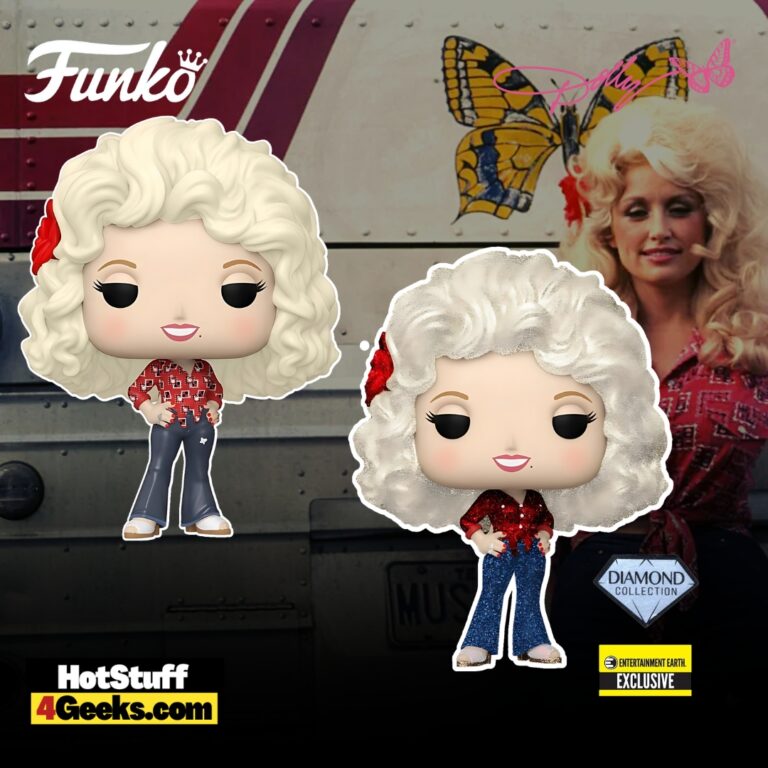 Dive into the illustrious world of Funko Pop! as they once again pay homage to the legends of music history. Introducing the radiant tribute to the Queen of Country herself, Dolly Parton. Relive the magic of her unforgettable 1977 tour with the new Funko Pop! Rocks: Dolly Parton (1977 Tour) Diamond Glitter Funko Pop! Vinyl Figure – Entertainment Earth Exclusive! (2023 release) And for those who prefer a more subtle touch, there's also a non-glitter variant available.
To get your hands on this Pop Vinyl Figure at its release, be sure to check out the links I've provided below – click to jump or scroll to continue reading!
A Nostalgic Trip with Dolly: The 1977 Tour Diamond Funko Pop!
Step back in time with this Dolly 1977 Tour Diamond Funko Pop! and experience nostalgia like never before!
Say hello to the latest gem in the Funko Pop! Rocks line: the Dolly Parton (1977 Tour) vinyl figure.
It's like a tiny time capsule, transporting you right back to the era of Dolly's high-energy performances and iconic style.
The intricate details, from her tour ensemble to her signature hairstyle, will flutter any fan's heart.
Trust me. It's not every day you come across a vinyl figure that captures the essence of an era and a music legend with such flair.
You might say, "It's just a figure," but let's correct that notion. It's a time capsule.
To gaze upon it is to be transported to concerts past, where Dolly's voice graced thousands.
So, for those eager to have a piece of musical legacy in tangible form, the Funko Pop! Rocks: Dolly Parton (1977 Tour) awaits.
Whether you're looking for the sparkle of the diamond glitter or the classic non-glitter version, the Funko Pop! Rocks: Dolly Parton (1977 Tour) is ready to serenade your collection.
The Entertainment Earth Exclusive Dolly Parton (1977 Tour) Diamond Glitter Funko Pop! can be found for purchase at the links below (click to jump!)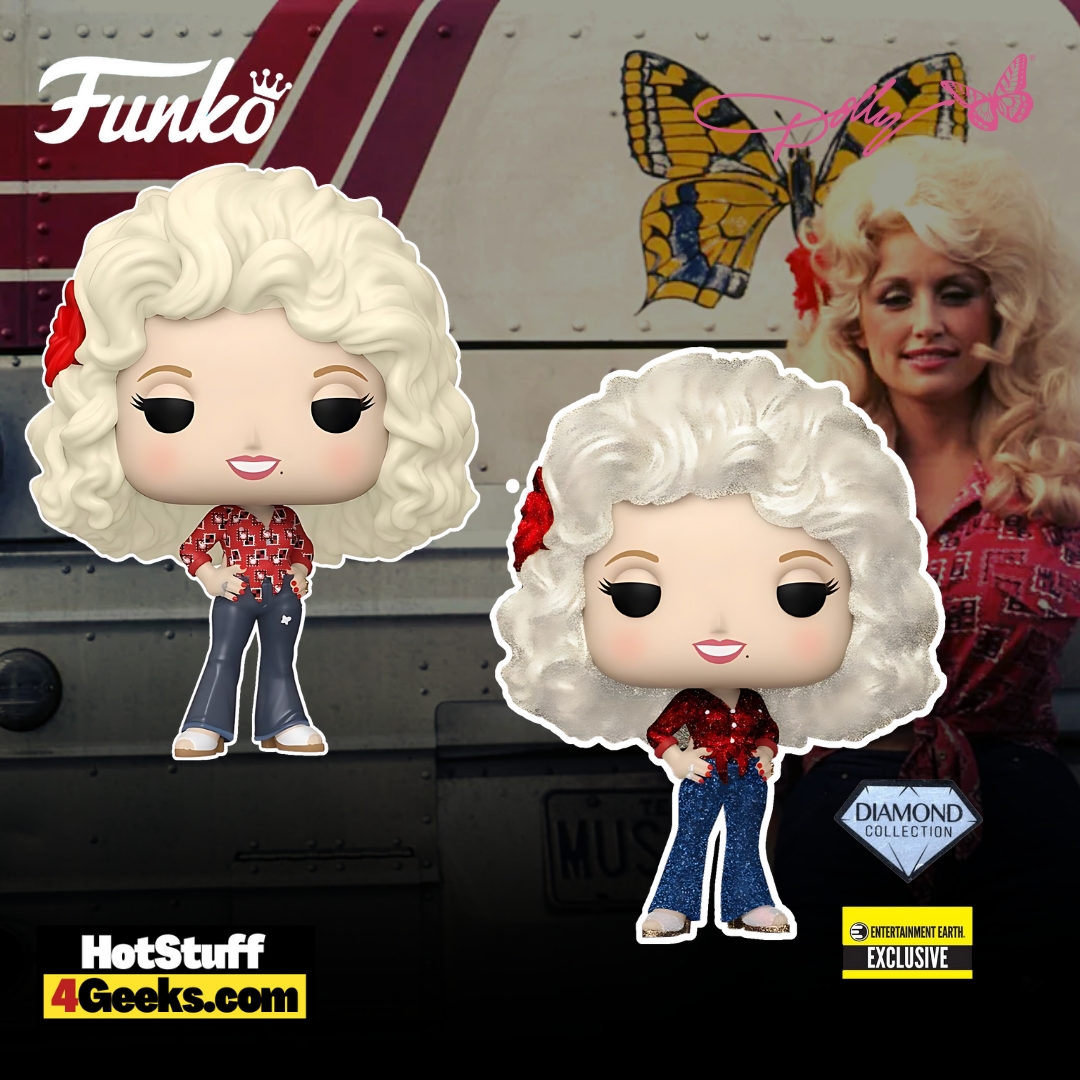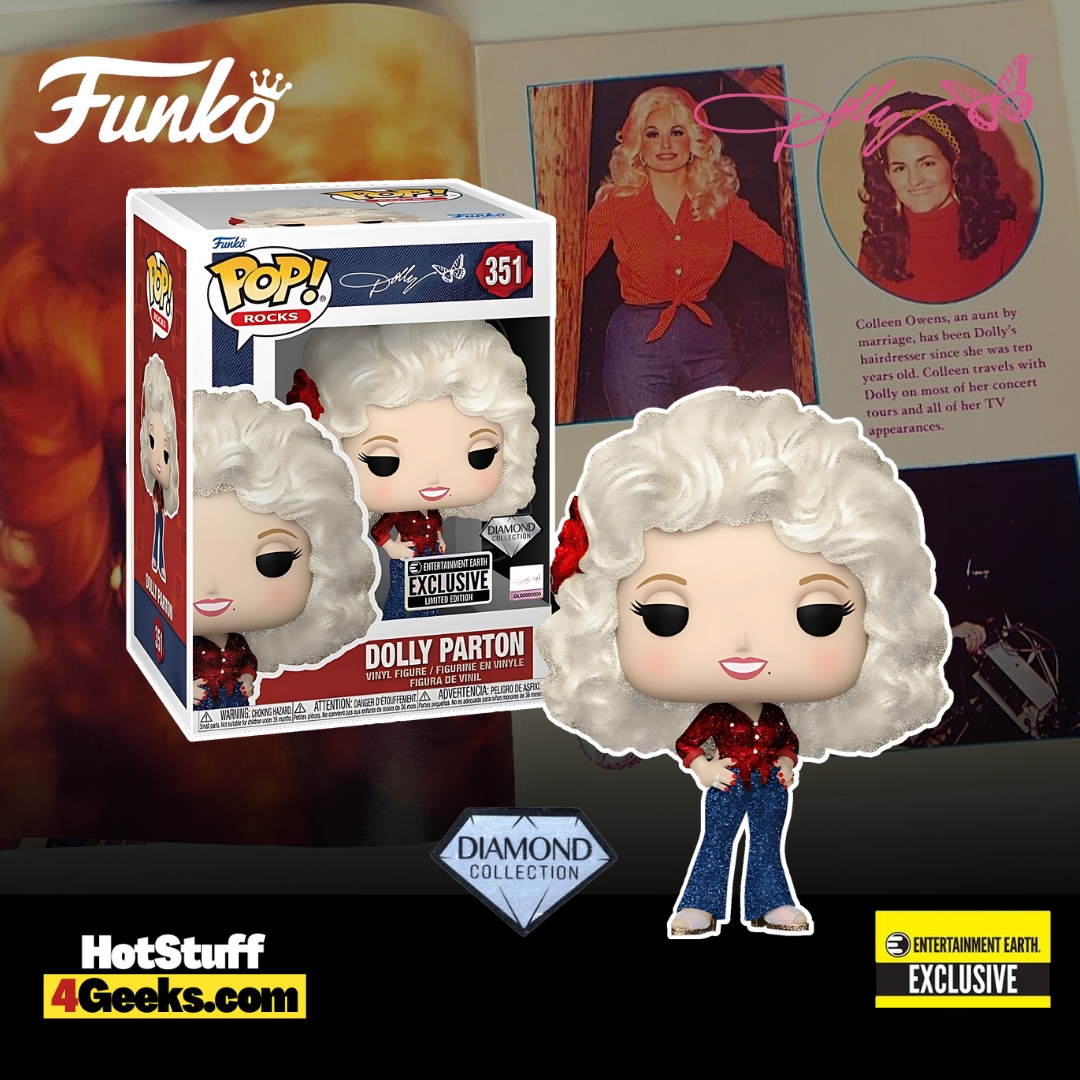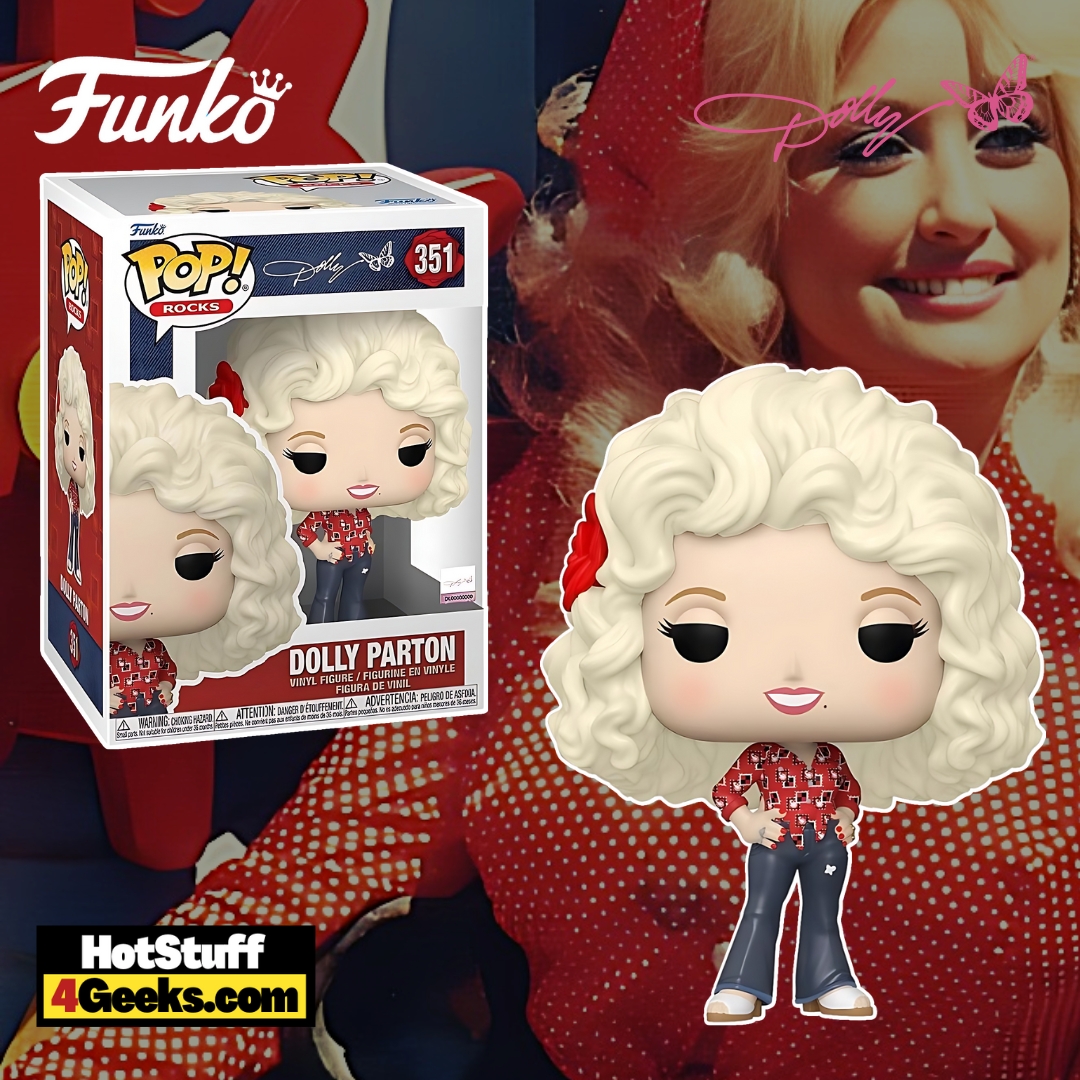 Dolly Parton: A Melody in Rhinestones
Have you ever caught yourself humming a country tune while walking down the grocery aisle?
Chances are, it's a Dolly Parton number.
Bursting forth from the Appalachians, Dolly dazzled our world with her twang and glitter and her golden heart.
Dolly's rise to stardom is a testament to the raw, undying spirit of a girl from a tiny cabin in Tennessee. Born into poverty as one of 12 siblings, this pint-sized dynamo learned early on that life's hardships required resilience.
With a guitar she received as a gift and a voice as bright as the morning sun, she crafted stories that resonated with souls across the world.
Ever heard of "Jolene" or "I Will Always Love You"?
These aren't just songs; they're epic tales full of yearning, love, and a touch of heartbreak.
Dolly's music often surges with emotional tidal waves, crashing against the shores of our hearts, then receding with the gentle tug of her lyrical genius.
Yet, while her music and her films (remember '9 to 5'?) have made her a household name, Dolly's off-screen endeavors paint an even richer portrait of the woman.
She's not just a country music queen but a veritable patron saint of literacy.
Yes, you read that right.
Her Imagination Library initiative has gifted millions of books to kids, fostering a love for reading in countless young hearts.
And it doesn't end there. Our rhinestone-clad heroine stands as a beacon of generosity.
When wildfires scorched her home state, she sprang into action, helping families rebuild their lives.
Dolly effortlessly bridges gaps in a world often divided by ideologies with her universal message of love and kindness.
Fashion? She's got that locked down too! While some might gaze upon her style and see nothing but flashy colors and bling, those in the know recognize her outfits as armor.
Each sequin and feather is a testament to her journey, a narrative of a girl who decided to shine, no matter the shadows that loomed.
So, the next time you find yourself drifting into the soulful realm of country music, remember the legend that is Dolly Parton.
More than just an artist, she's an institution, a shimmering star who continues to inspire, teach, and spread joy in her uniquely dazzling way.
Here's to Dolly, a melody in rhinestones that will never fade.
Funko Pop! Rocks: Dolly Parton (1977 Tour) Diamond Glitter Funko Pop! Vinyl Figure – Entertainment Earth Exclusive! (2023 release)
Available at:
Starting now, you can receive 10% off in-stock items with my special link at Entertainment Earth!
 Enjoy!
As an Amazon Associate I earn from qualifying purchases
Want more stuff like this?
Get the best viral stories straight into your inbox!
Don't worry, we don't spam