ECCC 2021: DC Heroes: Punchline Funko Pop! Exclusive
The Funko Pop! DC Heroes: Batman – Punchline Funko Pop! Vinyl Figure is an ECCC 2021 X Festival of Fun 2021 X Hot Topic Exclusive and will be available to everyone starting December 3, 2021, at 6 am PT.
Batman has a substantial rogues gallery in pop culture, so when there's a new high-profile addition, it's a big deal. And fans get suitably excited for the arrival of Punchline, the Joker's new ally in the mayhem.
Punchline has become one of DC Comics' most prominent characters since she was introduced as Joker's new girlfriend after his breakup with Harley Quinn.
Punchline has a mix of Goth and Cyberpunk styles, which she accompanies with a pair of ice picks that she uses to stab her opponents.
The Joker's new sidekick has only recently made her comic book debut. However, she has already managed to get into a lot of trouble, proved to be just as wicked as the Clown of Crime, and even got her own comic book.
The ECCC 2021 X Festival of Fun 2021: Punchline Funko Pop! – Hot Topic Exclusive is available starting December 3th at the links below (click to jump!) Also, don't forget to check more images of this cool pop right down.
Punchline was created by James Tynion IV and Jorge Jimenez and first appeared in issue #89 of the current Batman solo comic, published in February 2020.
According to Tynion, the idea to create Punchline came after he noticed that the Joker hadn't had a sidekick since the New 52 relaunch, as Arlequina grew tired of him and decided to go her own way.
Unlike her predecessor, Punchline has brunette hair. However, she has also adopted a clown look to act alongside the villain. And just like the suit worn by the Clown of Crime, her dress is predominantly purple.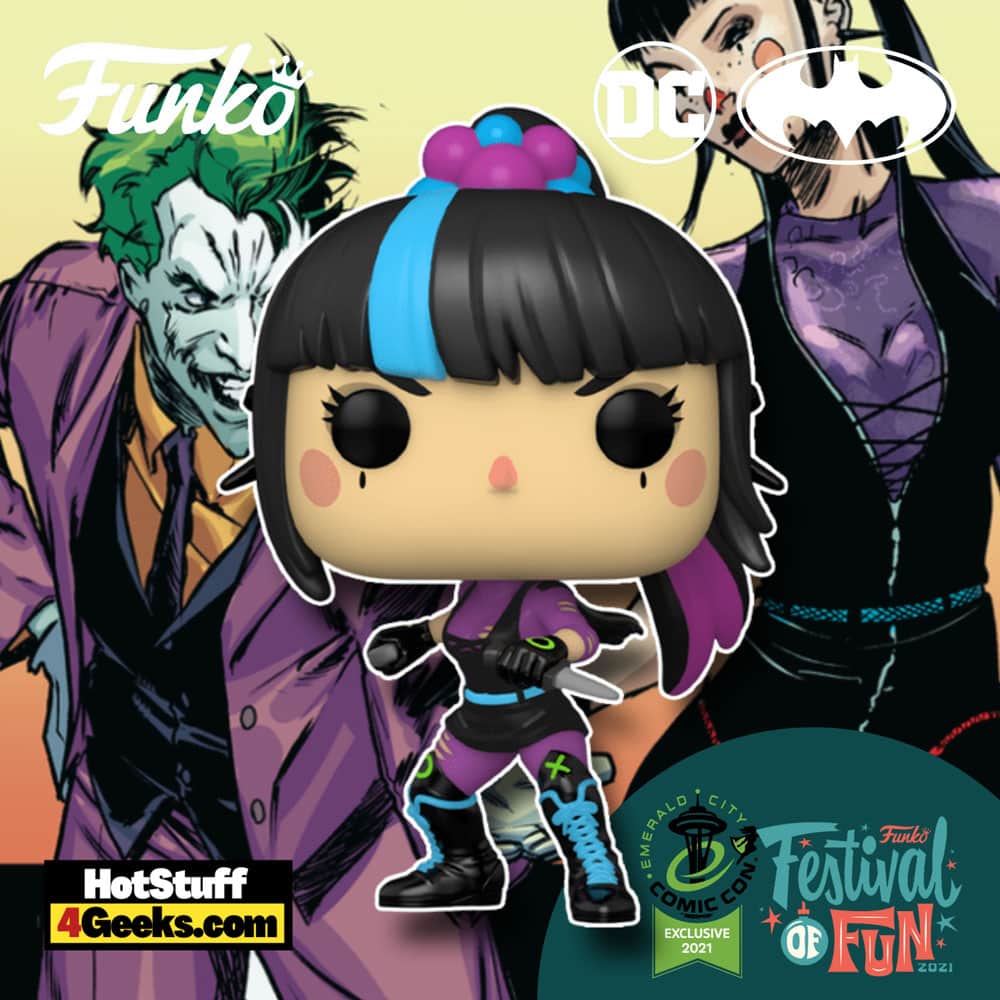 The Punchline ECCC 2021 X Festival of Fun 2021 X Hot Topic Exclusive Funko Pop! is available starting December 3th at the links below (click to jump!)
Punchline's real name is Alexis Kaye, a college student who had her first contact with the Joker during a visit to a TV studio.
The Clown of Crime broke into the studio, killed one of Alexis' professors (in a scene similar to the one in Joaquin Phoenix's movie), and even forced her to give a message to the residents of Gotham. However, the action was soon interrupted by Batman.
Despite being saved by the hero, Alexis soon developed an obsession with the Joker (the same happened with Harley) and began to believe that the villain's crimes had a great purpose.
The student then created a podcast dedicated to the Joker and began to study all the significant crimes he committed in the past. Alexis's obsession became so great that she made a costume and poisoned people to attract Joker's attention.
The initiative worked. After noticing her potential, the Joker met with Alexis and even taught her how to produce his famous toxin that makes people laugh uncontrollably.
Alexis committed her first crime by killing a dean of her college with the substance after becoming concerned about her behavior.
Subsequently, Alexis adopted the name Punchline for good.
Starting now, you can receive 10% off in-stock items with my special link at Entertainment Earth!
 Enjoy!
As an Amazon Associate I earn from qualifying purchases
Want more stuff like this?
Get the best viral stories straight into your inbox!
Don't worry, we don't spam