2023 Unveiling the NEW Eren & Zeke Jaeger Funko Pop! Moment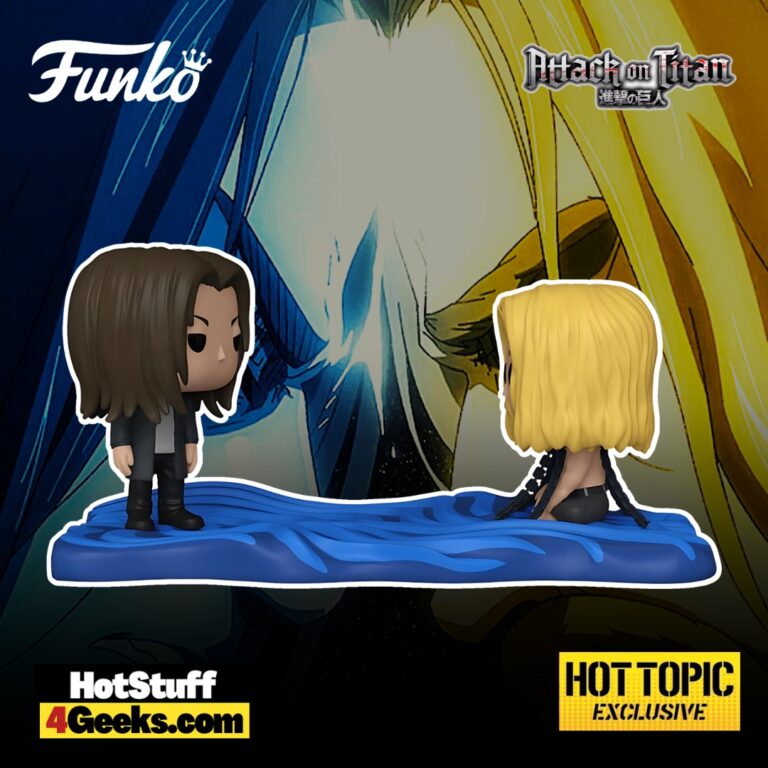 Embark on a tangible journey through the tumultuous world of the Yeager brothers with the Funko Pop! Attack on Titan: Eren & Zeke Jaeger Funko Pop! Moment! Vinyl Figure – Hot Topic Exclusive (2023 release). This splendid piece of collectible artistry not only encapsulates the intense, brotherly battle from the acclaimed anime series but also transports you, with its meticulous detail and vibrant colors, into the heart of their deeply woven and conflicted narratives, frozen in a moment of poignant confrontation.
UPDATE: Now available for pre-order! To get your hands on this Pop Vinyl Figure, be sure to check out the links I've provided below – click to jump or scroll to continue reading!
Exclusive Unveiling: Eren & Zeke Jaeger in New Hot Topic Funko Pop! Moment!
Venturing into the dynamically entangled world of Eren and Zeke Yeager, the newly unveiled Funko Pop! Moment, an exclusive release at Hot Topic, invites fans to ponder deeply embedded narratives in a deceivingly diminutive form.
Crafted meticulously, each vinyl figure captures the physical attributes of the "Attack on Titan" characters and resonates beyond mere aesthetic value.
The sheer complexity of the brothers' relationship, veiled in treachery and fragmented brotherly love, is symbolically encapsulated in this exclusive piece.
The serene yet eerily intense stance of Eren juxtaposed with Zeke's composure mirrors not just an animation scene but an emotional tableau that series enthusiasts have navigated through every episode.
In the dainty, tangible frame of this collectible, there lies a multitude of untold stories, ideological clashes, and a tumultuous sea of familial discord, encapsulating a vibrant universe teetering precariously between obliteration and salvation.
A miniature emblem, indeed, of a multifaceted saga.
The Hot Topic Exclusive Eren & Zeke Jaeger Funko Pop! Moment! can be found for pre-order at the links below (click to jump!) The shipment is scheduled to take place between 27/11/23 and 08/12/23.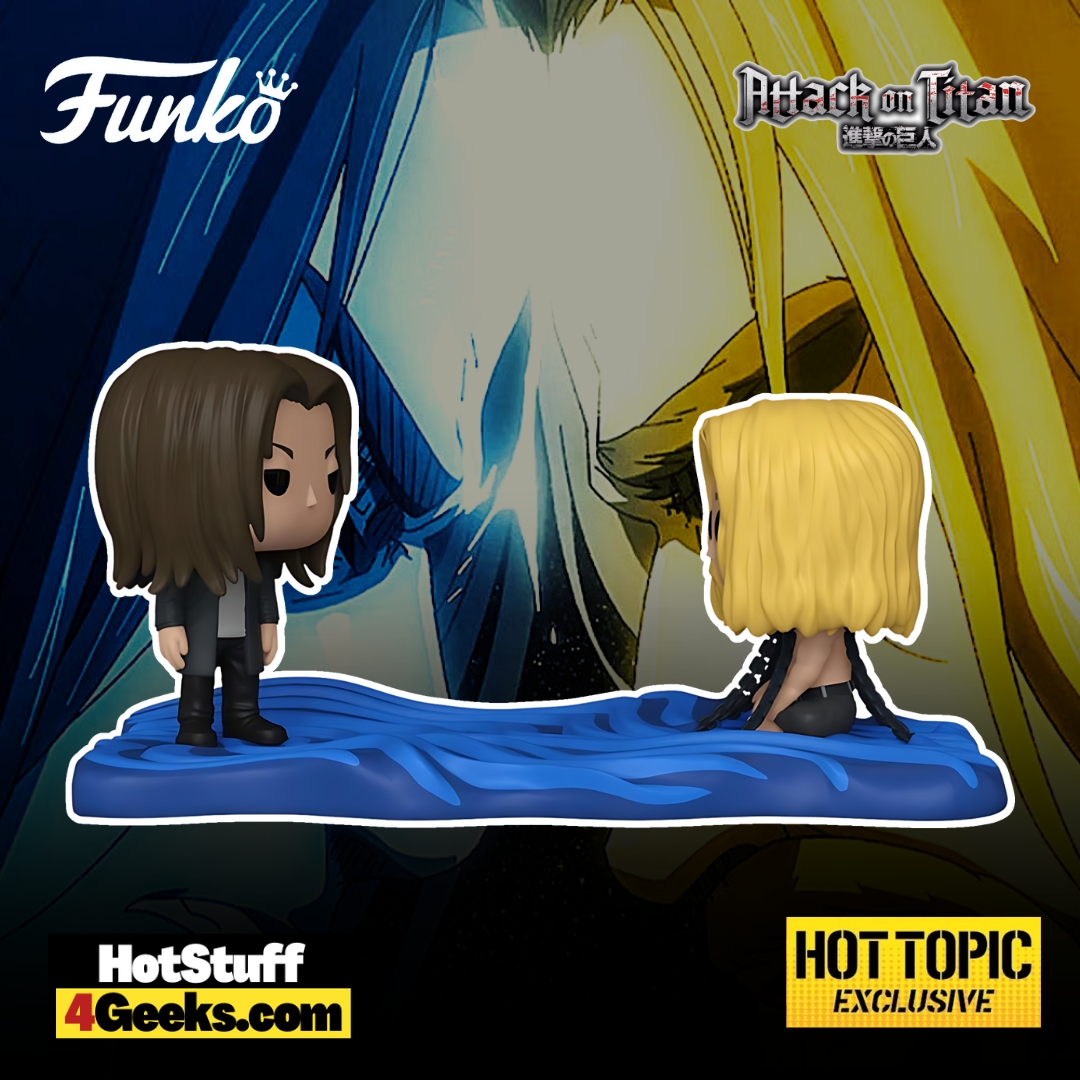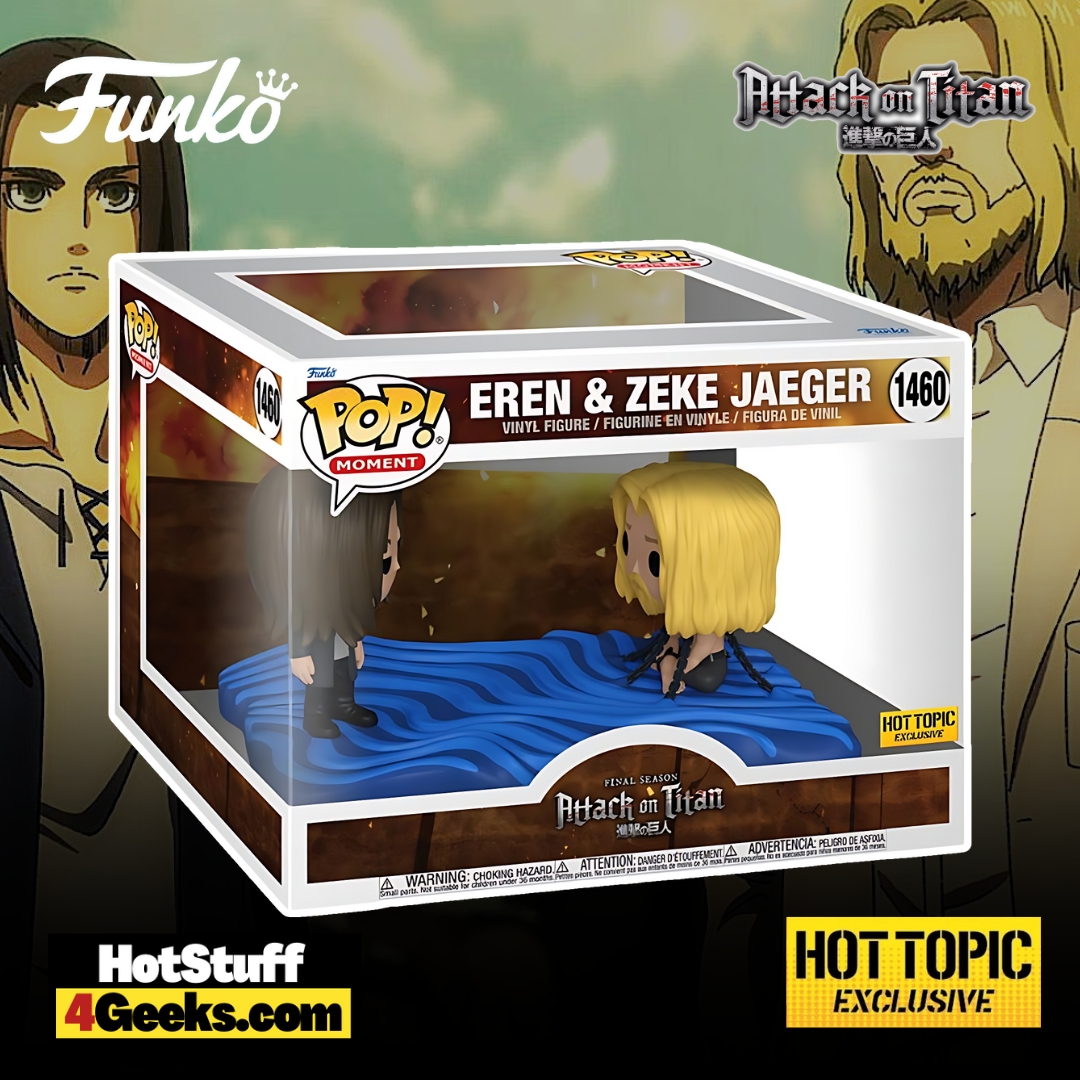 Eren and Zeke Yeager: A Brotherhood Like No Other
In the vast universe of anime, few relationships perplex and enthrall as that of Eren and Zeke Yeager. Their shared bloodline in "Attack on Titan" binds them, yet the intricate tapestry of loyalty, betrayal, and ideology keeps fans guessing at every twist and turn.
Let's delve a bit deeper. Eren, the protagonist of this tale, has had his life irrevocably altered by the actions of his older half-brother, Zeke.
Their father, Grisha Yeager, becomes a tragic figure caught in Zeke's web of intrigues. Zeke's allegiance to Marley and his decision to turn Grisha in to the authorities, sealing his tragic fate, sends ripples of consequence into Eren's life.
But the shocks don't end there. Zeke's orchestrated attack on Paradis Island leaves Eren without his mother, an event that fuels Eren's resolve to eliminate all Titans.
A noble quest, right?
But toss into this cauldron Zeke's vision of ridding the world of Titans by sterilizing all Eldians, and you have an ideological chasm separating the two brothers.
One seeks to harness power for protection, the other to ensure a future without the curse of Titans.
However, it's not all doom and gloom in this sibling saga. Strange as it may sound, the word 'betrayal' when used in context with Zeke doesn't capture the entirety of his feelings.
A perplexing blend of treachery and endearment defines Zeke's interactions with Eren. Terms of affection like "little brother" spill from Zeke's lips even as he enacts plans that endanger Eren's world.
While their moments of shared camaraderie might be rare, they're profoundly impactful, suggesting a deeper bond beneath the surface tensions.
Considering their tumultuous relationship, one can't help but marvel at the profound effect their dynamic has had on the narrative.
The repercussions of their intertwined destinies touch every corner of the "Attack on Titan" world. Take, for instance, beloved characters like Mikasa and Armin.
Their personal narratives and relationships with Eren are influenced by the shadow of Zeke's actions and decisions.
While one can endlessly dissect the nuances of Eren and Zeke's relationship, its true essence lies in its unpredictability.
When you think you've grasped the depth of their bond, a new layer unravels, challenging perceptions and keeping fans eagerly anticipating every new episode.
This isn't just a story of two brothers. It's a testament to family ties' enduring and confounding nature, even in a world besieged by Titans.
As an Amazon Associate I earn from qualifying purchases
Want more stuff like this?
Get the best viral stories straight into your inbox!
Don't worry, we don't spam