Fun on the Run 2023: Garfield (Beach) Funko Soda Exclusive
Lounge into the summer vibes with the coolest cat in town, Garfield, now featured as the new Funko Pop! Soda: Garfield (Beach) Funko Soda Vinyl Figure with Flocked Garfield with Goggles Chase  – Walmart X Fun on the Run Exclusive. Decked out for a day at the beach, our favorite lasagna-loving feline is here to bring a splash of sun-soaked fun to your collection.
This Funko Soda is releasing today at 6.00 AM PT! To get your hands on this Soda, be sure to check out the links I've provided below – click to jump or scroll to continue reading!
Beach Fun with Garfield: A Funko Pop! Soda Exclusive Collectible
Garfield, with a refreshing cold drink in one paw and a beach ball in the other, encapsulates the epitome of relaxation.
He's not just lounging around, though – he's sporting an exclusive design courtesy of a limited edition Walmart X Fun on the Run.
The level of detail on this figure captures Garfield's iconic charm, making it a must-have for dedicated fans.
And if luck is on your side, you might just land the chase variant – a flocked Garfield donning groovy goggles!
This exclusive is as rare as it is delightful, with only 30,000 units circulating worldwide.
So, are you ready to let Garfield bring a touch of beachside fun to your shelf?
The Walmart X Fun on the Run Exclusive Garfield (Beach) with Garfield with Goggles (Flocked) Chase Funko Soda can be found at the links below (click to jump!)
The Unexpected Charm and Quirkiness of Garfield: Unraveling the Mystery of a Lasagna-Loving Cat
Let's take a journey through the delightful world of comic strips and spend a moment appreciating one of its most endearing residents – Garfield, the lasagna-loving, nap-taking, Monday-loathing feline.
His effortless charm has entertained audiences for decades, a testament to creator Jim Davis's unique blend of wit, humor, and relatable everyday scenarios.
However, it hasn't all been smooth sailing. In fact, Garfield's journey has been punctuated by intriguing controversies that have added to its richness.
Case in point: a notable incident from 2010. On a seemingly ordinary Veterans Day, Garfield fans were taken aback by a strip that, due to unfortunate timing, seemed to make a questionable statement about this solemn day.
The strip featured a spider predicting its fame post-mortem, leading to a fictitious "National Stupid Day" being celebrated in its honor by fellow arachnids.
The unintentional overlap with Veterans Day led to an uproar, prompting Davis to issue a public apology.
This serves as a lesson on how a seemingly benign and well-meaning comic can stumble into controversy purely through a case of bad timing.
Our beloved orange tabby is not the only subject of fascination in the world of Garfield. Enter Nermal, the world's cutest – and most aggravating – kitten.
This adorable troublemaker has stirred up an interesting debate among fans, sparking questions about the character's gender identity.
Subtle hints, like luscious eyelashes and a feminine voice in the animated adaptation, have led some to question if Nermal is female.
Yet, despite these speculations, Jim Davis has laid the debate to rest by confirming that Nermal is, in fact, a boy.
It's fascinating to see how such nuances can lead to debates, adding another layer to the Garfield narrative.
Therein lies the beauty of Garfield – a comic strip that's simultaneously simple and complex, surface-level and profound.
It presents a curious cat's life but isn't afraid to tackle social issues, gender debates or to apologize for unintentional blunders.
Its charm doesn't lie solely in the humor but also in the genuine, human-like qualities it brings to its characters and narratives.
Garfield is more than a cat comic; it reflects the quirkiness, complexities, and debates that permeate our daily lives.
The lasagna-loving feline is a lovable, relatable figure who navigates a world as complex and nuanced as ours, making our own world a bit more entertaining.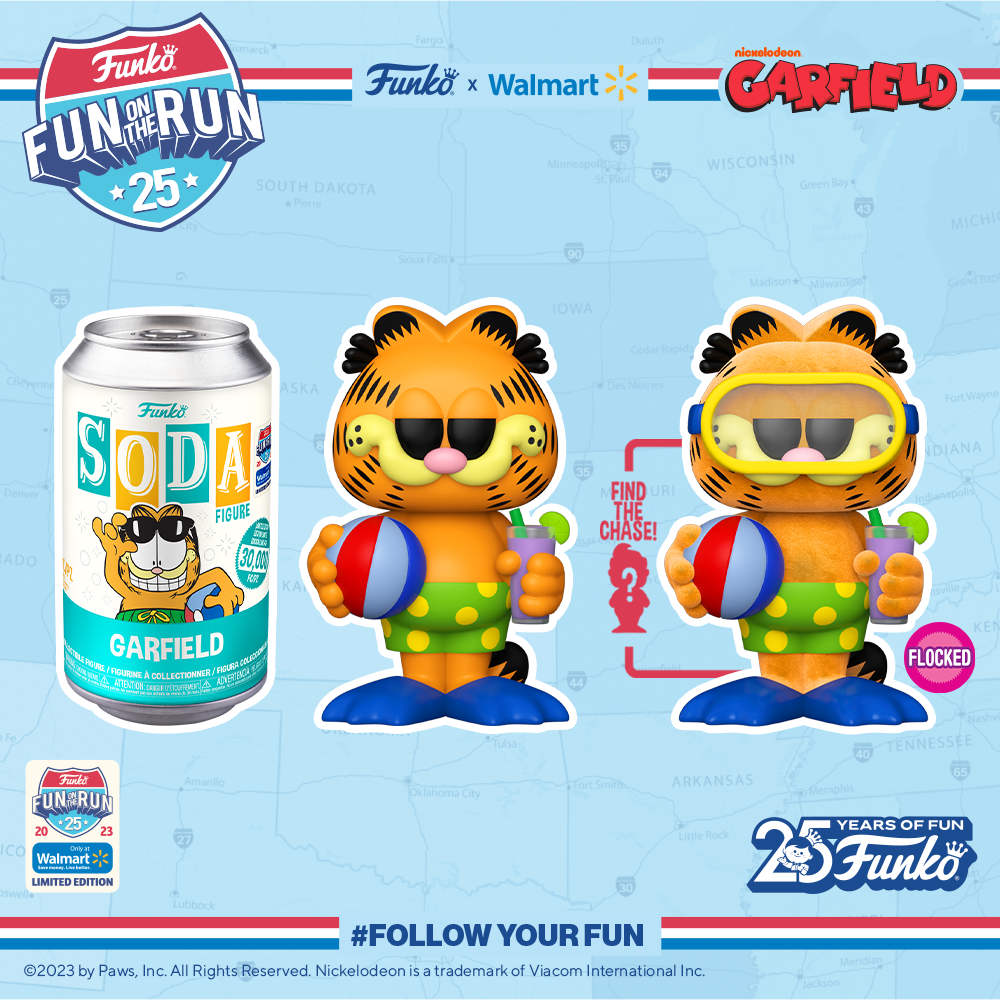 Funko Pop! Soda: Garfield (Beach) Funko Soda Vinyl Figure with Flocked Garfield with Goggles Chase  – Walmart X Fun on the Run Exclusive
Available at:
Starting now, you can receive 10% off in-stock items with my special link at Entertainment Earth!
 Enjoy!
As an Amazon Associate I earn from qualifying purchases
Want more stuff like this?
Get the best viral stories straight into your inbox!
Don't worry, we don't spam