Funko NYCC 2022: John Stewart Funko SODA w/ Glow CHASE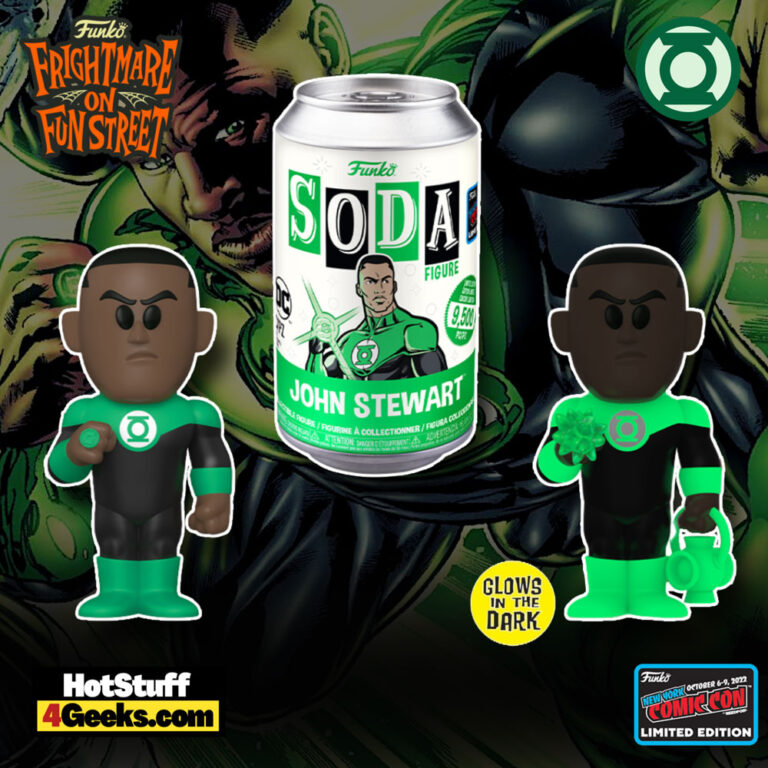 The new Funko SODA: DC Green Lantern – John Stewart Funko SODA Vinyl Figure with Glow-In-The-Dark CHASE – NYCC 2022 and GameStop Exclusive will be available online starting 6 AM PT on Friday, October 7th at the links below (click to jump!)
John Stewart, The third human to ever wield a Green Lantern ring, is one of the bravest and most relentless heroes in the DC Universe.
When he first joined the Green Lantern Corps, John was a hotheaded novice, but he quickly rose to become one of the Corps' most respected members.
Thanks to his unyielding courage and unwavering loyalty, John has saved countless worlds from destruction and inspired other heroes to reach their full potential.
The New York Comic-Con 2022 exclusive John Stewart Funko SODA Vinyl Figure can be found at the links below as soon as the online sale begins (click to jump!)
The Green Lantern character has several versions in the comics, such as Hal Jordan, John Stewart, Guy Gardner, and Kyle Rayder, among others.
One of the classic names and most beloved by fans is John Stewart. In addition to being a strong name in the comics, John marked a new generation by being part of the Justice League and Justice League Without Limits cartoons in the early 2000s.
The Green Lantern Corps has always been composed of the best of the best in terms of galactic heroes. Only those with willpower strong enough to face adversity could be considered for its membership.
While some have experience, like Hal Jordan. Others have creativity, like Kyle Rayner. But none have been as impactful or revolutionary as John Stewart.
In fact, since he began saving lives as a Green Lantern, Stewart has consistently proven that he has always been the best Lantern of them all.
The character's origin story is also interesting. At first, John Stewart was chosen as a "backup Green Lantern" who took over the mantle when something happened to Hal Jordan.
However, as time went on, Stewart developed a personality of his own and became just as important as Hal.
Because he has good military training, John Stewart often takes a leadership position among his colleagues.
Funko SODA: DC Green Lantern – John Stewart Funko SODA Vinyl Figure with Glow-In-The-Dark CHASE – NYCC 2022 and GameStop Exclusive
Available at:
Starting now, you can receive 10% off in-stock items with my special link at Entertainment Earth!
 Enjoy!
As an Amazon Associate I earn from qualifying purchases
Want more stuff like this?
Get the best viral stories straight into your inbox!
Don't worry, we don't spam