2022 NEW Batman Arkham Night: Azrael Batman Funko Pop!
The new Funko Pop! DC Heroes: Batman: Arkham Knight: Azrael Batman Funko Pop! Vinyl Figure – Walgreens Exclusive has arrived depicting one of Batman's most infamous successors.
The Pop figure is available below (click to jump!)
Azrael is a character who was very recurrent in Batman stories in the 1990s and who also acts as a vigilante in Gotham. He was created by Dennis O'Neil and Joe Quesada and first appeared in Batman: Sword of Azrael #1 in 1992.
Coming from a group of assassins created by the Order of St. Dumas to fulfill God's will, his nickname is an homage to the Islamic angel of death of the same name. In Batman Arkham Knight, he assumes the Batman mantle.
It is worth noting that Azrael in Batman Arkham Knight is not Jean-Paul Valley from the Knightfall arc but Michael Lane.
Azrael Batman Funko Pop! is now available for order at the links below (click to jump!)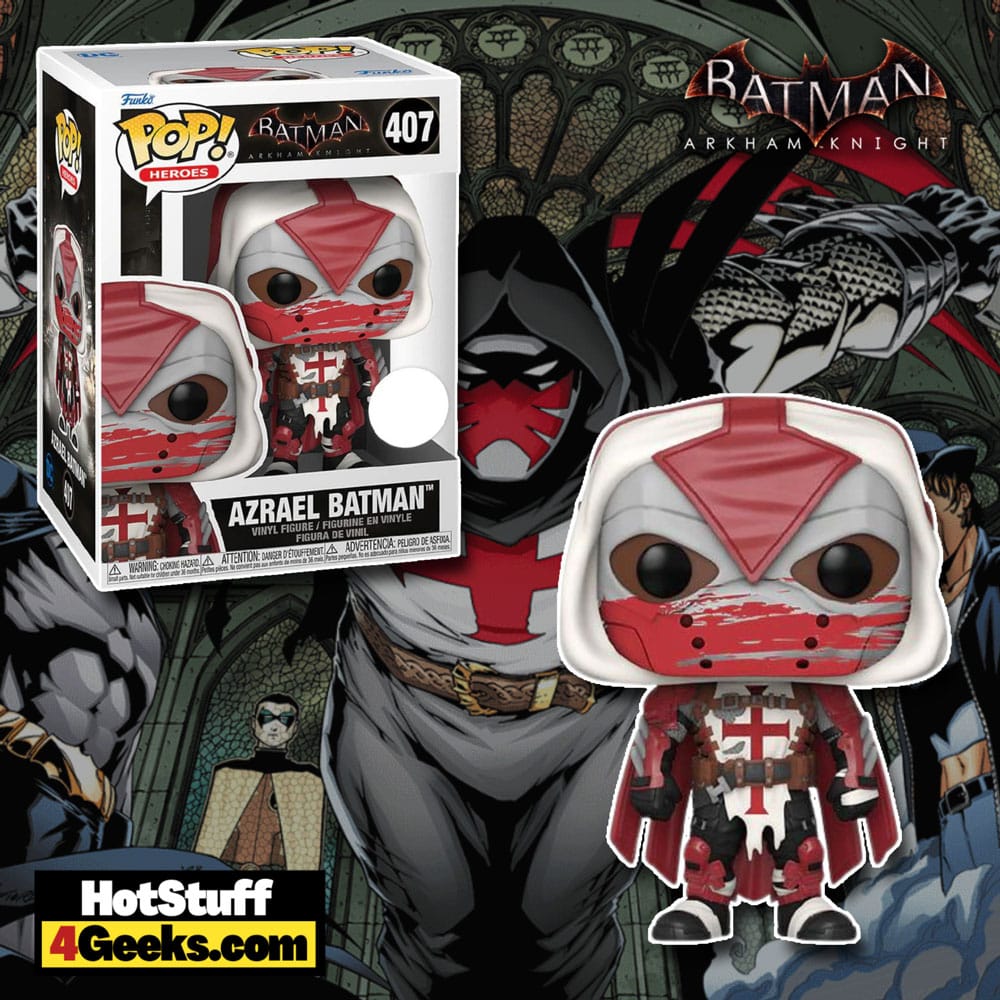 There are three versions of this complex character. Sometimes it is hard to understand whether Azrael is a villain, hero, or anti-hero. You decide!
1. Jean Paul-Valley Version
Jean Paul-Valley was a test-tube baby who had his genetic structure altered by scientists. They used animal DNA to give him superhuman abilities. One night, his father (who was also Azrael) comes crawling into his apartment after a fight with LeHah.
Before he dies, his father leaves money for Jean-Paul to go to Switzerland to receive training from the Order of St. Dumas… or at least that's what Jean-Paul understood. However, it is later discovered that his father was trying to get Valley to escape the influence of the Order.
Jean-Paul donned the Azrael uniform when he met Bruce Wayne and Alfred, who were in Switzerland investigating Bruce's father's murder. Later, Azrael rejects the Order's violent methods and joins the Bat Family in Gotham.
Bruce begins to train Azrael as his replacement. But to everyone's surprise, he ends up wearing the Batman suit sooner than expected, after Bane breaks Bruce's spine.
Azrael created a more technologically advanced Batman uniform that ends up being quite effective in crime-fighting in Gotham. But because of his nature and violent methods, Bruce was forced back into action, disapproving of Jean Paul's conduct as Batman.
Ashamed, Valley reverts to his identity as Azrael, vowing to redeem himself in Batman's eyes.
2. Abraham Arlington Version
After spending much time training in Europe with the Order of St. Dumas, he was sent to Gotham to defend the Order as Azrael. However, after six weeks of wearing the Suit of Sorrows (a cloak that gave super strength and super speed and had once belonged to Ra's Al Ghul), Abraham went insane and was later replaced by Michael Lane.
3. Michael Lane Version
Michael Lane was a former military man who decided to join the Gotham Police after a stint in Iraq. He joined a special program led by Dr. Hurt to prepare someone if something happened to Batman (a sort of replacement).
But things don't go well for Michael: his only three-year-old son is run over and dies; a year later, his wife commits suicide; and six months later, Michael's only living relatives (two cousins) are murdered by a Satanic cult.
After all these tragedies and Dr. Hurt's experiences, Michael is seriously disturbed and recruited by the Order of St. Dumas as the new Azrael.
On his first mission as Azrael, he defeats Tahlia Al Ghul and the rest of the League of Assassins. Tahlia wanted to steal the Suit of Sorrows from Azrael to give as a gift to her son Damian (who is also Bruce Wayne's son and would later become Robin).
Starting now, you can receive 10% off in-stock items with my special link at Entertainment Earth!
 Enjoy!
As an Amazon Associate I earn from qualifying purchases
Want more stuff like this?
Get the best viral stories straight into your inbox!
Don't worry, we don't spam