Funko Pop! Disney: Alice in Wonderland - Alice Curtsying Black Light
Funko Pop! Disney: Alice in Wonderland – Alice Curtsying Black Light Funko Pop! Vinyl Figure – Funko Shop Exclusive dropped today at Funko Shop. It's now available at the links below (click to jump!)
Lewis Carroll's "Alice in Wonderland" has thousands of fans worldwide. The work was published in 1865 and adapted for cinema several times for its eccentricity and mysteries.
You'd better keep your eyes on this POP Alice Figure. She tends to wander off to drink strange potions. She does enjoy having tea time, though, so if you want to have a tea party at your cubicle, she's always game for it.
Let your Funko POP! be a reminder that adventure awaits on every ordinary day. This Alice Curtsying Black Light Funko Pop! Vinyl Figure is ready to find some excitement with you. Just like the real Alice, she'll be a faithful companion on all your escapades – and sturdy enough that you won't have to worry if the Red Queen commands, "Off with her head!"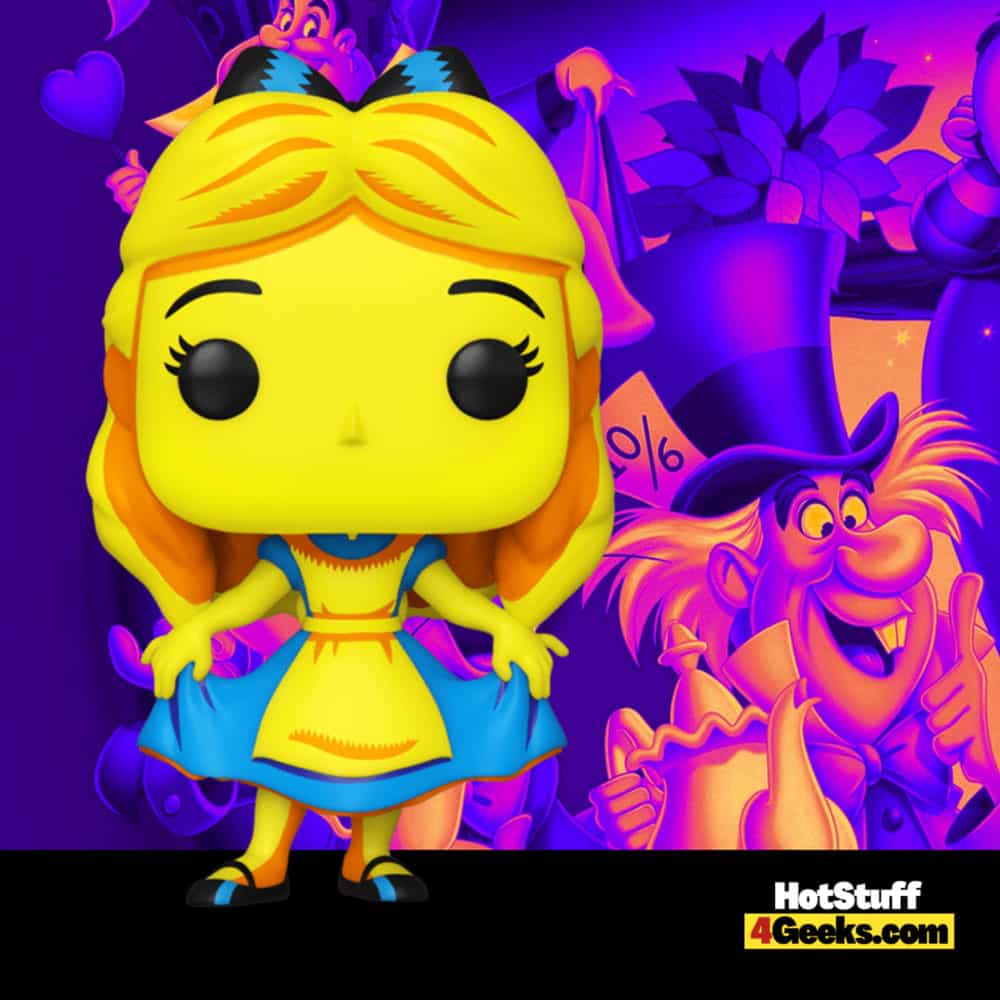 The animated movie"Alice in Wonderland" is a Disney classic that has enchanted generations for 70 years. The film, released in 1951, was based on Lewis Carroll's novel "Alice in Wonderland," published in 1865.
The project was shelved during World War II, and only later did Walt Disney have the resources to produce it. Upon its release, the film did not attract the expected audience, supported by the press that criticized the liberties taken with the original work.
The film's creators, including Walt Disney, felt that the film did not meet their expectations. However, despite its problems, "Alice in Wonderland" gained "classic" status over time. In 2010, an adaptation that mixed actors with animation, the so-called live-action, was also released by Disney and was directed by Tim Burton.
Alice is a curious little girl who follows a White Rabbit, mindlessly diving into his burrow. The protagonist is projected into a new world, full of animals and anthropomorphic objects, which speak and behave like human beings.
In Wonderland, she finds a magical world full of adventures and unusual characters, such as the Mad Hatter, the Queen of Hearts, and a mysterious cat.
Alice is transformed, experiences adventures, and is confronted with the absurd, the impossible, questioning everything she has learned so far.
The girl ends up taking part in a senseless trial and is sentenced to death by the Queen of Hearts, a tyrant who orders the cutting off of the heads of all those who bother her. When she is attacked by the Queen's soldiers, Alice wakes up, discovering that the whole journey was a dream.
Funko Pop! Disney: Alice in Wonderland – Alice Curtsying Black Light Funko Pop! Vinyl Figure – Funko Shop Exclusive
Available at:
Want more stuff like this?
Get the best viral stories straight into your inbox!
Don't worry, we don't spam