Funko Pop! Disney: Alice in Wonderland - Mad Hatter Black Light
Funko Pop! Disney: Alice in Wonderland – Mad Hatter Black Light Funko Pop! Vinyl Figure – Funko Shop Exclusive dropped today at Funko Shop. It's now available at the links below (click to jump!)
Crazy is anyone who knows the story of Alice in Wonderland and isn't enchanted by the Hatter! Published in July 1865 by Lewis Carroll, the work was initially called Alice's Adventures in Wonderland, and its sequel was titled Alice Through the Looking Glass.
Present in both books, the Mad Hatter is one of the most beloved characters of all time in all generations who have followed Alice, from books to games and film adaptations.
Well, have you figured it out yet? Why is a raven like a writing desk? It's a curious question, to say the least, but we think the riddle will be easier to solve as long as this Mad Hatter vinyl figure is helping you out.
Keep this Mad Hatter Black Light Funko POP! vinyl figure on your desk, and he'll gladly sweep you away to whimsy Wonderland whenever you need a break from all your life's problems!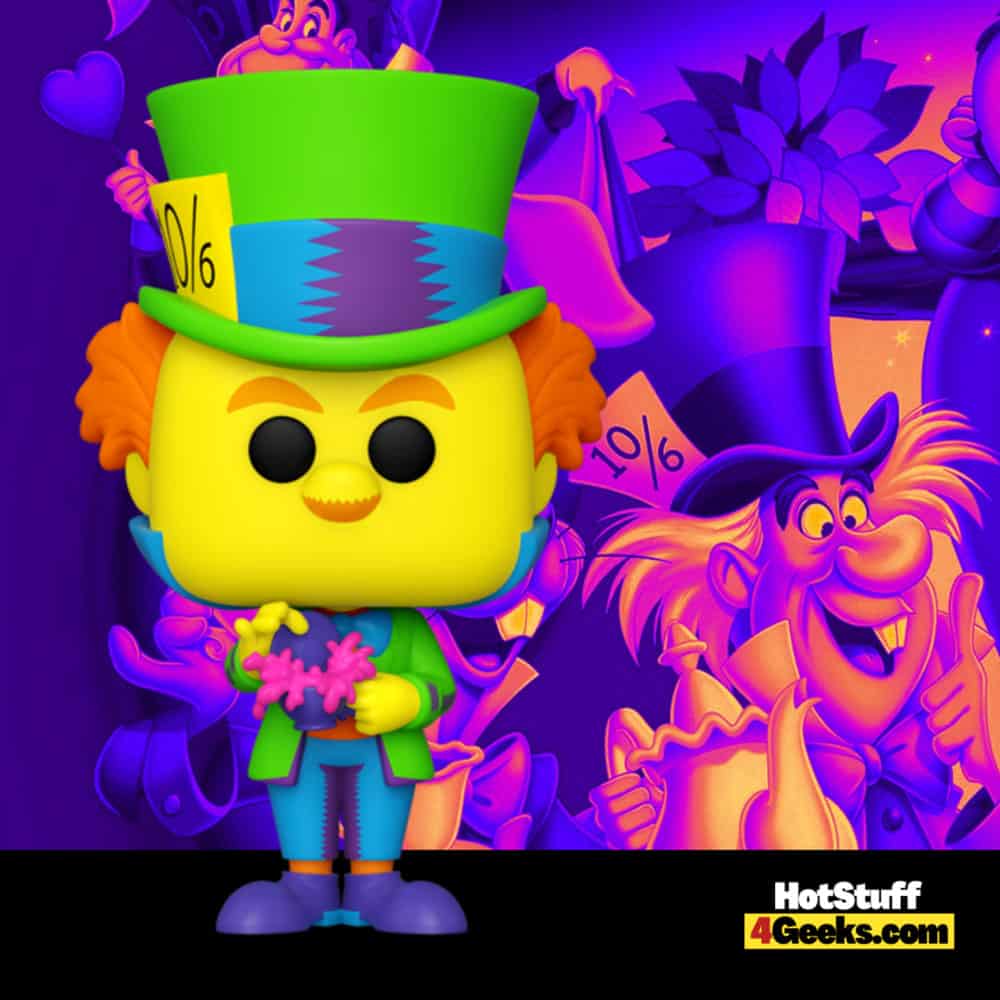 If you have read Lewis Carroll's "Alice in Wonderland" or seen any of its film adaptations, surely the character of the Mad Hatter must have left a good impression. He is humorous, crazy, eccentric, to say the least.
The Mad Hatter is one of the most memorable characters of many people's childhood. But do you think that the "crazy" characteristics are just to make the Hatter fun and funny? Not at all. The Mad Hatter already existed. In fact, there were many in the 17th century.
The idea of creating a Mad Hatter did not come exclusively from Carroll's imagination. That is, there is a historical context behind the construction of the character.
The story goes like this: in the old days, the men who made hats and accessories,  considered a symbol of status and power, used a lot of mercury in the felting process.
As the hat makers used to work in places with little ventilation, they inhaled the highly toxic mercury solution, which caused many of them to develop neurological problems such as tremors, loss of coordination, speech disorder, irritability, distorted vision, and anxiety.
The name Mad Hatter was given to the character by the writer of the classic "Alice in Wonderland," Lewis Carrol, who merely adapted the real situation of that time into his tale, and comes from the expression "mad as a hatter," referring to the "Mad Hatter Syndrome."
Apparently disturbed and mentally confused, these were the "original" hatters in the mid-17th century. Interesting, isn't it? Keep it as a curiosity of the day!
Funko Pop! Disney: Alice in Wonderland – Mad Hatter Black Light Funko Pop! Vinyl Figure – Funko Shop Exclusive
Available at:
Want more stuff like this?
Get the best viral stories straight into your inbox!
Don't worry, we don't spam