Funko Pop! Marvel: Loki - Hunter B-15 and Ravonna Renslayer
The Marvel Studios' Loki – Ravonna Renslayer with Miss Minutes (Pop! & Buddy) and Hunter B-15 (Amazon exclusive) Funko Pop Vinyl Figures just been unveiled!
When Loki debuted, fans began to make their theories and speculations about what would happen throughout the production. And one thing was sure for many: he would be responsible for breaking the Sacred Timeline, starting a new Multiverse free from the dominance of the Time Variance Authority and the Time Keepers. Well… we didn't know it would happen so fast!
Funko Pop! Marvel: Hunter B-15 and Ravonna Renslayer with Miss Minutes pops are now available for pre-order at the links below (click to jump!) They are expected to be released in September 2021.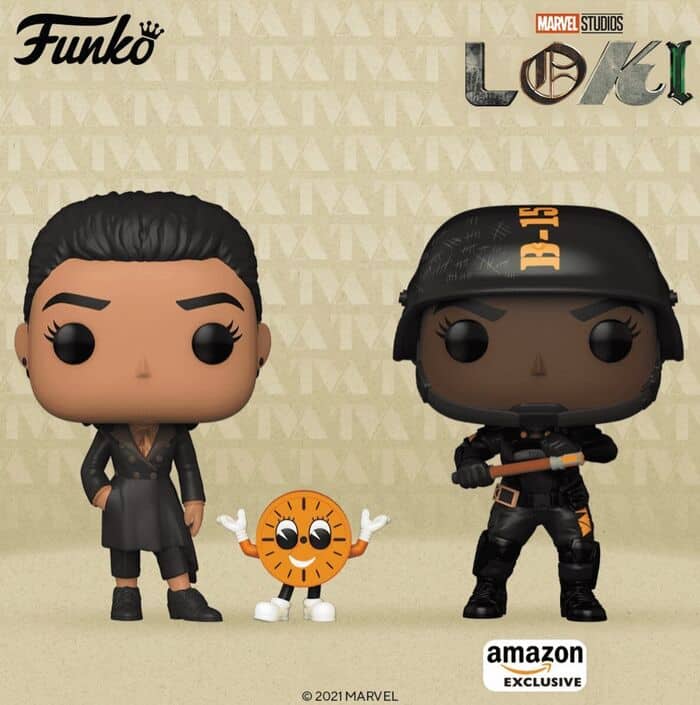 The second episode of Loki ended with the arrival of a new character, played by Sophia Di Martino. Because of her look – including a version of Loki's horns – the audience immediately recognized the character as Lady Loki, a name known from the comics and somewhat expected to appear in the series. However, that may not be the case.
The Direct found an easter egg from the Loki episode itself, which cites Sylvie Laufeydottir, possibly the Variant's name shown at the end. The name appears on one of several documents seen by Loki and cites an incident with Sylvie in California in 1908.
In the comics, Sylvie lived on Earth and received Asgardian powers from Lady Loki herself. With this easter-egg and the release of Sylvie's name in the Spanish dub credits, it is practically confirmed that the character in the series is not the traditional Lady Loki.
However, it is worth remembering that the MCU is known for making adaptations of the comics that work with its plot in theaters and on TV. So while Di Martino's character is Sylvie, known in the comics as Enchantress, she could become the MCU's Lady Loki – or even not be called by any heroine name, and just be Sylvie.
Want more stuff like this?
Get the best viral stories straight into your inbox!
Don't worry, we don't spam