Funko Pop! Marvel Studios: Wandavision: Agatha Harkness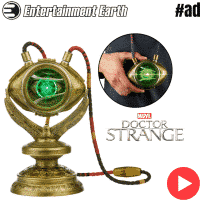 The reality-altering Avenger's spin-off has now launched the new Funko Pop! Marvel Studios: Agatha Harkness Funko Pop! Vinyl Figure.
The seventh episode of WandaVision, released on Disney+, confirmed a theory that fans had been speculating about since the first episode. Agnes – the nosy neighbor, played by Kathryn Hahn, who steals the show from the very first episodes with her awkward manner and becomes a true friend to the Scarlet Witch (Elizabeth Olsen) – is, in fact, Agatha Harkness.
Harkness is a significant figure in Wanda Maximoff's journey in the comics. The character was created back in the 1970s by Stan Lee and Jack Kirby and introduced in the Fantastic Four comics. Being a powerful witch, she is responsible for helping the Scarlet Witch develop her powers. Besides, she is present in crucial moments involving both her ward and the android.
The Agatha Harkness Funko pop is expected to be released in March 2021 and is now available for pre-order at the links below.