Funko Pop! Marvel Studios: Wandavision: The Vision GITD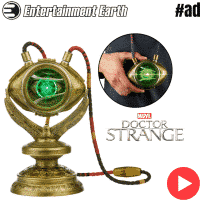 The latest MCU installment has brought a lot of excitement and surprise appearances! Including this new version of Funko Pop! Marvel Studios: Wandavision: The Vision Glow-In-The-Dark (GITD) Funko Pop! Vinyl Figure that has just been released as an Exclusive at Walmart.
WandaVision took advantage of its first season's final stretch to rescue an old MCU trick: the post-credits scenes. The excerpt that ended the eighth episode, specially made for fans, answered one of the mysteries with a great reference to the comics.
In the acclaimed Halloween episode, Darcy Lewis discovers that S.W.O.R.D. has been working on a project called Cataract. Because it is a disease that attacks the eyes, the connection to Vision was almost immediate, especially since it was already known that the organization had a way of tracking the sentient within the Westview neighborhood. The riddle was answered in the season's penultimate chapter, which shows the Vision's body being reconnected with the aid of a drone that returned from HEX.
The reality-altering Avenger's spin-off has now launched the new WandaVision Funko Pop! Purchases for the Walmart exclusive Vision Glow Funko pop are available at the links below.