Funko Pop! Movies: Candyman (2021)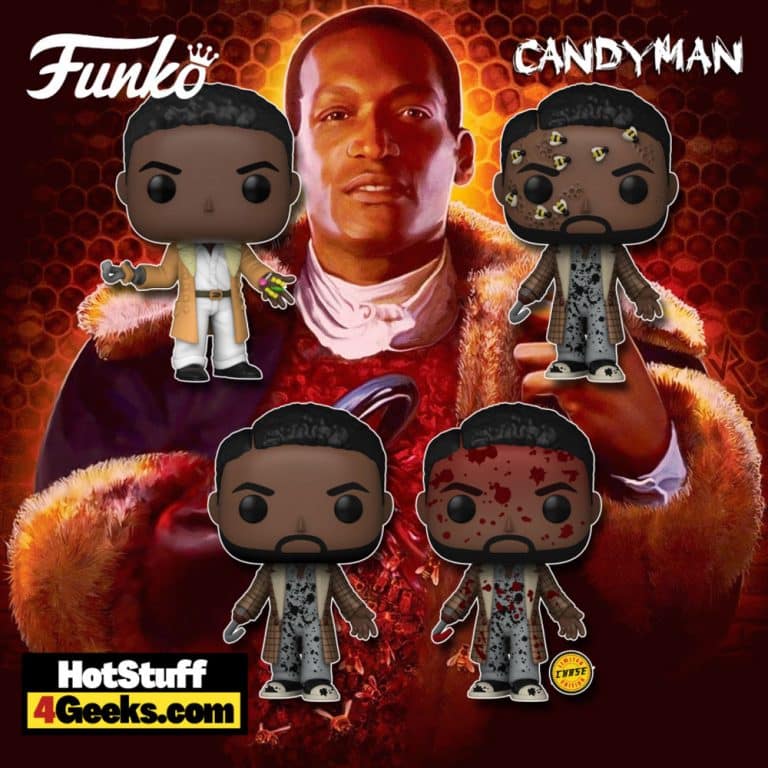 I don't dare you to say Candyman's name five times into a mirror. That type of stuff never turns out well. But, if you insist on reliving the horror of Candyman, I recommend adding this new wave of Candyman Funko Pop Vinyl Figures to your collection.
Not for the faint-hearted, Candyman is an upcoming American supernatural slasher film. Finally, a new version of a classic horror movie is hitting theaters. Candyman (2021) is a direct sequel to the 1992 film of the same name and the fourth in the Candyman film series.
This movie is sure to make a scream to all viewers, so of course, Funko had to bring them in Pop! form! Here's the lineup:
Funko Candyman: Candyman with Bees Funko Pop! Vinyl Figure
Funko Candyman: Sherman Fields Funko Pop! Vinyl Figure
Funko Candyman: Candyman With Bloody Chase Variant Funko Pop! Vinyl Figure
Candyman, Candyman, Candyman, Candyman, Candyman… That's it… I just said it!
Candyman Funko Pops (2021 versions) are now available for pre-order at the links below (click to jump!) They're coming to hunting you in October 2021. Don't forget to check more images of this collection right below.
In both the novel and the movies, the Candyman mythology is very peculiar and interesting. For example, to summon the legendary assassin, it is required to speak his name five times.
From there, the "conjurer" is tested on faith in the Candyman myth, and if the person does not believe in him, he is soon killed in a most brutal way.
Candyman is also a very peculiar figure. In the book, he is described as a supernatural being with blue skin – whereas, in the movies, he is a black man.
When he approaches, his victims can hear the buzzing sound of bees – which come out of his body from his chest. He has a hook in place of one of his hands and can appear anywhere he wants.
Before he turned into a mythical killer, Candyman was Daniel Robitaille, a free son of slaves hired by a prominent farmer to paint a portrait of his daughter.
It turns out that while doing the painting, Daniel falls in love with a woman named Caroline Sullivan. Upon finding out about the forbidden romance between a black man and his daughter, who is white, Caroline's father gathers several local residents.
Together they mutilate Daniel, tearing off his hand and genitals, and cover him with honey, which causes him to be stung by several bees. Allergic to their poison, he dies and swears revenge on his persecutors.
Starting now, you can receive 10% off in-stock items and free shipping on $39+ orders with my special link at Entertainment Earth!
You can also use CODE: 4geeks anytime. Enjoy!
As an Amazon Associate I earn from qualifying purchases
Want more stuff like this?
Get the best viral stories straight into your inbox!
Don't worry, we don't spam