Funko Pop! Movies: Mortal Kombat 2021 - Sub-Zero Glow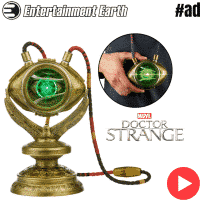 From the 2021 live-action film Mortal Kombat comes fan-favorite Sub-Zero. The Funko Pop! Movies: Mortal Kombat 2021 – Sub-Zero Glow-in-the-Dark (GITD) Funko Pop! Vinyl Figure – Entertainment Earth Exclusive is expected to be released in September 2021 and is already available for pre-order at the links below.
The famed fighter portrayed by actor Joe Taslim in the movie positively radiates power as this glow-in-the-dark Pop! Vinyl figure from Funko!
One of the best-known characters of the franchise – and video games in general – Sub-Zero is a Chinese ninja, from the Lin Kuei clan, with cryogenic powers. Throughout the franchise, some characters have taken on the character's mantle, but the best known is Kuai Liang, introduced in Mortal Kombat II (1993). He is considered the second Sub-Zero. The original, called Bi-Han, is his older brother, killed by Scorpion in the original game, and became the shadow creature Noob Saibot.
The character who plays Sub-Zero on the big screen is Joe Taslim. Born in Indonesia with Chinese ancestry, he is a master of martial arts, specializing in judo, joining his country's national team for 12 years to compete in the sport.
The sport brought Taslim to theaters in 2007 after a severe knee injury and facing an economic crisis. "I wouldn't be the actor I am now if it wasn't for judo. The most important thing [judo has taught me] is honor because when you respect what you're doing, you give everything," he spoke in a 2013 interview.
The premiere of the Mortal Kombat movie is scheduled for April 16.
Check out more of the amazing new Mortal Kombat Pops from the 2021 movie here.
Funko Pop! Movies: Mortal Kombat 2021 – Sub-Zero Glow-in-the-Dark (GITD) Funko Pop! Vinyl Figure – Entertainment Earth Exclusive
Available at: