Funko Pop! WWE:  The Rock with Championship Belt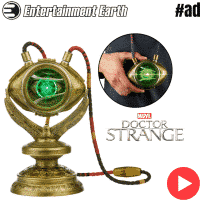 Funko Pop! WWE:  The Rock with Championship Belt Funko Pop! Vinyl Figure dropped today as an Entertainment Earth Exclusive.
One of the most recognizable figures in Hollywood today, Dwayne Johnson, better known as The Rock, accumulates fans wherever he goes, from the wrestling rings to the movie theaters.
In 1996, Dwayne made his professional wrestling debut with the ring name Rocky Maivia, named after his father and grandfather, respectively. He soon started in one of the most significant leagues of the time, the World Wrestling Federation (WWF, which today is known as the WWE).
His first title in the company didn't take long to arrive either: as early as 1997, he won the Intercontinental Champion title, defeatingTriple H, one of the most famous wrestlers in the history of the franchise.
Dwayne "The Rock" Johnson is the ultimate WWE Superstar! Celebrate 25 years of the iconic wrestler with this exclusive Pop! Vinyl Figure! Wearing his "Bring it!" shirt and holding up the Championship Belt in hand, The Rock will take center stage in your collection!
Includes a special sticker to celebrate the WWE Superstar's 25th Anniversary! The Rock with Championship Belt will be released in June and is now available for pre-order in the links below.
Funko Pop! WWE: The Rock with Championship Belt Funko Pop! Vinyl Figure – Entertainment Earth Exclusive
Available at: