Funko Vinyl Soda: Powerpuff Girls - Mojo Jojo Black Light Glow Chase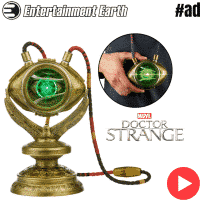 Your favorite character is joining Funko's Vinyl Soda line! Coming on April 2021 is this Funko Vinyl SODA: The Powerpuff Girls- Mojo Jojo With Blacklight Chase. Pre-order this supervillain now!
Sugar, spice, and all that is good may have been the necessary ingredients to create the Powerpuff Girls, but the trio's antagonists also came with a recipe of chaos and destruction for the world. The team has had several compelling villains over the years, but they always manage to turn around and save Townsville.
Possibly the greatest arch-enemy of the Powerpuff Girls, the lovable Mojo Jojo is also a great master of manipulation and conflict, constantly inciting hatred in the hearts of his victims. He is constantly plotting to take over the world and/or destroy The Powerpuff Girls. However, we cannot forget that he is a great victim since he is a creation of Professor Utonium, who discarded him after a big disaster in the lab.
Mojo was originally Jojo, the Professor's hyperactive lab assistant who always broke everything. After being exposed to Chemical X, his simian DNA mutated, turning his skin green and causing his intelligence and brain to enlarge, growing out of his skull.
Besides his fantastic intelligence, which rivals Utonium himself, he also possesses superhuman strength and a bizarre will to cause chaos and destruction. Even so, the girls are not always hostile toward him and often even help him with specific tasks.
This Funko Vinyl Soda: Powerpuff Girls – Mojo Jojo Vinyl Soda Figure With Black Light Glow Chase is now available for pre-order at the links below.
Funko Vinyl Soda: Powerpuff Girls – Mojo Jojo Vinyl Soda Figure With Black Light Glow Chase
Available at: