FunKon 2022 – Demon Slayer: Muichiro Tokito Funko Pop!
The new Funko POP! Animation: Demon Slayer – Muichiro Tokito Funko Pop! Vinyl Figure – FunKon II 2022 and Funko Shop Exclusive will be available online starting August 19, 2022, at 9:30 AM PT at the links below (click to jump!)
Muichiro Tokito is a Demon Slayer of the Demon Slayer Corps and the current Mist Hashira. He is incredibly talented, becoming a Hashira after just two months of training.
Despite his great power, Muichirō is still just a kid at heart. However, when it comes to fighting Demons, Muichirō is all business.
Embracing the Mist Breathing, Muichiro focuses on depraving his opponents' senses — as the mist does. Thus, his blows consist of swift attacks that leave enemies unaware of where the wound came from.
Muichirō is a brave and powerful warrior who will play a significant role in the newly-confirmed third season.
The FunKon 2022 exclusive, Muichiro Tokito Funko Pop!, can be found at the links below once the online sale begins (click to jump!)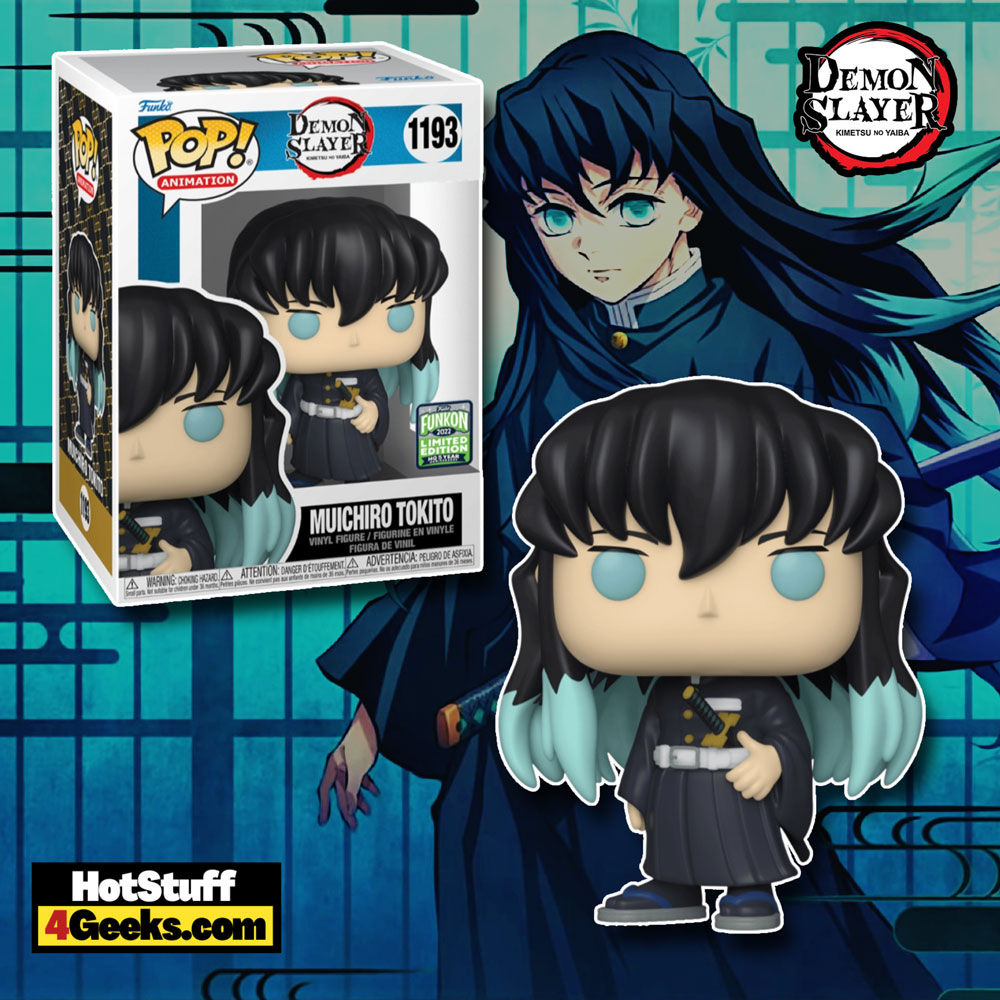 In the Demon Slayer universe, the Demon Slayer Corps, founded by the Ubuyashiki family more than 1,000 years ago, is in charge of fighting demons.
Within this organization, we can find many skilled and talented sworders who risk their lives every day to put an end to the demons created by Muzan Kibutsuji.
This organization of Demon Hunters is divided into ranks, determining the user's ability and the salary he will receive for his services.
Currently, the ranks are, from lowest to highest: Mizunoto, Mizuonoe, Kanoto, Kanoe, Tsuchinoto, Tsuchinoe, Hinoto, Hinoe, Kinoto, and Kinoe.
The more demons they slay, and the better they perform in missions, the higher the Hunters will be able to rise in rank.
However, the most prominent of all, although they do not appear in this list, are the Hashira.
This team comprises the organization's most elite and mighty warriors.
To become a Hashira, a Hunter must slay 50 demons.
Although there is another way to join this group, and that is by eliminating one of the 12 Demon Moons created by Muzan, which is not an easy task at all.
Even though he is only 14 years old, Tokito is a genius among the Hashira.
Of all the pillars, the young man was the only one who managed to defeat an Upper Moon without any outside help.
No other character of his generation was able to accomplish such a feat!
Check more Funko II 2022 pops here.
Funko POP! Animation: Demon Slayer – Muichiro Tokito Funko Pop! Vinyl Figure – FunKon II 2022 and Funko Shop Exclusive
Available at:
Starting now, you can receive 10% off in-stock items with my special link at Entertainment Earth!
 Enjoy!
As an Amazon Associate I earn from qualifying purchases
Want more stuff like this?
Get the best viral stories straight into your inbox!
Don't worry, we don't spam