FunKon 2022 – Rocks: Jimi Hendrix Funko SODA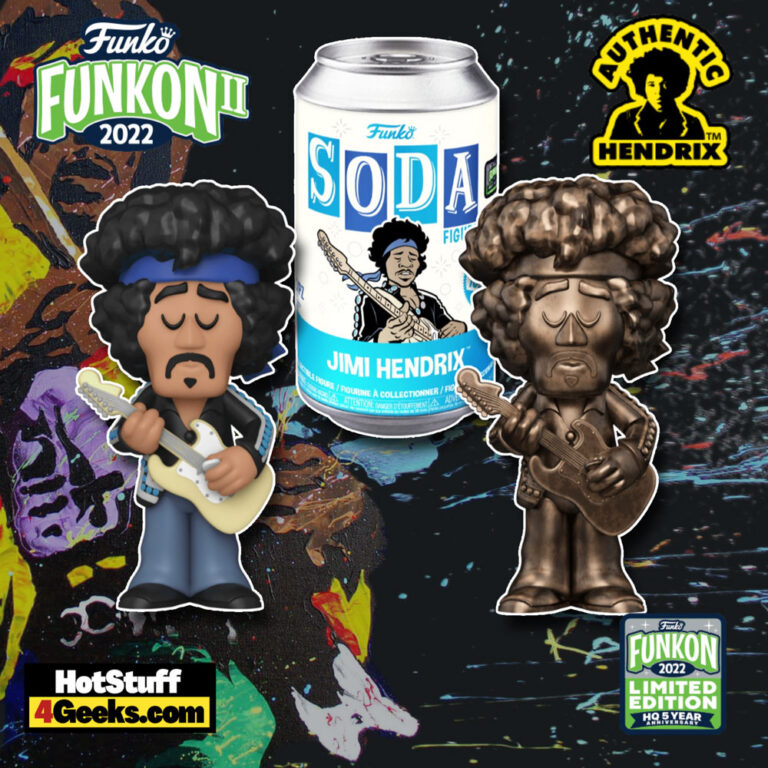 The new Funko SODA! Jimi Hendrix Funko SODA Vinyl Figure – FunKon II 2022 and Funko Shop Exclusive will be available online starting August 19, 2022, at 9:30 AM PT at the links below (click to jump!)
Jimi Hendrix is often hailed as one of the greatest guitarists of all time, and with good reason.
His unique style and mastery of the instrument were unlike anything seen before, and he continues to be an inspiration to musicians today.
But Hendrix was more than just a talented guitar player; he was also a groundbreaking thinker who challenged conventional ideas about music and art.
For Hendrix, there were no rules – he was constantly pushing boundaries and experimenting with new sounds.
As a result, his work is often cited as a significant influence on the development of rock music.
In many ways, Hendrix was ahead of his time. Nevertheless, his legacy continues to be felt more than 50 years after his untimely death.
The FunKon 2022 exclusive, Jimi Hendrix Funko SODA Vinyl Figure, can be found at the links below once the online sale begins (click to jump!)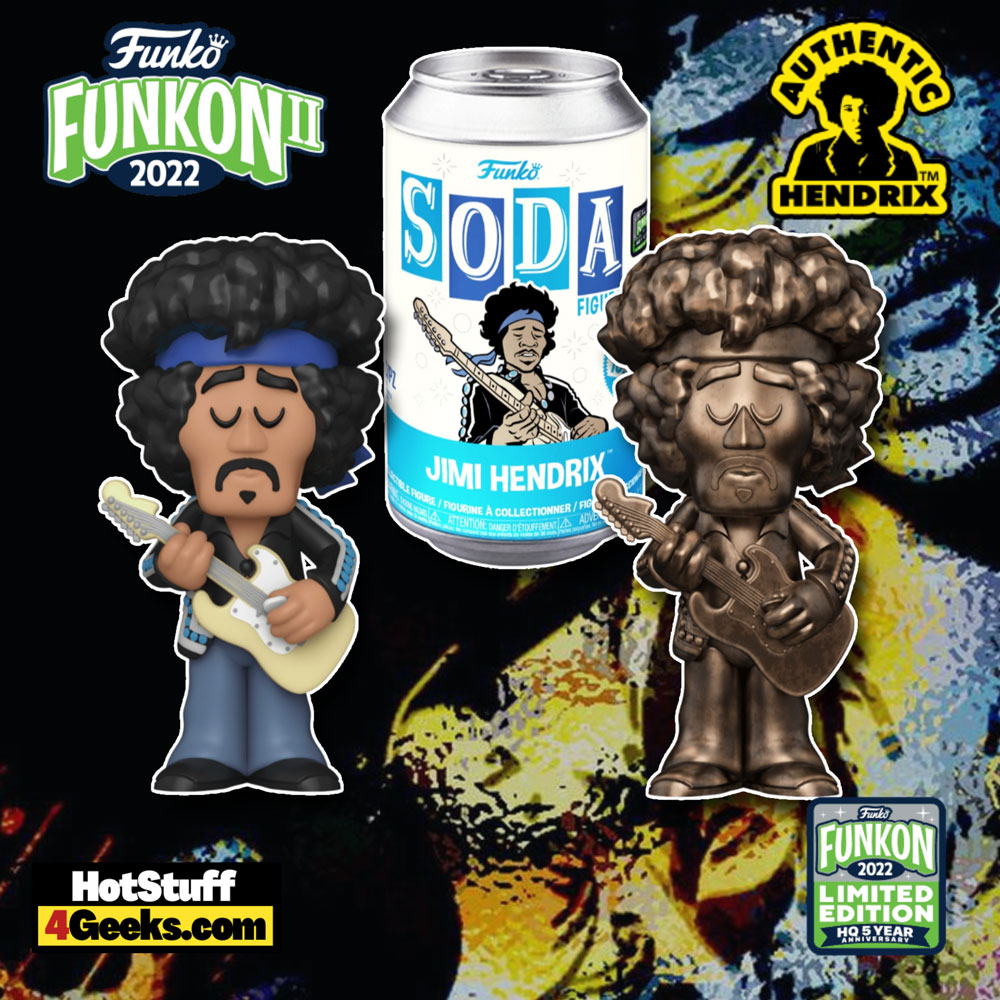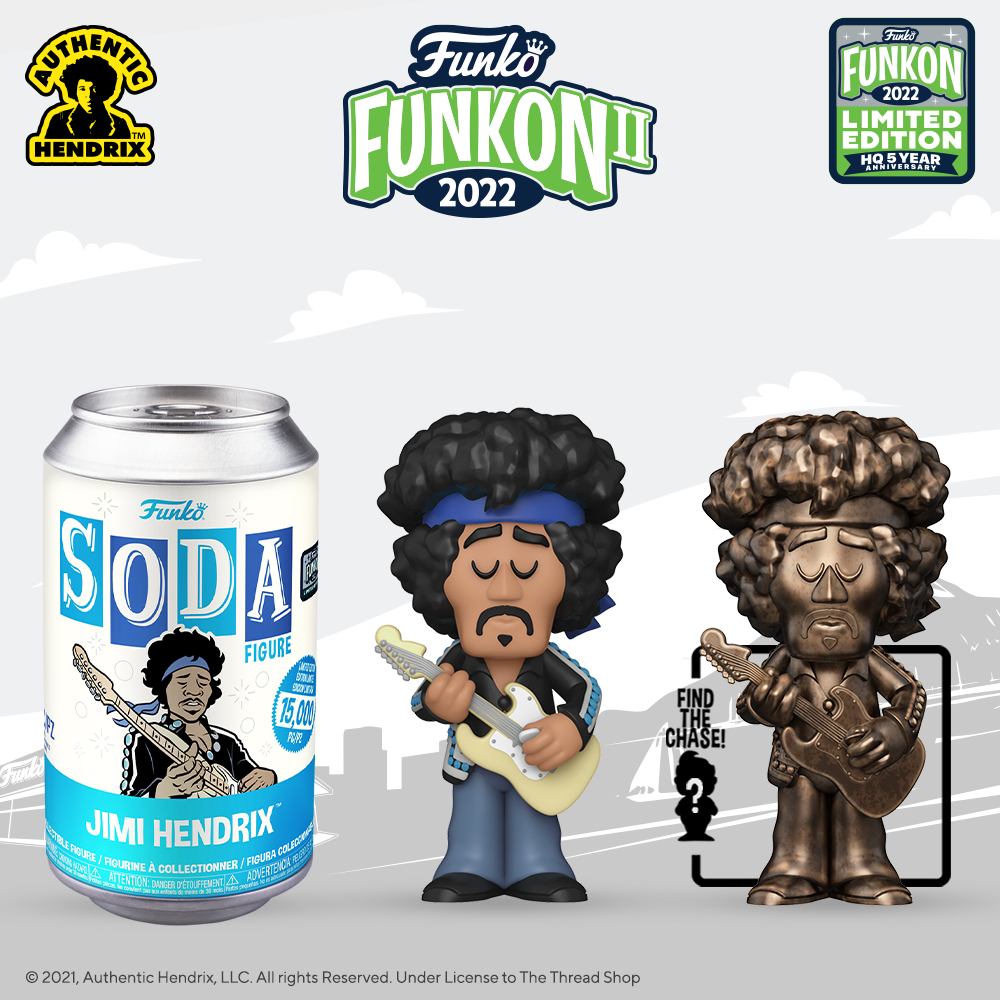 Born in Seattle in 1942, Hendrix began playing guitar at an early age and quickly developed a unique style that blended Blues, Rock, and R&B.
He played in several different bands before forming the Jimi Hendrix Experience in 1966.
The group released three albums over the next two years, including the hugely successful "Are You Experienced?"
Hendrix became an international star with his incendiary performance at the Monterey Pop Festival in 1967.
He toured extensively throughout the world and released a series of groundbreaking albums, including "Electric Ladyland."
Hendrix was known for his wild style and innovative techniques. He was famous for his dazzling live performances, often featuring him playing the guitar with his teeth or behind his back.
He also pioneered feedback and other electronic effects, which helped shape the sound of rock music.
Tragically, Hendrix died at the age of 27 from a drug overdose. However, his music continues to inspire guitarists and fans worldwide.
Check more Funko II 2022 pops here.
Funko SODA! Jimi Hendrix Funko SODA Vinyl Figure – FunKon II 2022 and Funko Shop Exclusive
Available at:
Starting now, you can receive 10% off in-stock items with my special link at Entertainment Earth!
 Enjoy!
As an Amazon Associate I earn from qualifying purchases
Want more stuff like this?
Get the best viral stories straight into your inbox!
Don't worry, we don't spam