FunKon 2022 – She-Hulk Funko SODA With Metallic Chase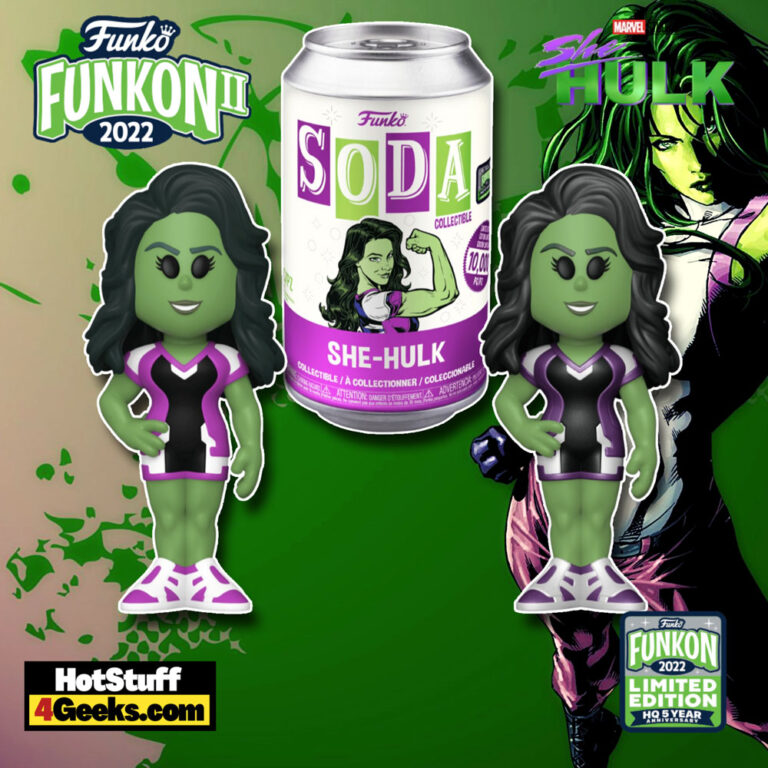 The new Funko SODA! Marvel Studios – She-Hulk Funko SODA Vinyl Figure With Metallic Chase – FunKon II 2022 and Funko Shop Exclusive will be available online starting August 19, 2022, at 9:30 AM PT at the links below (click to jump!)
While she may not be as strong as her big green cousin, the She-Hulk is still a force to be reckoned with.
First appearing in 1980, the She-Hulk quickly established herself as a powerful ally of the Avengers, using her strength and agility to take down foes like the Absorbing Man.
However, it's not all smashing and smashing with the She-Hulk.
Thanks to her background as a lawyer, she's also one of the brightest heroes around, using her quick wit and sharp legal mind to get her teammates out of trouble.
In other words, she's not just some big musclebound brute – she's a total badass and always ready to fight for justice.
The FunKon 2022 exclusive, She-Hulk With Metallic Chase Funko SODA, can be found at the links below once the online sale begins (click to jump!)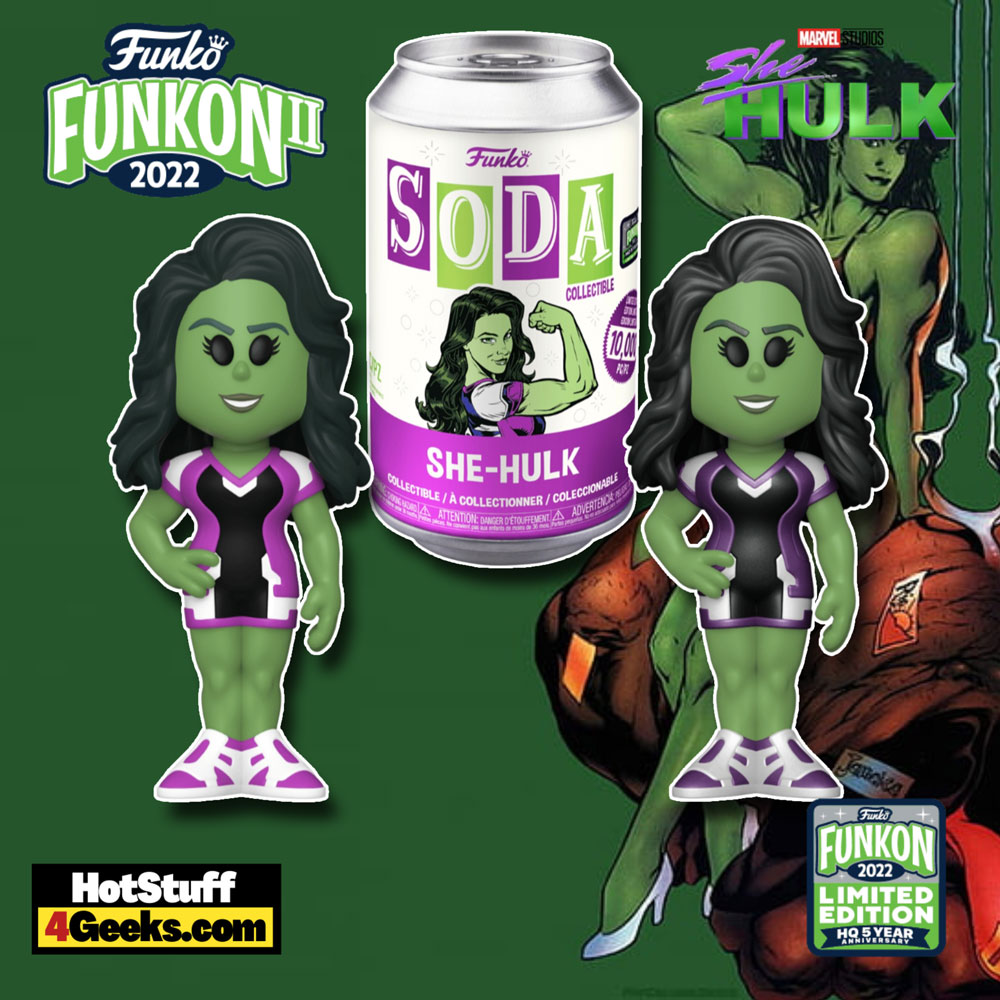 As many comic book fans know, the story of how She-Hulk gets her powers is a bit unusual.
It all started when her cousin, Bruce Banner, was exposed to Gamma radiation.
This caused him to transform into the Incredible Hulk, a giant, green-skinned creature with superhuman strength.
When Jennifer Walters got a blood transfusion from her cousin Bruce Banner, she gained all the powers of the Hulk.
She also turned into She-Hulk, a giant, green-skinned creature that gained the Hulk's superhuman strength and durability.
However, unlike her cousin, she retained her human intelligence and consciousness. Additionally, She-Hulk's transformation is voluntary, whereas Hulk only transforms himself when he gets angry.
Over time, she has also developed additional abilities, such as the ability to release powerful blasts of energy from her hands.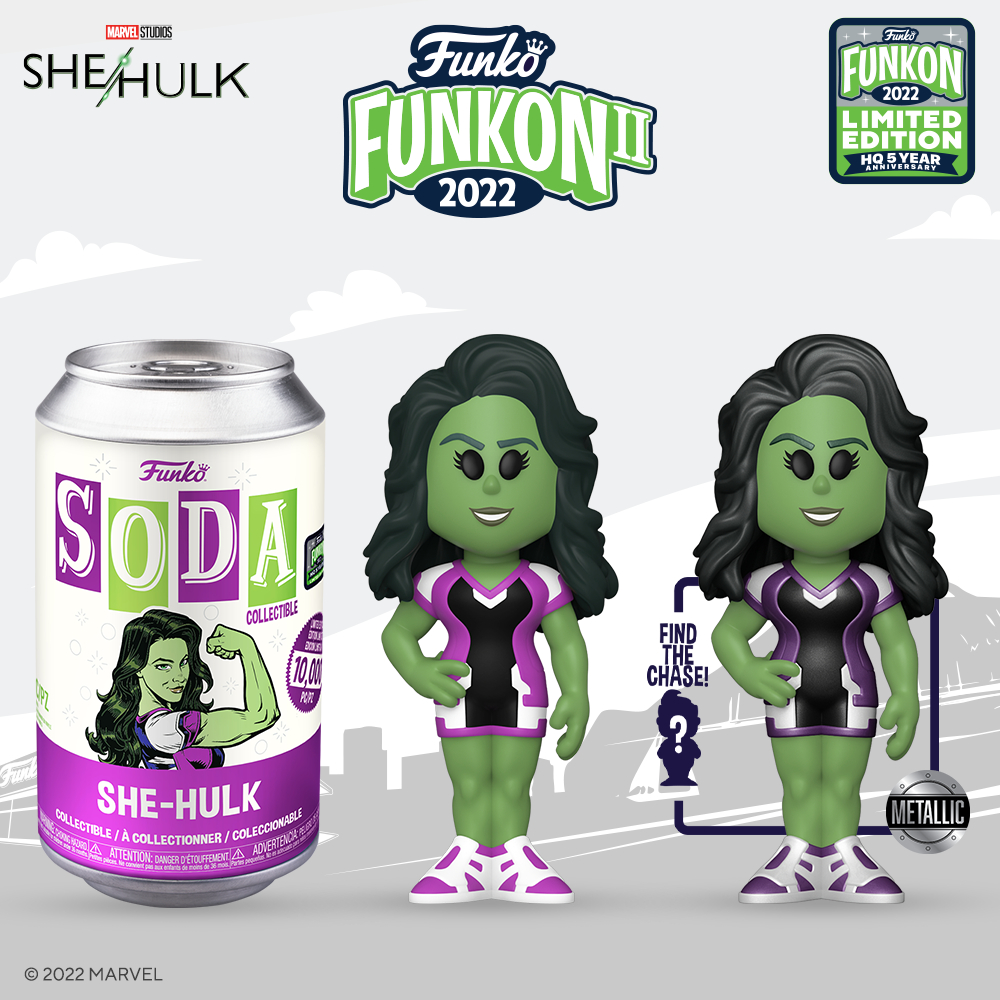 When it comes to superhero rivalries, there are few as fierce as the one between She-Hulk and Titania.
On the surface, they may seem like an unlikely pair, but these two super-powered women have been locked in combat for years.
Titania, whose real name is Mary MacPherran, is without a doubt She-Hulk's greatest rival. Though she lacks the experience of her opponent, she more than makes up for it with her brute strength and determination.
The two have clashed repeatedly, with neither woman able to gain a definitive victory.
However, their rivalry is not simply based on physical strength; a deep-seated hatred for one another also fuels it.
With both women unwilling to back down, it seems likely that their feud will continue for many years to come.
Check more Funko II 2022 pops here.
Funko SODA! Marvel Studios – She-Hulk Funko SODA Vinyl Figure With Metallic Chase – FunKon II 2022 and Funko Shop Exclusive
Available at:
Starting now, you can receive 10% off in-stock items with my special link at Entertainment Earth!
 Enjoy!
As an Amazon Associate I earn from qualifying purchases
Want more stuff like this?
Get the best viral stories straight into your inbox!
Don't worry, we don't spam