Funkoween 2022: Disney Villains Train Set Funko Pop! Figures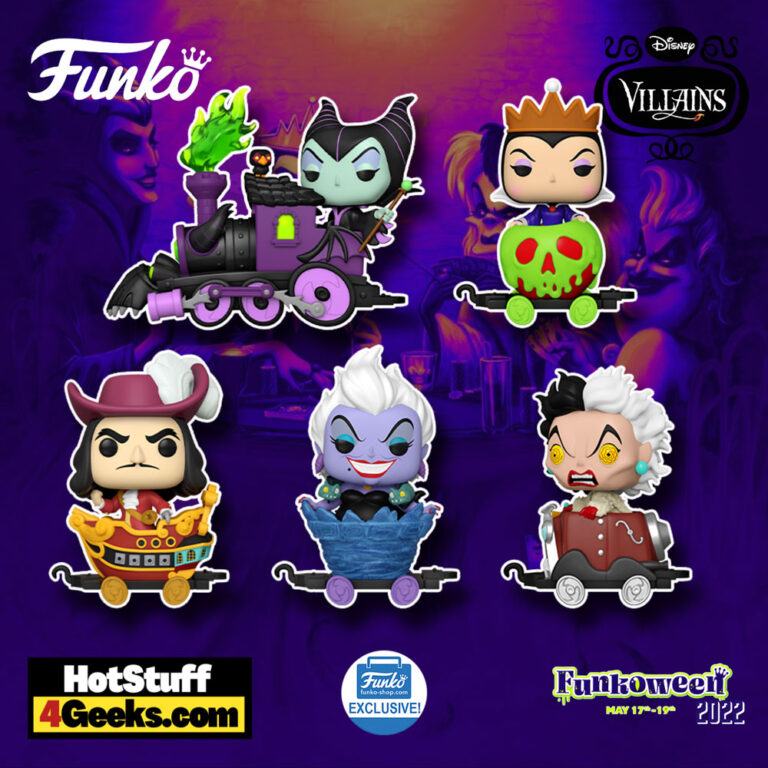 Beware all who board the Disney Villains Train! This fiendish locomotive is pulling into the station, bringing some of Disney's most fearest villains along for the ride.
The new Funko Pop!  Disney Villains Trains Set – Funko Shop Exclusive (Funkoween 2022 release) is a five-piece train featuring some of Disney's most iconic villains, including Maleficent, the Evil Queen, Captain Hook, Ursula, and Cruella De Vil. The pop figures are now available for order at the links below – click to jump or scroll to continue reading!
Each train car is themed to the villain, making it a must-have for any fan of Disney's classic villains.
Many people think of Disney villains as comical creatures, more annoying than truly evil. However, some villains are genuinely fearsome, and their movies can be pretty dark.
While these villains may not be as popular as Disney's more light-hearted characters, they are certainly some of the most memorable.
So if you're looking for a genuinely dark Disney experience, be sure to pick up a set of these Disney Villains Funko Pop! trains. They are also available separately:
Maleficient in Engine Funko Pop! Train Vinyl Figure
The Evil Queen Funko Pop! Train Vinyl Figure
Captain Hook Funko Pop! Train Vinyl Figure
Ursula Funko Pop! Train Vinyl Figure
Cruella De Vil Funko Pop! Train Vinyl Figure
The Disney Villains Train Set from Funko is coming soon and can be found at the links below (click to jump!)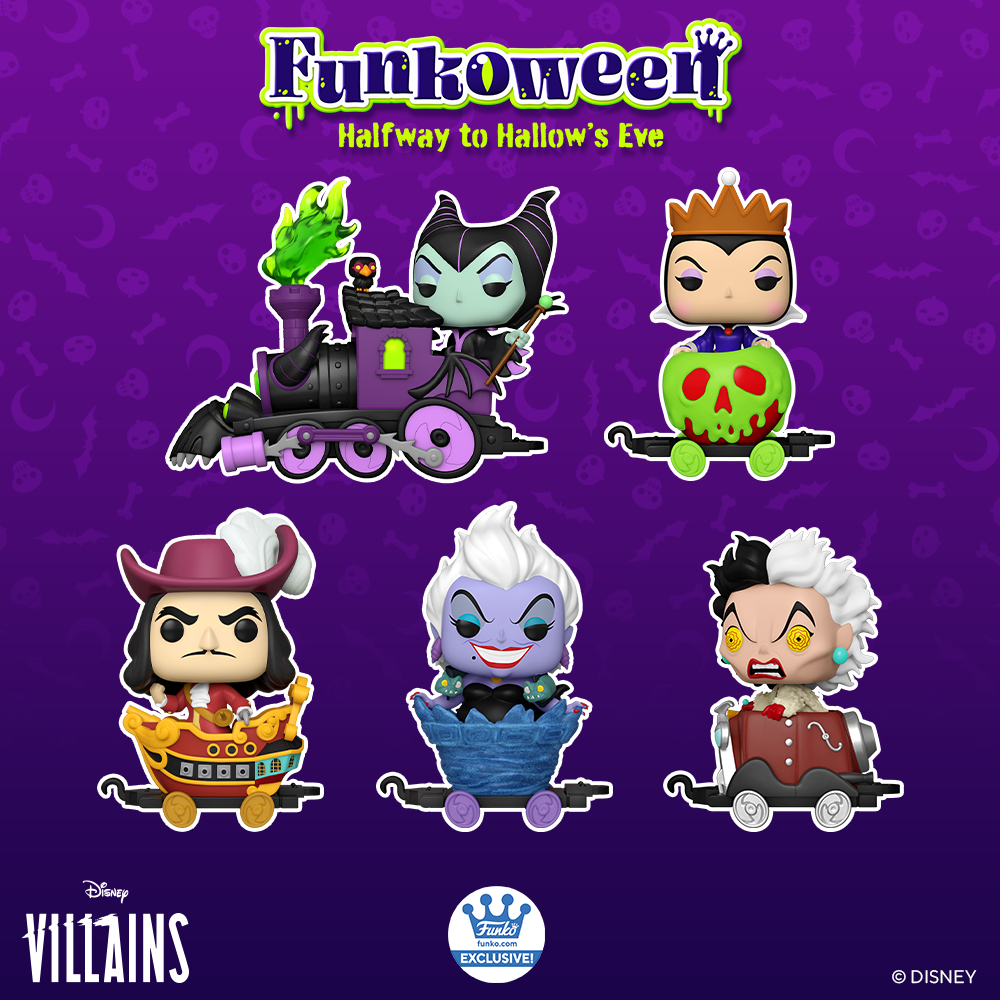 Disney villains come in all shapes and sizes. Among the many memorable Disney villains, a few stand out for their diabolical schemes, iconic looks, and chilling portrayal.
Maleficent, for example, is one of the most well-known villains in Disney history. Her transformation into a dragon is still one of the most spine-tingling moments in any animated movie.
The Evil Queen from Snow White is another classic villain whose poisoned apple has become one of the most recognizable images in pop culture.
And who could forget Captain Hook, with his hook hand and crocodile nemesis?
Ursula, the sea witch from The Little Mermaid, is another villain who is both funny and scary.
And last but not least, Cruella De Vil is perhaps the ultimate villain for anyone with a fear of dogs.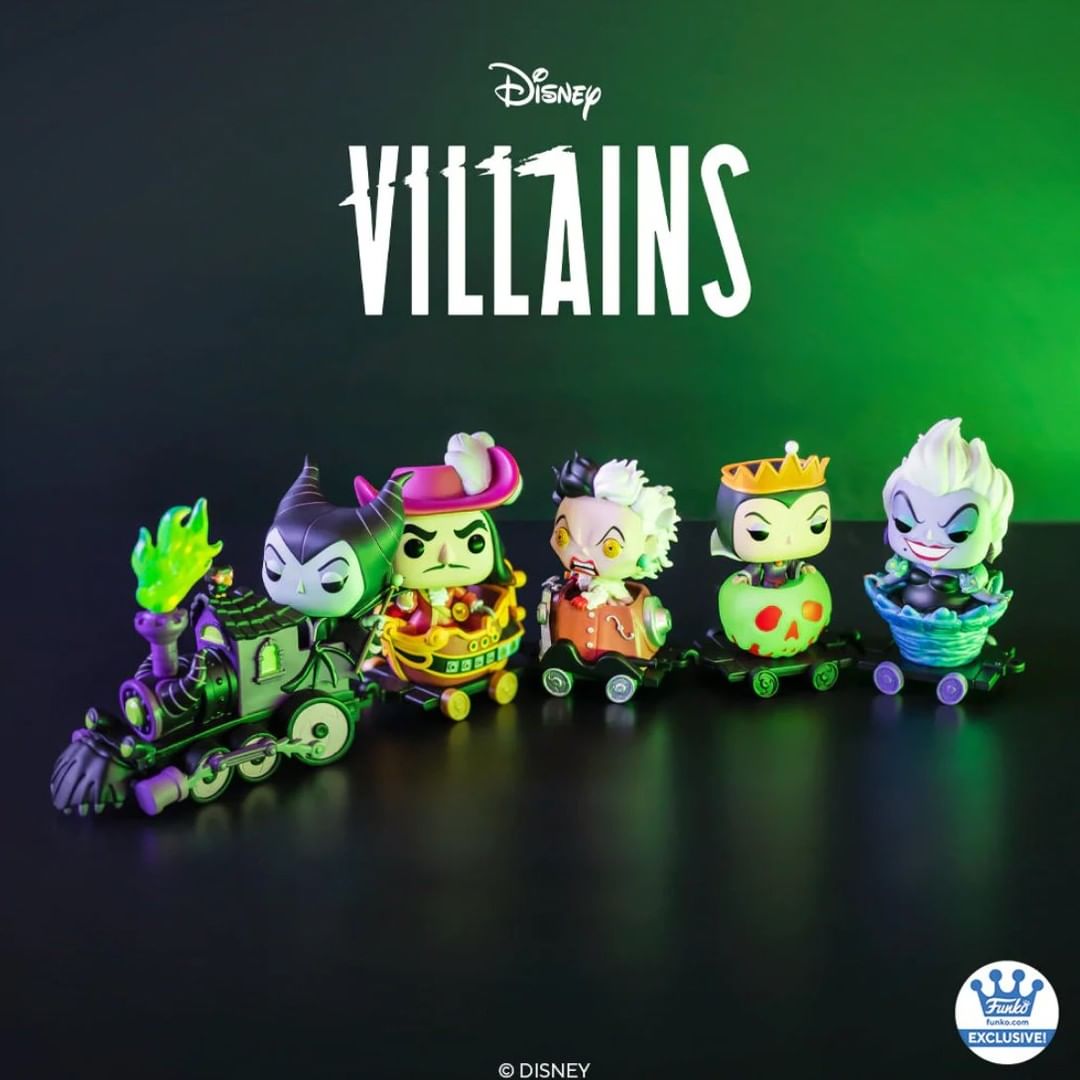 Check out more Funkoween 2022 pops here.
Starting now, you can receive 10% off in-stock items with my special link at Entertainment Earth!
 Enjoy!
As an Amazon Associate I earn from qualifying purchases
Want more stuff like this?
Get the best viral stories straight into your inbox!
Don't worry, we don't spam