2022 NEW Halloween Skeleton Geico Gecko Funko Pops!
by

PopCorn Princess

September 16, 2022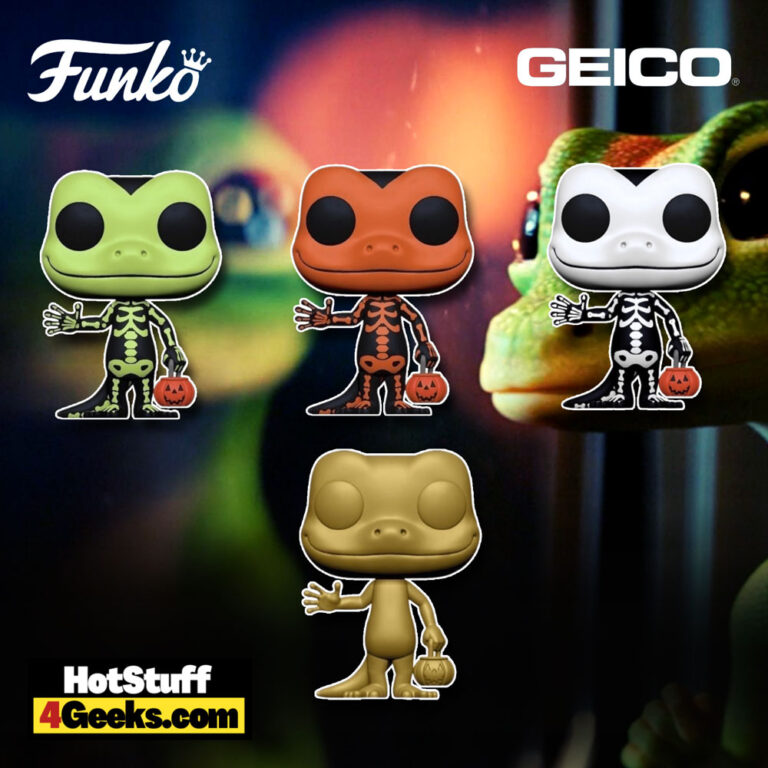 In honor of the Halloween season, there's a new release of Funko pops featuring a skeleton Geico Gecko wearing a Halloween lantern in several colors.
These cute little Geico Gecko Funko Pops will surely get us into the Halloween spirit! You can find the pop figures at the links below – click to jump or scroll to continue reading!
The Geico Gecko is one of the most recognizable mascots in advertising today.
He first appeared in a 2000 ad campaign and has since become the face of the company. The Gecko is known for his charming British accent and ability to sell insurance.
But who is this little guy? His name is Martin, and he's an animated gecko. While he's best known for his appearances in Geico ads, he's also made cameo appearances in other TV shows and movies.
In recent years, he's become something of a pop culture icon and even has his own line of merchandise. And there's no better place to find him than as Funko pop!
Here's the Geico Gecko Funko pops line-up for this release:
Funko Pop! Ad Icons: Halloween Geico Gecko (Gold) Funko Pop! Vinyl Figure
Funko Pop! Ad Icons: Halloween Skeleton Geico Gecko (White) Funko Pop! Vinyl Figure
Funko Pop! Ad Icons: Halloween Skeleton Geico Gecko (Green) Funko Pop! Vinyl Figure
Funko Pop! Ad Icons: Halloween Skeleton Geico Gecko (Orange) Funko Pop! Vinyl Figure
Halloween Geico Gecko Funko Pop! Vinyl Figures (2022) are Funko Shop exclusives and you can find them at the links below (click to jump!)

Geico Gecko's a lovable little creature who starred in some of the most popular Geico commercials over the years.
In one of Geico's most popular commercials, Gecko is wearing the Infinity Gauntlet. This commercial is a mashup of one most popular movies of all time, Avengers: Endgame.
In the commercial, we e find the Gecko walking down a busy street and past a cinema where he sees a poster for the movie.
Awed by the ad, he gets pulled into a fantasy where his superpower consumes him to save everybody money on their insurance.
Then, wearing a Gecko-sized version of Thanos's Gauntlet, he snaps his fingers, spreading low-cost insurance to people across America.
This commercial is funny and cleverly promotes the company's Savings campaign. But, of course, anybody familiar with the Marvel Cinematic Universe will chuckle from seeing the Gecko in the role of Thanos.
And for those unfamiliar with the movie, it still works as a hilarious advertisement that will stick in their mind.
With this commercial, GEICO has proved why they are one of the most creative and effective advertisers around.
Starting now, you can receive 10% off in-stock items with my special link at Entertainment Earth!
 Enjoy!
As an Amazon Associate I earn from qualifying purchases
Want more stuff like this?
Get the best viral stories straight into your inbox!
Don't worry, we don't spam
PopCorn Princess
Hey there, I'm Princess. I'm an annual comic con attendee, Star Wars-loving, and collector freak. My mission is simple: To bring cool geeky news and content and share my passion with the rest of the world. (... I secretly wish to save the world as a superheroine...)