Geoffrey Goes Ninja: TMNT x Toys R' US Funko Pop! Crossover
by

PopCorn Princess

August 1, 2023
Imagine your favorite giraffe mascot from Toys R' Us, Geoffrey, donning the vibrant bandanas and wielding the iconic weapons of Teenage Mutant Ninja Turtles. 2023 brings this thrilling concept to reality with the new TMNT x Toys R' US Crossover Funko Pops! (2023 Release).
To get your hands on this Pop Vinyl Figure, be sure to check out the links I've provided below – click to jump or scroll to continue reading!
Geoffrey's Journey from Toys R' Us to the TMNT Universe: A Funko Pop! Adventure
In a move that shakes the shelves, the Teenage Mutant Ninja Turtles (TMNT) have joined forces with Toys R' US mascot Geoffrey the Giraffe.
In this epic crossover, Geoffrey embraces his inner ninja, and the result is captivating.
In four distinctive Funko Pop! Vinyl Figures, our beloved giraffe, takes on the personas of Leonardo, Donatello, Michelangelo, and Raphael, the iconic turtle team known for pizza and justice.
For fans of TMNT, these versions of Geoffrey are a love letter to the heroes in a half shell.
You can feel the excitement in Leonardo's katanas, reflecting his poised leadership. Donatello's Funko wields the bo staff with a scientist's precision.
Michelangelo bursts with an infectious charm, nunchaku at the ready, while Raphael's sai signals his raw, streetwise spirit.
Each Funko Pop perfectly captures the fusion of Geoffrey's friendly charisma with the TMNT's grit and gusto.
Get ready for an unforgettable adventure that redefines nostalgia:
TMNT x Toys R' US: Geoffrey as Leonardo Funko Pop! Vinyl Figure
TMNT x Toys R' US: Geoffrey as Donatello Funko Pop! Vinyl Figure
TMNT x Toys R' US: Geoffrey as Michelangelo Funko Pop! Vinyl Figure
TMNT x Toys R' US: Geoffrey as Raphael Funko Pop! Vinyl Figure
TMNT x Toys R' US Crossover Funko Pop! Vinyl Figures (2023 Release) can be found for purchase at the links below (click to jump!)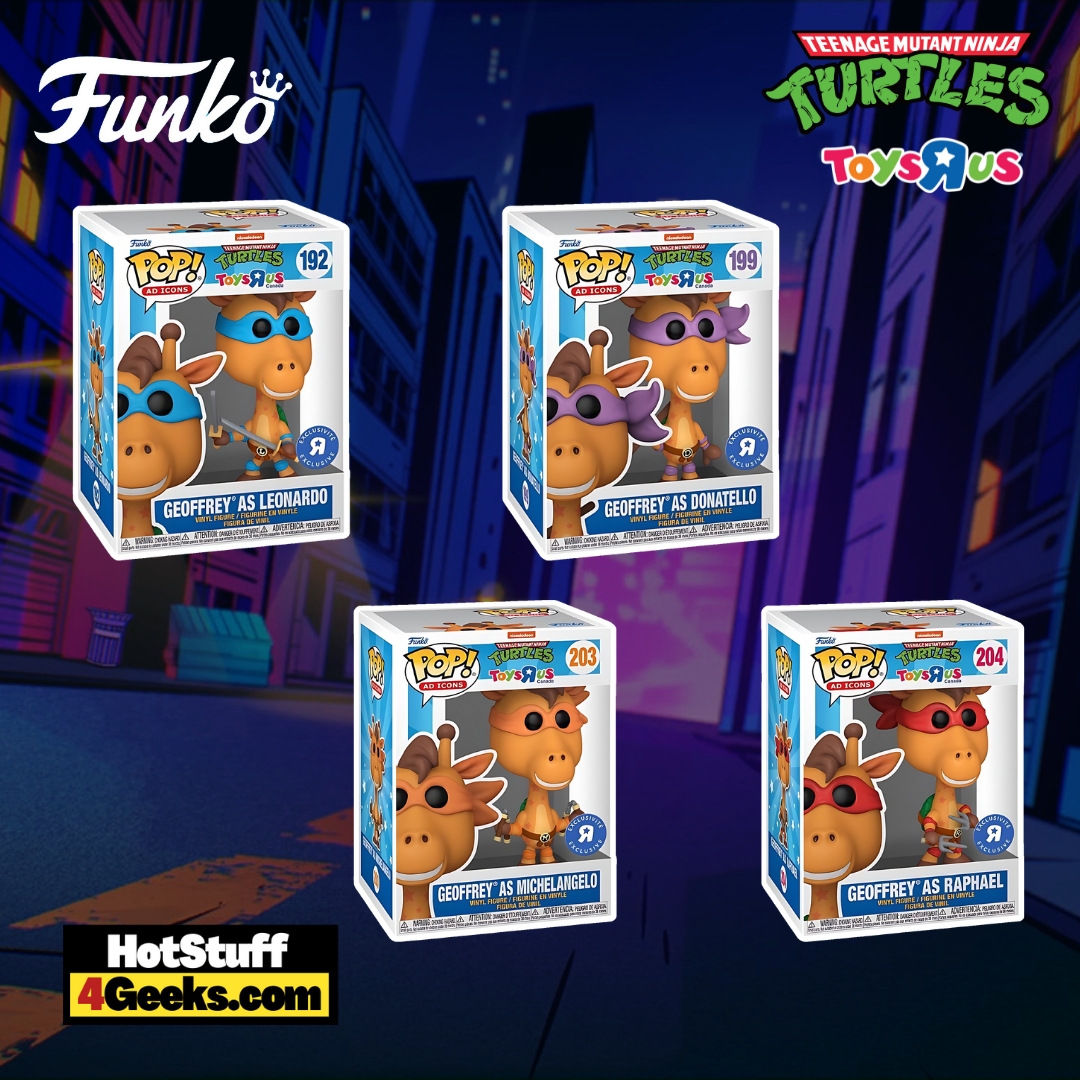 Our beloved Geoffrey the Giraffe, the warm-hearted mascot of Toys R' US, is venturing beyond the store aisles into exciting realms of pop culture crossovers.
He's not just the herald of toys and joy anymore, he's slipping into various roles, and it's quite the spectacle!
Take a look at his present escapades in the Teenage Mutant Ninja Turtles universe.
Geoffrey is in action, morphing into a quartet of pizza-loving, nunchaku-swinging, tech-savvy ninjas. Now that's a twist for our usually gentle giraffe, right?
And the crossovers aren't limited to the action-packed world. He's making a splash in the universe of vinyl figures as well, all thanks to the Funko Pop! collection.
From the adorable Geoffrey Funko to his TMNT transformations, these charming figures are a testament to his versatility.
From toy store mascot to pop culture sensation, Geoffrey is in the midst of a thrilling adventure, showing us that giraffes too can take on the world!
Starting now, you can receive 10% off in-stock items with my special link at Entertainment Earth!
 Enjoy!
As an Amazon Associate I earn from qualifying purchases
Want more stuff like this?
Get the best viral stories straight into your inbox!
Don't worry, we don't spam
PopCorn Princess
Hey there, I'm Princess. I'm an annual comic con attendee, Star Wars-loving, and collector freak. My mission is simple: To bring cool geeky news and content and share my passion with the rest of the world. (... I secretly wish to save the world as a superheroine...)