Hiya Toys: Alien - Joan Lambert, Alien Queen, Alien Warrior and Wolf Predator Action Figures
Four new 3.75″ scale figures based on Alien, Alien vs Predator, and Alien vs Predator: Requiem, have been revealed from Hiya Toys. 
Are we alone in the universe? Of course not! From alien invasions to epic space battles, get ready for final encounters of the third degree. New life forms and a suffocating atmosphere are two of the assets with which Alien won over many fans, and also created a new way of making horror.
Thanks to the Alien vs Predator movies, the Alien and Predator franchises have converged to take place in the same timeline. Now, there are 12 films in total to watch – if you want to revisit what is known as the Alien Universe – the earliest of which is Ridley Scott's 1979 classic Alien – The 8th Passenger, set in 2122. However, in chronological speaking, the first film is Predator from 1987.
Pre-orders for Hiya Toys: Alien – Joan Lambert, Alien Queen, Alien Warrior, and Wolf Predator 1:18 Scale PX Previews Exclusive Action Figures from Hiya Toys are already live and can be found at the links below. The Alien Queen is priced at $49.99, while the rest are priced at $19.99. They are scheduled for release in November. You can see additional details and the new photos by reading on.
Alien – Lambert in Spacesuit
A PREVIEWS Exclusive! One of the three crewmembers chosen to explore LV-426, Lambert eventually stumbles across a derelict spacecraft. When they discovered the remains of the Space Jockey, Lambert wondered aloud what happened to the other members of the crew.

Now, Hiya Toys has created this blue spacesuit version Lambert from the movie before she was taken away by the Alien to be a host! This 1/18 scale figure stands approximately 4.3″ tall and comes complete with a blaster accessory.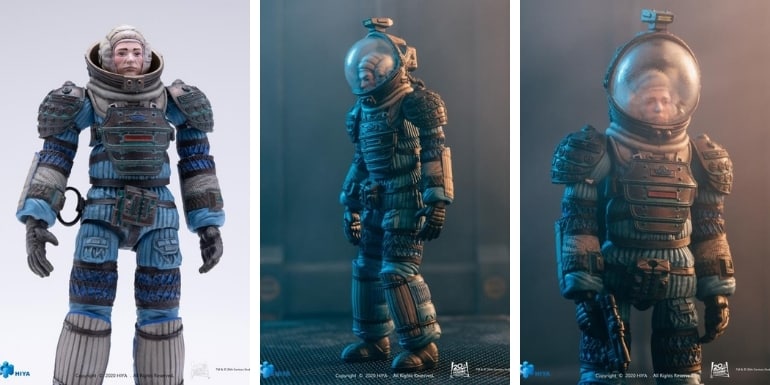 Alien vs. Predator – Alien Queen (Battle Damaged)
A PREVIEWS Exclusive! Every hive has its queen, and now Hiya Toys presents its version of the iconic Stan Winston design for the Alien Queen! This royal 1/18-scale figure features a new head sculpt and body details replicating the mix of practical effects, puppetry, and CGI in ADI's AvP Alien Queen design.

After a fierce battle, Lex and Scar defeat the Queen by chaining her to an oil vat and tipping it into the Antarctic Ocean, where it drags the Queen into the depths. Now Hiya Toys presents its version of the Battle scene. Standing about 7″ tall, this PREVIEWS Exclusive Alien Queen features Battle Damage painting.
Alien vs. Predator – Alien Warrior (Thermal Vision)
A PREVIEWS Exclusive! In 2004, industrialist Charles Bishop Weyland sends a group of explorers to investigate a mysterious Antarctic pyramid, but discover they've entered a Yautja hunting ground. Now caught between a trio of Hunters and a host of xenomorphs, the team must find a way to escape…or risk becoming prey or trophy!

Now Hiya Toys presents the Thermal Vision Alien Warrior that looks just like the predator's sight of vision! This figure captures the creature's iconic look with a fully poseable body and detailed paintwork on a 1/18 scale!
Alien vs. Predator: Requiem – Wolf Predator (Invisible)
A PREVIEWS Exclusive! The hero Yautja from 2007's Alien Vs. Predator 2: Requiem, named Wolf for the "fixer" character from Pulp Fiction, is of elite rank and is marked by his scarred face and missing tusk. Now, Hiya Toys debuts this heavily-armed hunter's Invisible version with this 1/18 scale figure derived from ADI's design!

Wolf stands about 4.5″ tall and features many accessories standard to Predators, including wrist blades, plasma caster, and shuriken. But it's Wolf's whip and handmade plasma pistol that set him apart from the pack! Wolf also comes with multiple hands, as well as a pegged stand for ease in posing.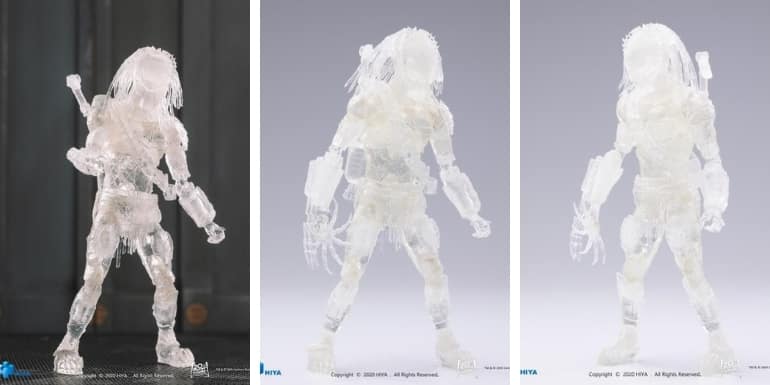 Hiya Toys: Alien – Joan Lambert, Alien Queen, Alien Warrior, and Wolf Predator 1:18 Scale PX Previews Exclusive Action Figures
Available at: