July 2023 NEW Sodas: Hooper and Barb, The Nun and Kelley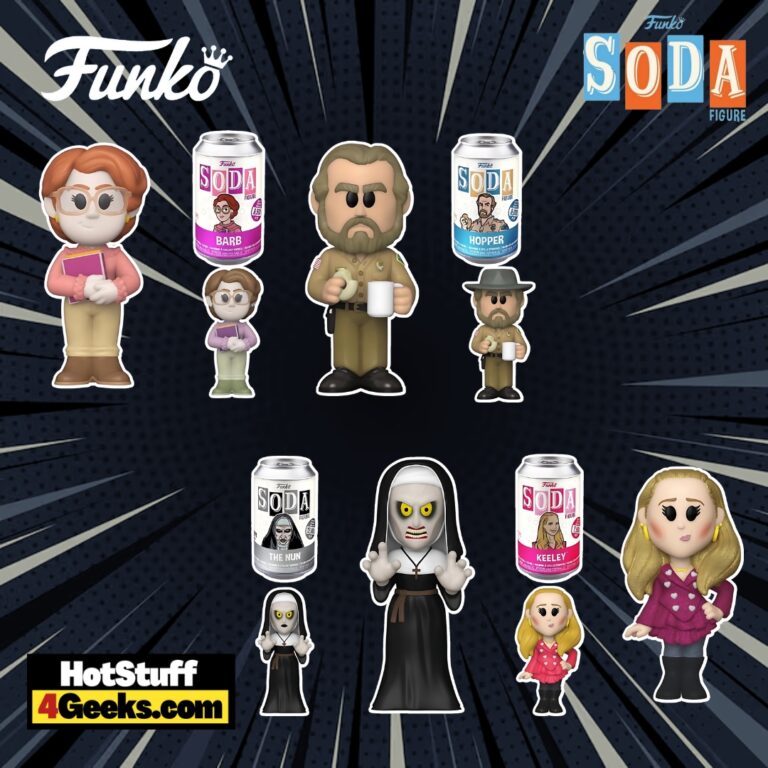 Soda Poppin' Characters: A Closer Look at Funko's Newest Releases
New Funko Sodas has just been released: Hooper and Barb (Stranger Things), The Nun and Kelley (Ted Lasso.) The world of collectible figurines is constantly changing, buzzing with the excitement of new releases and exclusive editions. Funko has unveiled today its latest array of fun and quirky Soda figures. The lineup includes our beloved characters from Stranger Things: Hopper and Barb, The Nun's chilling antagonist, and the charming Keeley from Ted Lasso. Each figure comes in a signature Funko Soda can, an irresistible combination of nostalgia and modern design.
To get your hands on these Sodas Vinyl Figures, be sure to check out the links I've provided below – click to jump or scroll to continue reading!
Gear up for a thrilling Funko Soda reveal!
We're unmasking Stranger Things' steadfast Hopper, packed in his collectible soda can, badge gleaming.
We can't forget loyal Barb, whose misfit charm captures hearts.
Next, let's turn the chill up with The Nun, radiating a spine-tingling aura.
And finally, our favorite optimist from Ted Lasso, Kelley, dons his iconic mustache and beams in his soda-can home.
Here's a twist: each Funko Soda has a 'chase variant' hidden in the run – a slightly different, ultra-rare collectible. Imagine landing one of these!
No promises, but ordering more ups your chances. Good luck!
Stranger Things: Hopper Vinyl Funko Soda Figure
Stranger Things: Barb Vinyl Funko Soda Figure
The Nun Vinyl Funko Soda Figure
Ted Lasso: Keeley Vinyl Funko Soda Figure
The Soda Figures are now available for pre-order at the links below (click to jump!)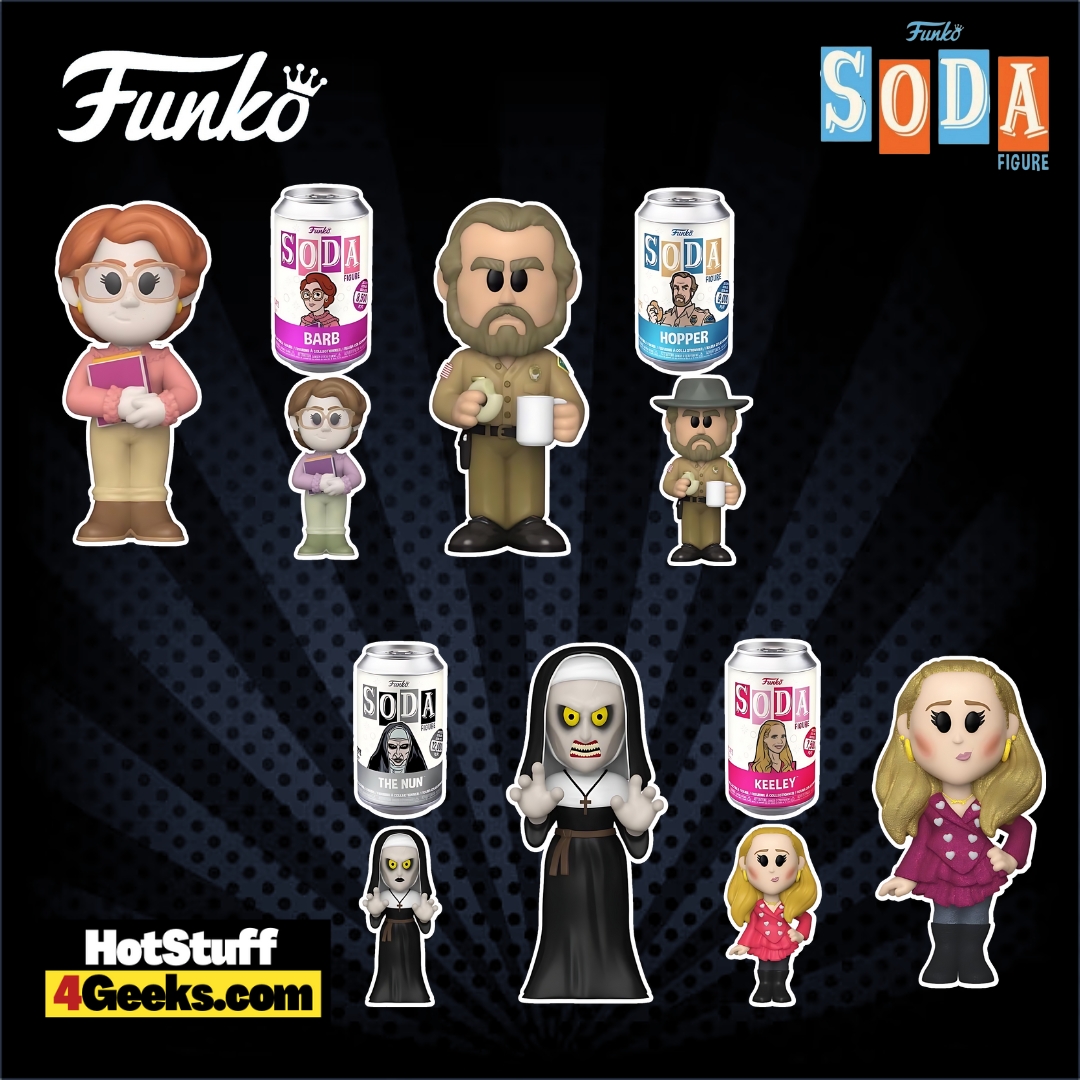 Let's pop the lid off these exciting new additions.
Stranger Things: Hopper Vinyl Funko Soda Figure
First, we have the ever-resilient, brave, and unflinchingly honest Sheriff Hopper from the iconic Stranger Things series.
This chase figure captures Hopper's signature aesthetic, complete with his trusty police hat and uniform, embodying his dedication to protecting Hawkins' residents from the supernatural threats lurking beneath.
Owning this Hopper Soda Figure is like having a mini guardian of justice, a tangible salute to this remarkable character's unwavering courage.
Stranger Things: Barb Vinyl Funko Soda Figure
Next in line is the often-overlooked yet unforgettable Barb, also from Stranger Things.
This character captured hearts worldwide with her earnestness and loyalty, traits that shone brightly even in the strange and terrifying situations she found herself in.
The Barb Vinyl Funko Soda figure dons her signature glasses and outfit from the series, encapsulating her character's quintessential style.
A testament to friendship and resilience, this figure is a must-have addition to every Stranger Things collection.
The Nun Vinyl Funko Soda Figure
From the heartwarming to the downright terrifying, we now turn to The Nun.
This figure represents the evil entity from the hit horror film.
The Nun Vinyl Funko Soda Figure is not for the faint-hearted, capturing the haunting visage of the demon Valak in all its sinister glory.
The figure serves as a chilling yet fascinating token from one of the scariest films of the century.
Are you to add it to your collection?
Ted Lasso: Keeley Vinyl Funko Soda Figure
Lastly, we bring warmth back with the Keeley Vinyl Funko Soda Figure from the feel-goodTed Lasso series.
Keeley, the intelligent and sassy PR guru who stole many hearts, is now available in Funko Soda form. With its stylish attire and confident stance, this figure perfectly mirrors Keeley's charismatic presence on the show.
It's essential for any fan seeking to bring a little bit of Keeley's charm and wit into their collection.
And there you have it! Each figure offers a delightful blend of detail and style, capturing the very essence of these beloved characters.
As true fans know, the real value of these figures isn't just in their collectability but in the way they bring our favorite characters to life, immortalizing the stories that captivated us.
Ultimately, isn't that what being a fan is all about?
Funko Pop! Sodas: Hooper and Barb (Stranger Things), The Nun and Kelley (Ted Lasso) Soda Vinyl Figures
Available at:
Starting now, you can receive 10% off in-stock items with my special link at Entertainment Earth!
 Enjoy!
As an Amazon Associate I earn from qualifying purchases
Want more stuff like this?
Get the best viral stories straight into your inbox!
Don't worry, we don't spam