2022 NEW Killer Klowns from Outer Space Funko Pop! VHS Cover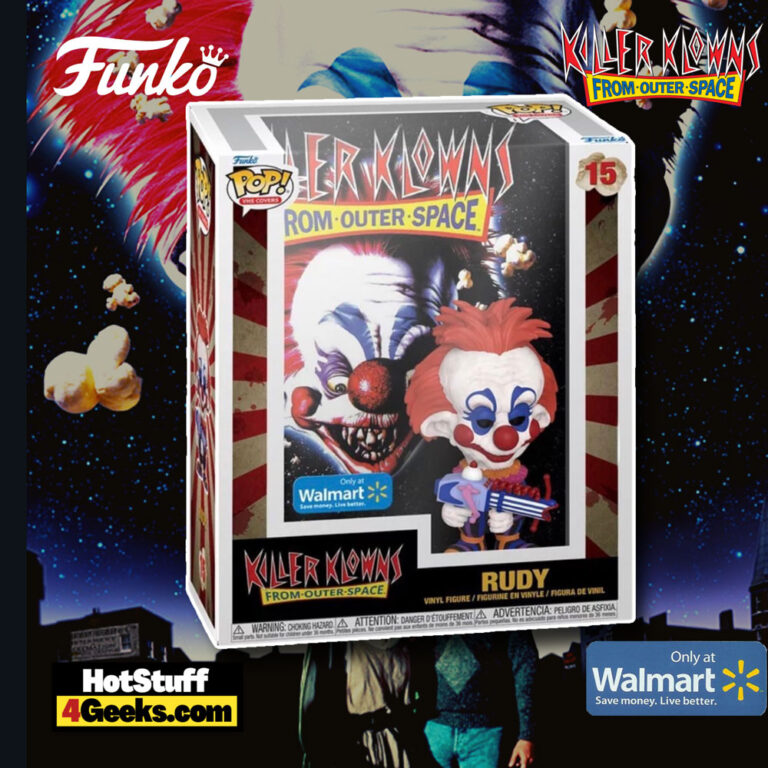 Finding the best way to show off your fandom of the best media out there is easier than ever. Pay homage to one of the top horror B-movies of all time with this new Funko Pop! VHS Covers: Killer Klowns from Outer Space – Rudy  Funko Pop! VHS Cover Vinyl Figure – Walmart Exclusive.
The pop figure was released today. You can find it at the links below – click to jump or scroll to continue reading!
Killer Klowns from Outer Space (1988) is simply the best clown horror movie of all time, with the best make-up/visuals, a whimsical art direction, and one fundamental detail: humor.
The film is the kind of unpretentious trash that became a cult movie.
A conservative small town in the interior of the USA (where else?) is invaded by alien clowns. They land with their circus tent-shaped spaceship and begin to murder the locals and wrap them in cotton candy cocoons.
The weapons used by the Klowns are the most original on record: mutant popcorn, toy mallets, shadow theater, and a dog-shaped bladder.
While Stephen King's ambitious It film is an analogy to childhood trauma and leaves room for several interpretations, Killer Klowns gets to the point and is not afraid of being ridiculous.
To this day, the film is celebrated and strongly recommended for anyone who enjoys a good trash movie.
Based on the cult classic B-movie, this Funko Pop is a must-have for any self-respecting horror fan.
Killer Klowns From Outer Space VHS Cover – Rudy Funko Pop! can be found at the links below (click to jump!)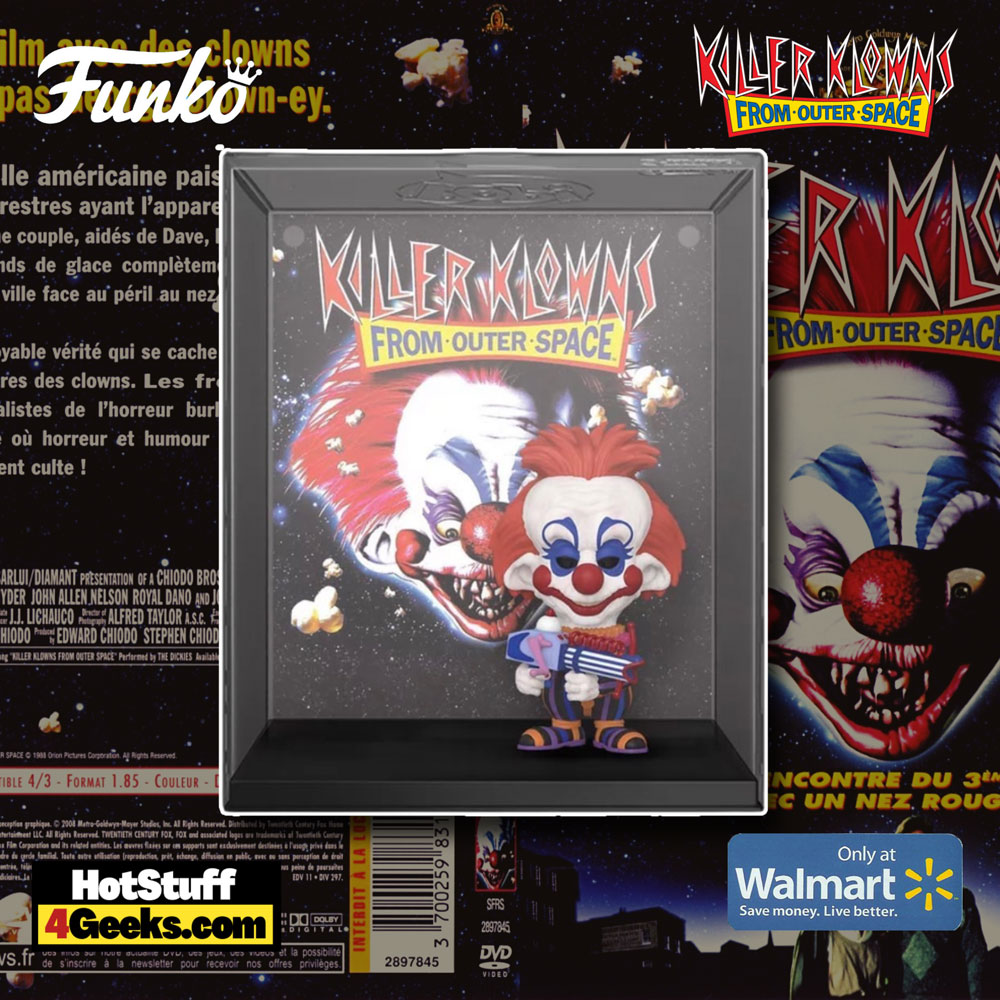 Who would ever imagine that Killer Klowns existed, or, for that matter, who would ever imagine one day watching a movie about Killer Space Klowns? If a story about killer Klowns would be absurd enough, how about one about killer Klowns from outer space?
With its bizarre title, the directors already showed their creativity and did not disappoint with the finished product. They simply made one of the most memorable and insane B movies of the 1980s.
If there is such a person, anyone who has never seen the movie must be wondering whether Killer Klowns is meant to be taken seriously or it is an admittedly slapstick movie.
Believe it or not, it is a slapstick movie that takes itself seriously.
Killer Klowns has excellent production, great (and cheap) special effects, and an unknown but committed cast that doesn't compete for the worst acting.
Besides this, the film rarely exceeds the limit of good taste, so I can't entirely agree that it can be considered simply "trash" – the label usually given to productions that are so bad they are good.
However, nowadays, any horror film can be called that. Is Killer Klowns trash? Maybe the idea, the conception, yes, but the direction, for sure, is not.
We are faced with a genuine and witty B movie. It's true but very far from being bad.
All right, all right, it's a piece of nonsense taken seriously. But is it scary? Of course not!
Maybe it would be if the directors had their Killer Klowns attacking the townspeople with axes and sharp knives.
But the Chiodo brothers are nice guys.
They have made a movie where the Killer Klowns use creative devices to eliminate their victims through objects, situations, and pranks made by the Klowns as if they were in a big circus.
People are killed with cream pies in the face and guns that shoot popcorn, or they end up trapped in balloons and cotton candy cocoons (!!!).
In the bizarre and humorous universe of the film, even a simple game of shadows reflected on a wall can be deadly!
And although it includes a couple of scenes that are a little more serious and might even seem creepy – such as the Klown trying to lure a little girl out of the diner with a giant mallet hidden behind his back – Killer Klowns is not a scary movie.
Unless, of course, you are terrified of clowns, like the Chiodo brothers themselves.
Funko Pop! VHS Covers: Killer Klowns from Outer Space – Rudy  Funko Pop! VHS Cover Vinyl Figure – Walmart Exclusive
Available at:
Starting now, you can receive 10% off in-stock items with my special link at Entertainment Earth!
 Enjoy!
As an Amazon Associate I earn from qualifying purchases
Want more stuff like this?
Get the best viral stories straight into your inbox!
Don't worry, we don't spam