2022 NEW Kiss – Alive II Tour 1978 Funko Pop! Moment Walmart Exclusive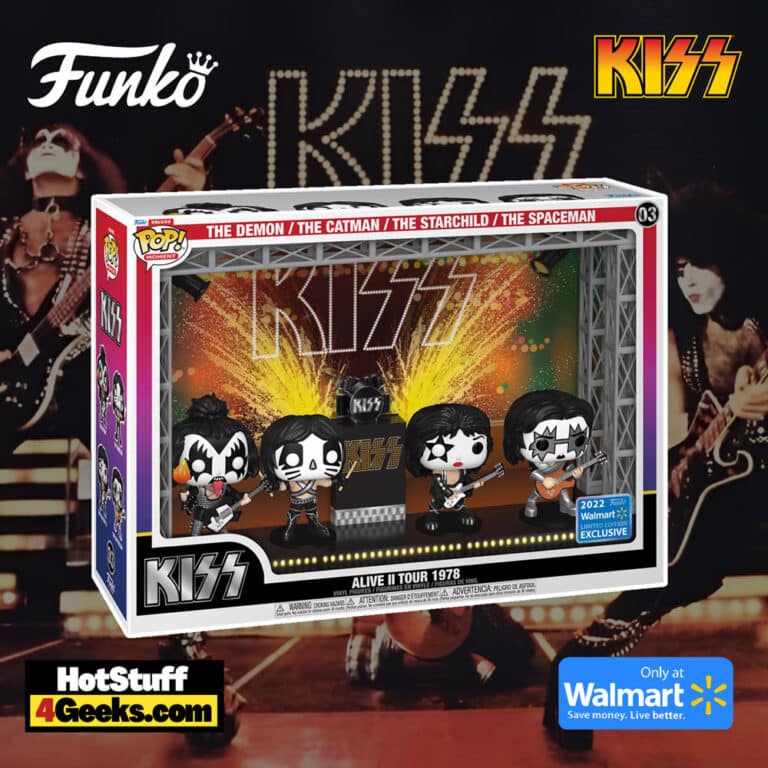 Looking for a fun and unique way to show your love for Kiss? Check out Funko Pop! Concert Moment: Kiss – Alive II Tour 1978 Funko Pop! Deluxe Vinyl Figures – Walmart Exclusive featuring The Demon, the Catman, The Starchild, and The Spaceman.
The pop figures will be available on Nov 14th, 9 AM PT at the links below (click to jump!)
This set of four makes a great gift for any Kiss fan. Each figure is made of durable vinyl and features accurate details from the tour, including The Demon's famous tongue and The Starchild's iconic star makeup.
The Kiss Alive II Tour in 1978 was one of the most over-the-top concert tours of all time.
It featured an enormous stage show with pyrotechnics, laser lighting, and even a levitating drum platform. The band also had a lavish wardrobe, with each member wearing outlandish costumes and makeup.
The Kiss Alive II Tour was hugely successful, selling out arenas across the country.
It cemented Kiss's reputation as one of the most entertaining rock 'n' roll bands and remained one of the most iconic concert tours in history.
The Walmart Exclusive Kiss – Alive II Tour 1978 Concert Funko Pop! Moment Deluxe Vinyl Figures can be found at the links below (click to jump!)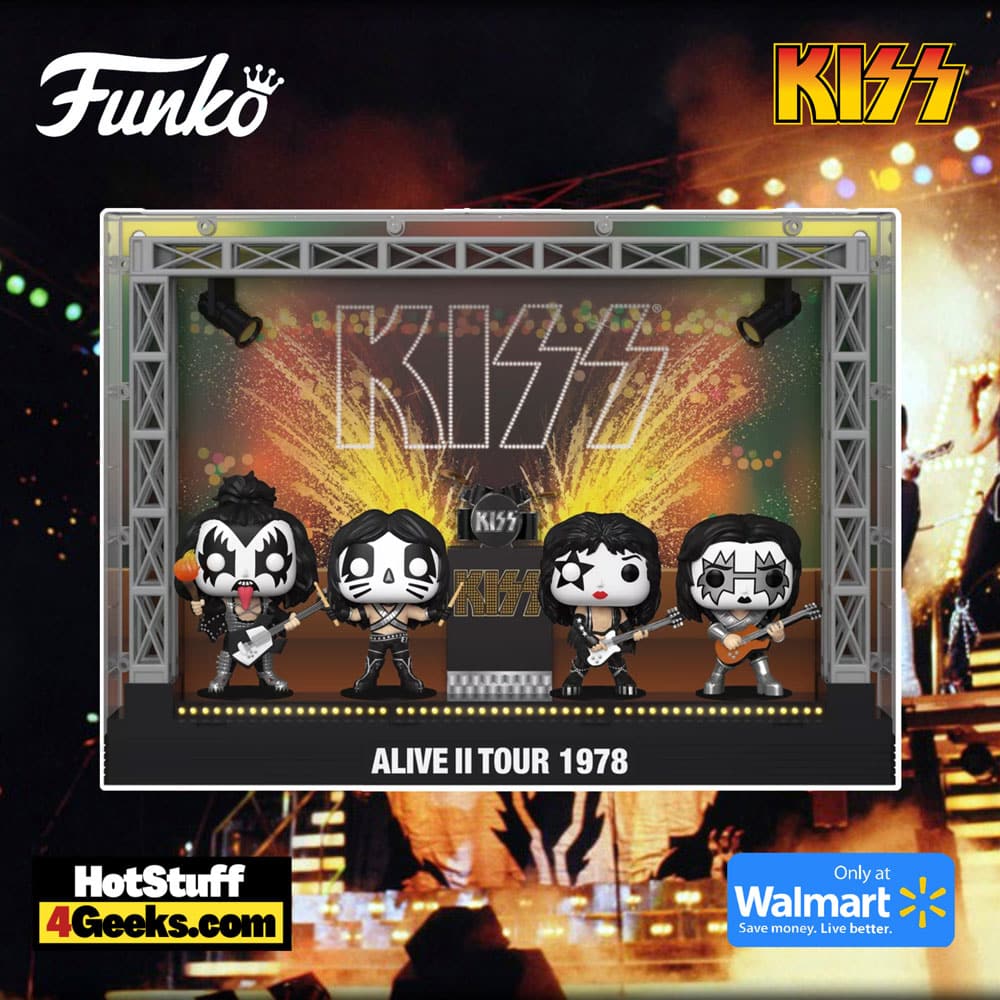 I'm not what you would call a "KISS Army" diehard. I don't own any of their records (on vinyl or otherwise), I've never seen them live, and I couldn't tell you the name of more than two or three of their songs.
So why did I find myself sitting in front of my computer at 3 am on a Tuesday morning, watching a bootleg recording of their 1978 Alive II tour concert?
Because it's one of the most unreal, over-the-top spectacles of a show I've ever seen, that's why.
For those unfamiliar with Kiss, they are an American rock band formed in New York City in 1973. The band is known for its onstage theatrics, which include fire breathing, blood spitting, pyrotechnics, and smoking guitars.
They are also known for their highly influential makeup and costumes; each band member wears elaborately designed masks and cosmetics that are unique to their character.
Kiss-Alive II was released in 1977 and was recorded during the band's live performances in four different cities across the United States.
The double album featured live versions of 14 songs and several studio tracks. It was a commercial success, peaking at #7 on the US Billboard 200 chart and selling over 4 million copies worldwide.
From the moment the curtain rises and the band comes flying out onto the stage, it is clear that this is not your average rock concert.
Fireworks explode, confetti rains down from the ceiling, and streamers shoot out into the crowd as the band members take their places on a massive platform in the center of the arena.
And then there's the makeup. Every inch of Kiss's exposed skin is covered in white face paint, black eyeliner, and bright red lipstick.
Their costumes are just as outrageous; Gene Simmons is wearing what can best be described as a badass dragon outfit complete with six-inch tall platform boots, while Paul Stanley is decked out in a stars-and-stripes bodysuit with fringe that hangs down to his knees.
The show is pure entertainment from start to finish, featuring all sorts of crazy antics, including fire breathing, pyrotechnics, blood spitting, and even a guitar solo played with someone's tongue!
The highlight of the concert for me was seeing Ace Frehley perform his signature "smoke guitar" solo; his guitar emits thick clouds of smoke while he plays it upside down behind his head!
I may not be a diehard Kiss fan, but after watching their Alive II tour concert from 1978, I can definitely say they put on one hell of a show!
As an Amazon Associate I earn from qualifying purchases
Want more stuff like this?
Get the best viral stories straight into your inbox!
Don't worry, we don't spam