Loungefly Disney Princesses Books AOP Crossbody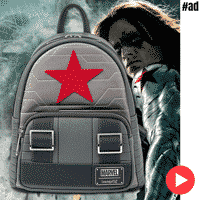 Loungefly Disney Princesses Books AOP Crossbody – March 2021 pre-orders coming on April 2021.
Available at the links below.
Words are not enough to express how utterly delightful this Loungefly Disney Princess crossbody bag is. Adorned with our reading wish-list, this whimsical design incorporates all our favorite Disney fairytale books including, The Little Mermaid, Mulan, Cinderella, Aladdin, and Tangled, along with the corresponding palace pets. Literary one of the most beautiful bags ever!
March 2021 Pre-Orders arriving in April 2021. Loungefly March 2021 pre-orders are well and truly underway! Check out all the exceptional bags, purses, and wallets coming on April 2021 on our dedicated page here, or the entire Loungefly Disney collection here.