Loungefly Disney Villains Scene Maleficent Sleeping Beauty Flap Wallet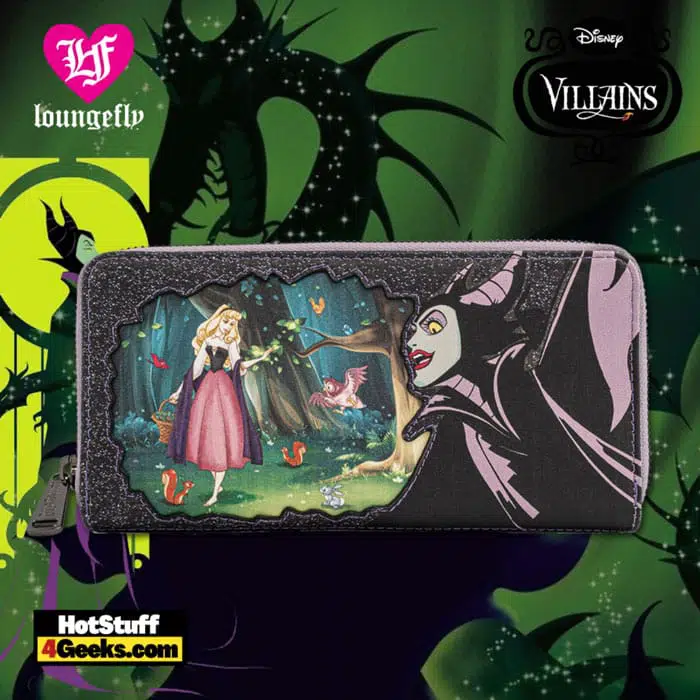 Loungefly Disney Villains Scene Maleficent Sleeping Beauty Flap Wallet will be available for pre-order starting May 1st at 12 AM EST.
Well, well. Looks like you've stumbled upon another enchanting wallet from Loungefly. Disney's most notorious villain is back with a vengeance on this deliciously dark design which depicts Princess Aurora in her Forest Cottage being watched over by the Mistress of All Evil.
And as always with Loungefly, it's all in the details. From the matching lining to the debossed print, and check out Maleficent's trusted sidekick, Diablo on the back too. Evil never looked so good!
Pre-orders are now live at the links below (click to jump!)
With a stone in her heart, determined to get revenge and to protect the forest kingdom she rules, Maleficent puts a cruel curse on the king's newborn daughter, Aurora.
The tale of Maleficent is one that teaches every king to invite even the most wicked of fairy witches to your party. If you don't, your child will end up with a curse upon their head to prick a finger on a spinning wheel on their 16th birthday. This is one witch that knows she is not one to be messed with.
While she might not be welcome in the castle, she's sure to add wonder and magic to your Loungefly collection! She might even spare you from her evil magic!
You can also look for more May 2021 pre-order bags arriving in June 2021 on our dedicated page here or the Loungefly Disney Villains collection here.
As an Amazon Associate I earn from qualifying purchases
Want more stuff like this?
Get the best viral stories straight into your inbox!
Don't worry, we don't spam