Loungefly Nickelodeon: Invader Zim Doom Mobile Trifold Wallet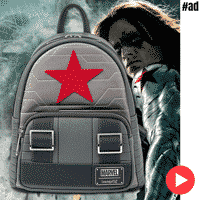 Loungefly Invader Zim Doom Wallet – March 2021 pre-orders coming on April 2021.
Available at the links below.
Start singing the Doom song because Invader Zim is back…. in wallet form. This genius design from Loungefly features Zim and GIR preparing to unleash doom on the world. Be sure to check out the alien bee on the back too. The perfect tribute to one of Nickelodeon's most beloved turn-of-the-millennium series.
March 2021 Pre-Orders arriving in April 2021. Loungefly March 2021 pre-orders are well and truly underway! Check out all the exceptional bags, purses, and wallets coming on April 2021 on our dedicated page here.
Loungefly Nickelodeon: Invader Zim Doom Mobile Trifold Wallet – March 2021 pre-orders coming on April 2021
Available at: