Loungefly Pusheen Unicorn Plush Ombre Chain Strap Crossbody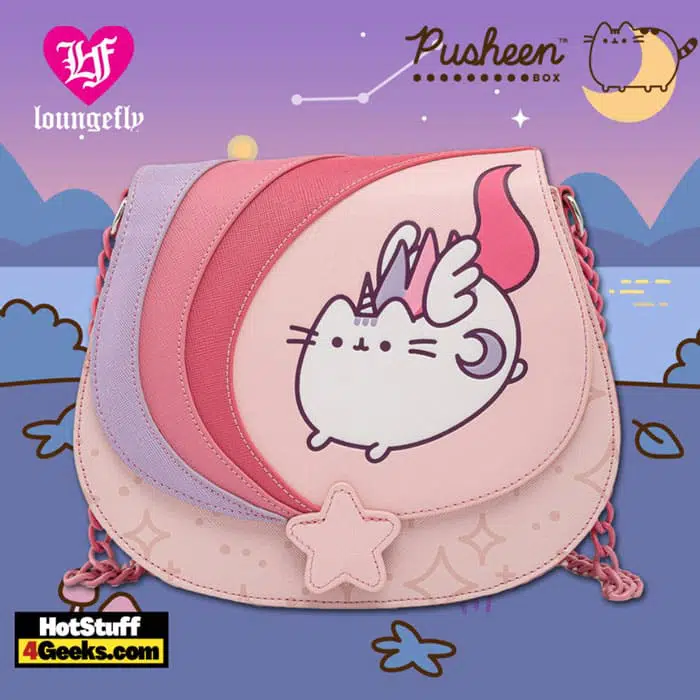 Loungefly Pusheen Unicorn Plush Ombre Chain Strap Crossbody will be available for pre-order starting May 1st at 12 AM EST.
This may be the most adorable Loungefly bag we've ever seen! Pusheen + unicorns + ombre all combine on this pretty pink and purple satchel which is topped off with a matching chain handle. Just like the legendary Pusheenicorn, you'll spread joy with every wear!
Pre-orders are now live at the links below (click to jump!)
Pusheen is this adorable kitten that has taken over the internet. Pusheen's pictures started to make a tremendous splash on Tumblr, with cute cat images in human dilemmas.
The cat started to be used in Facebook stickers to express different emotions. Pusheen is very successful with her cute GIFs.
Pusheen became so famous that she began to have her own product line and have her image managed by Pusheen Corp. Pusheen's posts exceed over 100,000 notes on Tumblr! Which is an insane number!
The simple and cute design is enough to win the hearts of those who love adorable things.
You can also look for more May 2021 pre-order bags arriving in June 2021 on our dedicated page here or the Loungefly Pusheen collection here.
As an Amazon Associate I earn from qualifying purchases
Want more stuff like this?
Get the best viral stories straight into your inbox!
Don't worry, we don't spam