Loungefly Seinfeld City Flap Wallet
Loungefly Seinfeld City Flap Wallet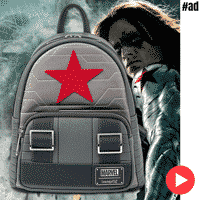 The best series about nothing is probably the correct definition of Seinfeld. The series comprises four main characters who discuss and analyze the most ordinary facts of everyday life with a good dose of irony, humor, and selfishness. Love relationships, problems at work, and the most frivolous topics are observed from Jerry Seinfeld's perspectives, a full-time comedian, Elaine Banes, Jerry's malicious ex-girlfriend, Cosmo Kramer, the comedian's eccentric neighbor, and George Constanza, Jerry's unlucky and neurotic friend.
Show off your Seinfeld fandom with this Seinfeld City Flap Wallet! It is made of faux leather and features a flap closure, matching themed lining, applique, debossed, printed, and enamel zipper puller details. This wallet approximately measures 6 1/2-inches wide x 3 3/4-inches tall.
Ready for more Loungefly bags? See the entire collection here.