Magic Unfolds: NEW Black Clover Funko Pops! (2023 Edition)
Animated worlds are magical, and bringing home a piece of that enchantment is something anime fans treasure. This year, Funko is offering fans of the spellbinding "Black Clover" series a fresh opportunity to do just that. The Funko Pop! Animation: Black Clover Funko Pops! (2023 Edition) lineup has unveiled a set of vibrant, meticulously crafted "Black Clover" figures that promise to add an extra spark to any collection.
UPDATE: Now Available at Amazon! To get your hands on these Pop Vinyl Figures at their release, be sure to check out the links I've provided below – click to jump or scroll to continue reading!
A Glimpse Into the Magic: Unveiling the 2023 Black Clover Funko Pops!
There's a fresh wave of magic sweeping across the "Black Clover" fandom with the announcement of the 2023 Funko Pop! Animation: Black Clover Funko Pops! With this new release, fans are in for a real treat, as their favorite characters from the magical realm are immortalized as charming, intricately designed Funko Pop! figures.
Whether you're an ardent follower of the determined anti-magic boy Asta or rooting for the ambitious Yuno, these Funko Pops! breathe life into the characters we all cherish.
The figures capture the essence of "Black Clover" in such a profound way that they could be considered an extension of the anime's enchanting universe.
From the characters' iconic costumes to their magical props, each Funko Pop! is a testament to the creative brilliance and intricate storytelling that "Black Clover" is celebrated for.
For fans and collectors alike, this 2023 edition of Black Clover Funko Pops! is a delightful new way to connect with the saga and its magical world.
Get ready to add a touch of magic to your collection with these spellbinding figurines!
So, here's the breakdown for all the Black Clover Funko Pop! Figures for this year (subject to change):
Already released:
Black Astra Funko Pop! Vinyl Figure
Noelle (Valkyrie Armor) Funko Pop! Vinyl Figure
Yami Funko Pop! Vinyl Figure
Yuno (Spirit of Zephyr) Funko Pop! Vinyl Figure
Coming Soon:
Black Clover Funko Pop! Vinyl Figures (2023 release) can be found at the links below (click to jump!)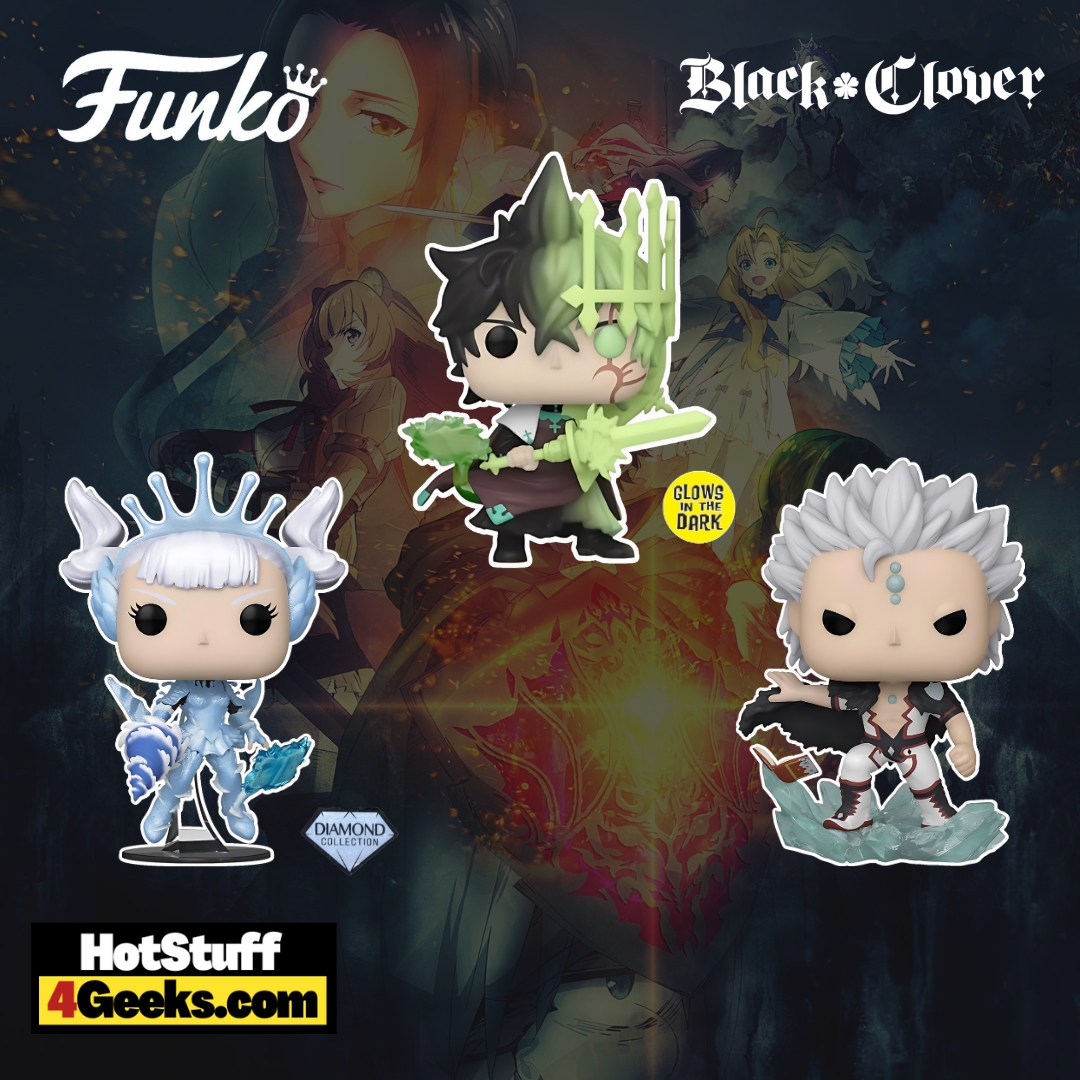 The Magical Chronicles of "Black Clover": A Shonen Masterpiece
Certain series have carved a niche and defined generations in the vast, enchanting universe of shonen anime and manga. Every decade or so, a groundbreaking new saga appears and shakes up the genre.
The 2010s were no exception, presenting us with Yuki Tabata's "Black Clover."
Initially a sleeper hit, it emerged out of the shadows of blockbusters like "My Hero Academia" and "Demon Slayer" to enrapture audiences with its unique blend of magic, rivalry, and a relentless quest for greatness.
Situated in a world where magical prowess is the norm, "Black Clover" spins an enchanting tale about Asta, a young boy bereft of any innate magical abilities.
Yet, in a surprising twist, he is gifted an extraordinary grimoire – a book of spells that arms him with the power of Anti-Magic.
Asta, alongside his friend-turned-rival Yuno, sets out on a quest to claim the coveted title of Wizard King, the ultimate savior of their world.
One of the many captivating features of "Black Clover" is its pacing. It masterfully maintains a brisk rhythm without ever sacrificing the intricacies of its plotline.
Unlike some predecessors, the story launches quickly into action, introducing formidable adversaries much earlier in the narrative.
The enthralling universe of "Black Clover," abundant with potent magic and captivating lore, allows for fascinating narrative elements.
Using unexpected plot devices feels organic rather than forced, contributing to the series' unique flavor.
Its meticulously crafted action sequences resemble the legendary Akira Toriyama's "Dragon Ball," offering gripping battles that keep the audience at the edge of their seats.
Character development is a crucial facet of the "Black Clover" narrative, and it is done superbly.
Each character, from Magic Knights to the different factions within this organization, is well-rounded, with unique abilities and intriguing personalities.
Asta, the protagonist, does not simply stumble upon his powers – he earns them, marking a departure from the classic Chosen One narrative often seen in the genre.
Moreover, "Black Clover" stands out for its commendable portrayal of female characters, as it offers them equal importance and character development, a somewhat rare trait in the shonen genre.
Characters like Noelle Silva, Mimosa Vermillion, and Vanessa Enoteca grow in strength and complexity parallel to their male counterparts.
Despite its prowess, "Black Clover" isn't without its flaws.
Predictability in the storyline and a peculiar approach to flashbacks in the manga can sometimes detract from the reading experience.
The dialogue writing could sometimes come across as slightly rough around the edges, which may be more noticeable in translation.
Nevertheless, "Black Clover" encapsulates the quintessential shonen experience while simultaneously pushing the boundaries of the genre.
For seasoned fans or those new to the world of shonen, "Black Clover" is a saga that surely warrants attention.
Its vast and passionate fanbase eagerly anticipates its return from a long hiatus, and one can only hope it happens soon.
Starting now, you can receive 10% off in-stock items with my special link at Entertainment Earth!
 Enjoy!
As an Amazon Associate I earn from qualifying purchases
Want more stuff like this?
Get the best viral stories straight into your inbox!
Don't worry, we don't spam