2023 NEW Mando in N-1 Starfighter (W/ Grogu) Funko Pop! Ride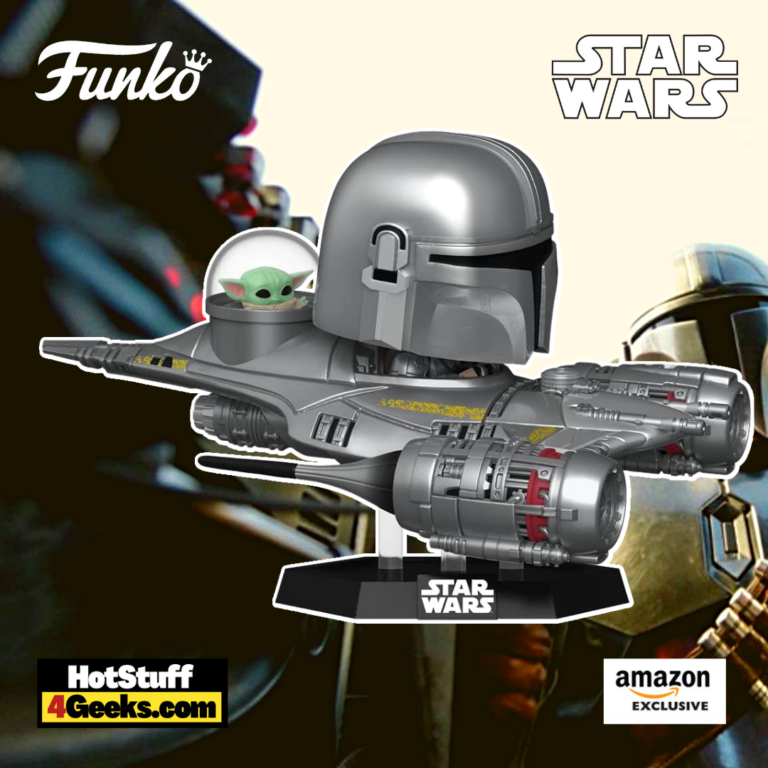 Are you ready to blast off into a galaxy far, far away? Perfect for any bounty hunter who wants to make a statement, this ship is the ultimate ride for those who aren't afraid to take risks. And now, with the new Funko Pop! Ride: Mandalorian: Mando in N-1 Starfighter (with Grogu) Funko Pop! Ride Vinyl Figure – Amazon Exclusive, you can bring the excitement of Din Djarin's ship into your own home.
The pop figure is now available for pre-order at the links below – click to jump or scroll to continue reading!
While some ships in the Star Wars universe are more well-known than others, the N-1 Starfighter has earned its place among the legends.
It's the same ship that young Anakin Skywalker used to blow up the Trade Federation Droid Control Ship in The Phantom Menace.
And now, it's been updated for the sequel era with a modern twist that's sure to excite even the most die-hard Star Wars fans.
Din Djarin has truly found his perfect companion with this minimalist and sleek spacecraft.
It's reminiscent of Luke Skywalker's X-wing, and while he may not be a Jedi, there's no denying that this ship makes him feel like a hero.
But the real question on everyone's mind is whether or not a certain green child will join him for a joyride.
One thing's for sure: with the fastest and most fantastic ship in the galaxy, Din Djarin is unstoppable.
So what are you waiting for? Check out Din Djarin's N-1 Starfighter and experience the thrill of the Star Wars universe for yourself!
The Amazon Exclusive Mando and Grogu in the Naboo N-1 Starfighter Funko Pop! Super Deluxe is now available for pre-order at the links below (click to jump!) It's expected to be released in July 2023.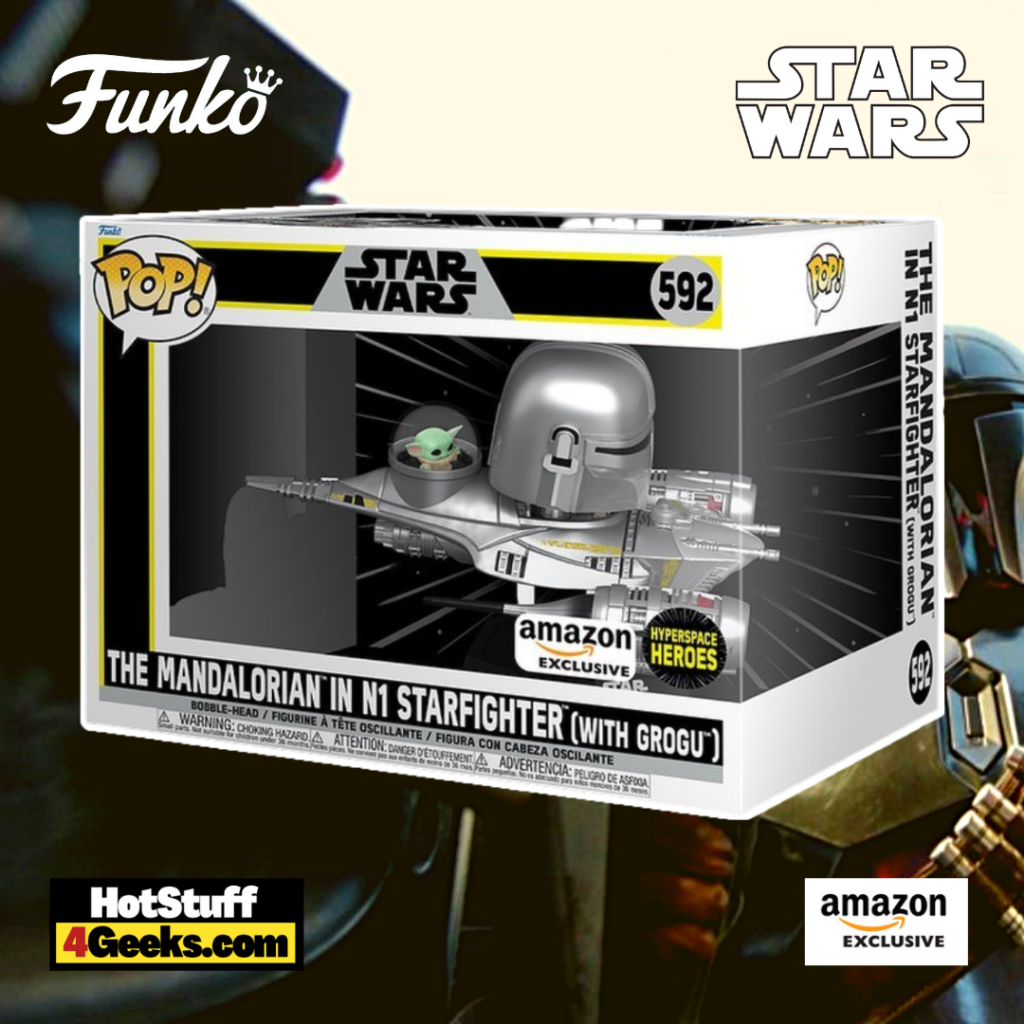 After the unfortunate destruction of the Razor Crest, Mando finds himself stranded without a ride in a galaxy far, far away.
Desperate to get his hands on a new ship, he sets his sights on Tatooine, where Peli Motto promised to help him.
Upon arriving in Mos Eisley, Djarin heads straight for Hangar 3-5, hoping to find the ship of his dreams.
Unfortunately, his hopes are dashed when he lays eyes on the replacement: an old and damaged N1 fighter of the Naboo Royal Guard, straight out of The Phantom Menace.
But being the resilient bounty hunter he is, Djarin doesn't let this setback get him down.
Instead, he rolls up his sleeves and gets to work, helping the mechanics fix up the fighter and making some modifications of his own.
The result? A ship that's faster, stronger, and more agile than ever before.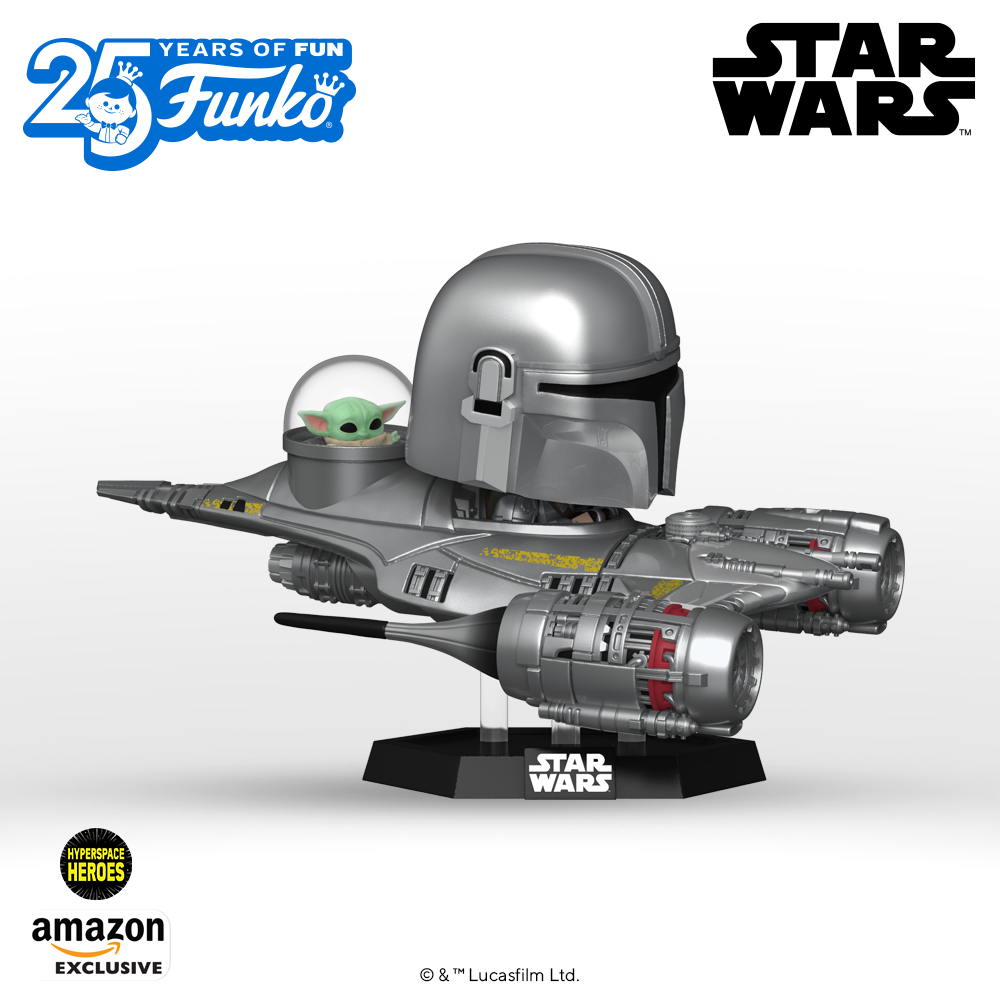 With his new and improved N1 fighter ready to go, Djarin takes it out for a spin, much to the delight of The Phantom Menace fans everywhere.
From the familiar sounds to the thrilling test drive, every moment feels like a nod to the classic movie.
But perhaps the most exciting part is getting to pilot the fighter along the same course as the legendary Boonta Eve Classic, the race that young Anakin Skywalker won all those years ago.
And for those who remember the movie well, the controls of the N1 fighter will feel all too familiar, as they're the same ones that the young boy struggled to understand before the Battle of Naboo.
All in all, it's safe to say that Djarin's journey to find a new ship has been a wild ride.
And if you're a fan of The Phantom Menace or just looking to add a cool new ship to your collection, be sure to check out the Mandalorian in N-1 Starfighter Funko Pop! Deluxe figure.
It's the perfect way to pay homage to one of the most iconic ships in Star Wars history.
Check out more Star Wars: Hyperspace Heroes Funko Pops! here.
Starting now, you can receive 10% off in-stock items with my special link at Entertainment Earth!
 Enjoy!
As an Amazon Associate I earn from qualifying purchases
Want more stuff like this?
Get the best viral stories straight into your inbox!
Don't worry, we don't spam