First Look: Mariah Carey's 'Emancipation of Mimi' Funko Pop!
Funko Pop! Rocks: Mariah Carey "The Emancipation of Mimi" Funko Pop! Vinyl Figure
Available at:
When the worlds of music legends and collectible figures collide, magic happens. Introducing the Funko Pop! Rocks: Mariah Carey "The Emancipation of Mimi" Funko Pop! Vinyl Figure, a captivating blend of nostalgia and artistry that's set to steal the spotlight in any collection. A tribute to an iconic era, this piece is the epitome of pop culture fusion.
Mariah Carey Pop! is now available for pre-order! To get your hands on this Pop Vinyl Figure at its release, be sure to check out the links I've provided below – click to jump or keep scrolling for more details!
Unveiling Mariah Carey's 'The Emancipation of Mimi' Funko Pop! A Vinyl Tribute
The spotlight is now on the brand-new Funko Pop! Vinyl figure inspired by Mariah's iconic album, "The Emancipation of Mimi." This stylish vinyl character gleams with the grace and glamour Mariah is renowned for.
Donning a luxurious gold dress that perfectly drapes her figure, this collectible is a miniature masterpiece of craftsmanship. From the cascading golden locks to the twinkle in those wide black eyes, it's a detailed work of art.
The figure's packaging is a nod to its limited-edition nature, featuring clear visuals of the character from multiple angles.
This item captures a pivotal era in Mariah's musical journey, making it desirable not just for devotees but for vinyl figure enthusiasts everywhere.
It's a splendid tribute, ensuring fans can have a piece of that golden "Mimi" era right in the palm of their hands. For those looking to elevate their collection, this is undoubtedly the piece to watch!
Mariah Carey Funko Pop! from the "The Emancipation of Mimi" album can be pre-ordered at the links below (click to jump!)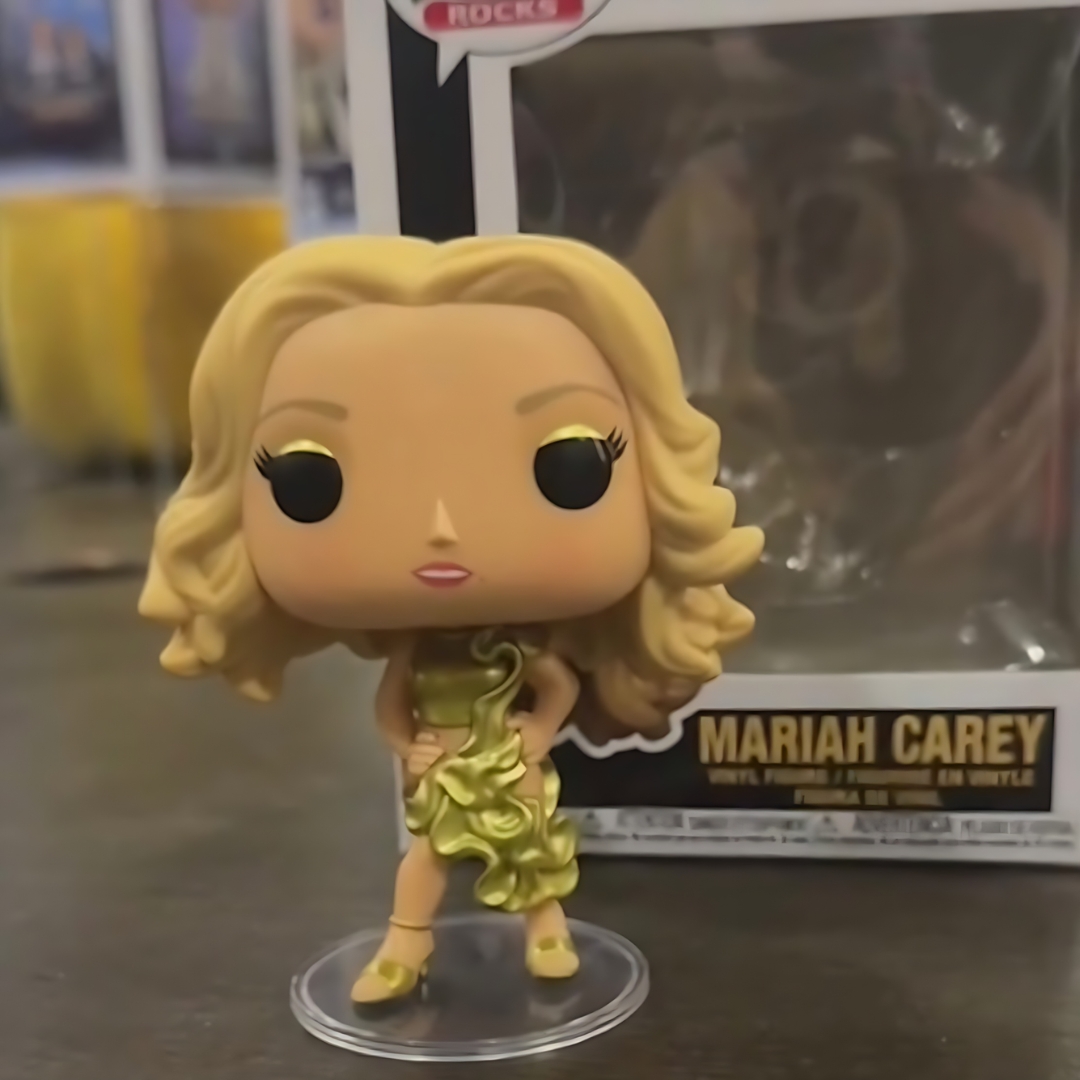 Mariah Carey's Triumph: The Rhythms and Rise of 'The Emancipation of Mimi'
Mariah Carey's 2005 album, "The Emancipation of Mimi," stands as a cultural touchstone, marking a pivotal moment in her illustrious career.
This record wasn't merely a comeback; it was a reinvention—a masterclass in adapting to the ever-evolving landscape of R&B and pop music.
After the lackluster response to previous projects, Carey faced the challenge head-on, catapulting herself back into the limelight with what would become a defining album of the early 2000s.
Crafted with a careful blend of vulnerability and vivacity, "The Emancipation of Mimi" served as Carey's declaration of independence, showcasing her talent as an artist.
It embraced a carefree ethos that resonated with a generation that had, perhaps, lost touch with Mariah Carey, who once dominated their radio waves.
With this album, she didn't just revisit the limelight; she redefined it on her own terms.
Collaborating with Jermaine Dupri, Carey leaned into the full range of her vocal prowess. The tracks "It's Like That," "Shake It Off," and "We Belong Together" were emblematic of this synergy between producer and artist, underpinning the project's success.
These songs weren't just about vocal acrobatics; they were a fusion of soulful narratives and raw emotion, underlined by Dupri's insistence on Carey's use of her resonant, full-bodied voice over the whispery nuances of previous records.
This bold approach transcended the typical R&B formula.
The album wove together the sound of the 2005 rap and R&B zeitgeist, drawing on the talents of other musical luminaries such as Kanye West and The Neptunes and featuring artists like Nelly and Twista.
This wasn't just another album; it was a map of Carey's journey back to her R&B roots while simultaneously exploring new territories.
Mariah's renewed confidence was palpable throughout the tracks. In an industry that had seen her as a fallen icon, she rose with a playful defiance, a splash of humor, and a flair that echoed across club anthems and soulful ballads.
The lyrics were a testament to her resilience, embracing both the poignant and the playful, allowing her to step into a more multifaceted and self-assured persona.
"The Emancipation of Mimi" wasn't just about chart-topping hits; it reshaped Carey's narrative in the public eye.
From her flirtation with self-parody to the forthright assertion of her place in music, she wove her experiences into a tapestry of songs that were both deeply personal and universally appealing.
Her subsequent albums have continued this thread with titles that embrace her unique brand of humor and self-awareness.
In essence, "The Emancipation of Mimi" was a cultural reset for Mariah Carey. Selling 6 million copies in the US, it was more than a commercial triumph—it was an artistic statement, one that balanced the scales between her musical genius and her personal journey.
The album wasn't just a reflection of Mariah's emancipation; it was an invitation for us to rediscover an artist who had once again found her voice and her place at the zenith of the music world.
As an Amazon Associate I earn from qualifying purchases
Funko Pop! Rocks: Mariah Carey "The Emancipation of Mimi" Funko Pop! Vinyl Figure
Available at:
Want more stuff like this?
Get the best viral stories straight into your inbox!
Don't worry, we don't spam