2023 NEW Mob Psycho 100 – Shigeo w/ Aura GITD Funko Pop!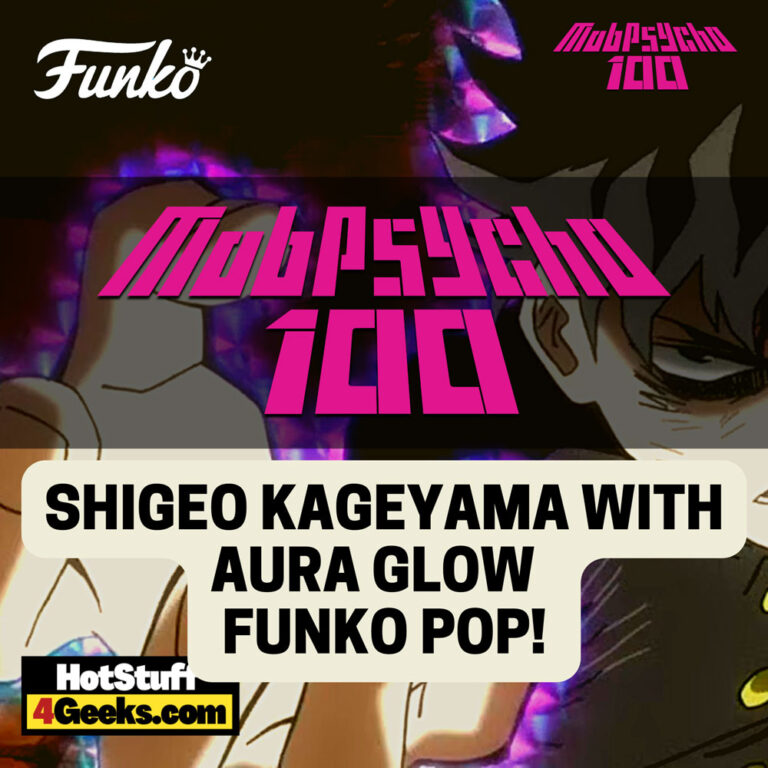 Not official until confirmed.
Attention all fans of the hit anime series Mob Psycho 100! If you're like us, you're always looking for the latest and most extraordinary collectibles to add to your stash. Well, get ready to add a new gem to your collection because a brand new Funko Pop! Animation: Mob Psycho 100 – Shigeo Kageyama With Aura Glow-In-The-Dark (GITD Funko Pop! Vinyl Figure – Exclusive is on the way!
This exclusive figure is inspired by the unique art style of the anime, featuring the iconic character Shigeo Kageyama, also known as Mob, with his glowing psychic aura.
But that's not all – this figure actually glows in the dark, making it the perfect addition to any collection.
For those who may be new to the series, Mob Psycho 100 follows the story of Shigeo "Mob" Kageyama, a teenage boy with extraordinary psychic powers.
Despite his immense abilities, all Mob wants is to live a normal life.
However, when things get out of control, he teams up with the shady but charismatic Reigen Arataka to exorcise ghosts and other supernatural entities.
This new Funko Pop! figure captures the essence of Mob's character and the essence of the anime.
Whether you're a fan of Mob's adventures or a collector of Funko Pops!, this is one figure you don't want to miss.
Shigeo Kageyama With Aura Glows Funko Pop! is an unconfirmed release. It is only official when or if Funko announces it. I'll update more information in the long run.

Meet Mob, the 14-year-old protagonist of the popular anime series Mob Psycho 100.
Despite possessing an overwhelmingly powerful psychic ability that can destroy anything in its path, Mob is not interested in seeking out battles or treasures.
Instead, all he wants is everyday normal life like everyone else.
What sets Mob apart from other anime heroes is his heart of gold.
He cares deeply for others and doesn't want to hurt anyone, even if it means suppressing his emotions and powers.
But when his emotions reach a boiling point, his psychic ability becomes unstoppable, making him one of the most fearsome characters in anime today.
While other protagonists in the genre are usually focused on external goals, Mob's journey is an internal one.
He is constantly searching within himself, trying to balance his power with his desire for normalcy.
And unlike many other characters who repeat their mistakes, Mob learns from his experiences and grows as a person.
Mob's approach to every situation differs from what you'd expect from a shonen protagonist.
He is always open-minded and willing to learn from his mistakes and explore new territory.
He even takes advice from his enemies, a rare trait in a genre where foes are often seen as irredeemable.
But what really sets Mob apart is his emotional depth. He is a caring, compassionate character who values the people around him.
His journey is as much about his growth as a person as it is about his incredible psychic abilities.
Fans of the series love Mob for his relatable struggles and his ability to make them laugh, cry and cheer for him all at once.
Check out more Mob Psycho 100 here.
As an Amazon Associate I earn from qualifying purchases
Want more stuff like this?
Get the best viral stories straight into your inbox!
Don't worry, we don't spam