2022 NEW Ms. Marvel With Light Arm Funko Pop! Exclusive
Kamala Khan is just your average superhero fan…until she discovers she has powers of her own! But then, the possibilities are endless for this young Marvel heroine.
The new Funko Pop! Marvel Studios: Ms. Marvel – Ms. Marvel With Light Arm Funko Pop! Vinyl Figure – Funko Shop Exclusive, inspired by the Ms. Marvel TV series, features Kamala with a light arm outstretched, ready to take on whatever evil threatens her world. The pop figure drops today on Funko.com at 9:30 AM PT at the links below – click to jump or scroll to continue reading!
The Ms. Marvel series has very recently reached its last episode. Finally, the long-awaited moment where we see Kamala Khan in her iconic uniform, eventually adopting the name Ms. Marvel, has come true.
For now, it is not yet known if there will be a new season for Ms. Marvel, but Kamala Khan's journey will officially continue in The Marvels movie, side by side with Carol Danvers, coming next year.
Ms. Marvel With Light Arm Funko Pop! can be found at the links below (click to jump!)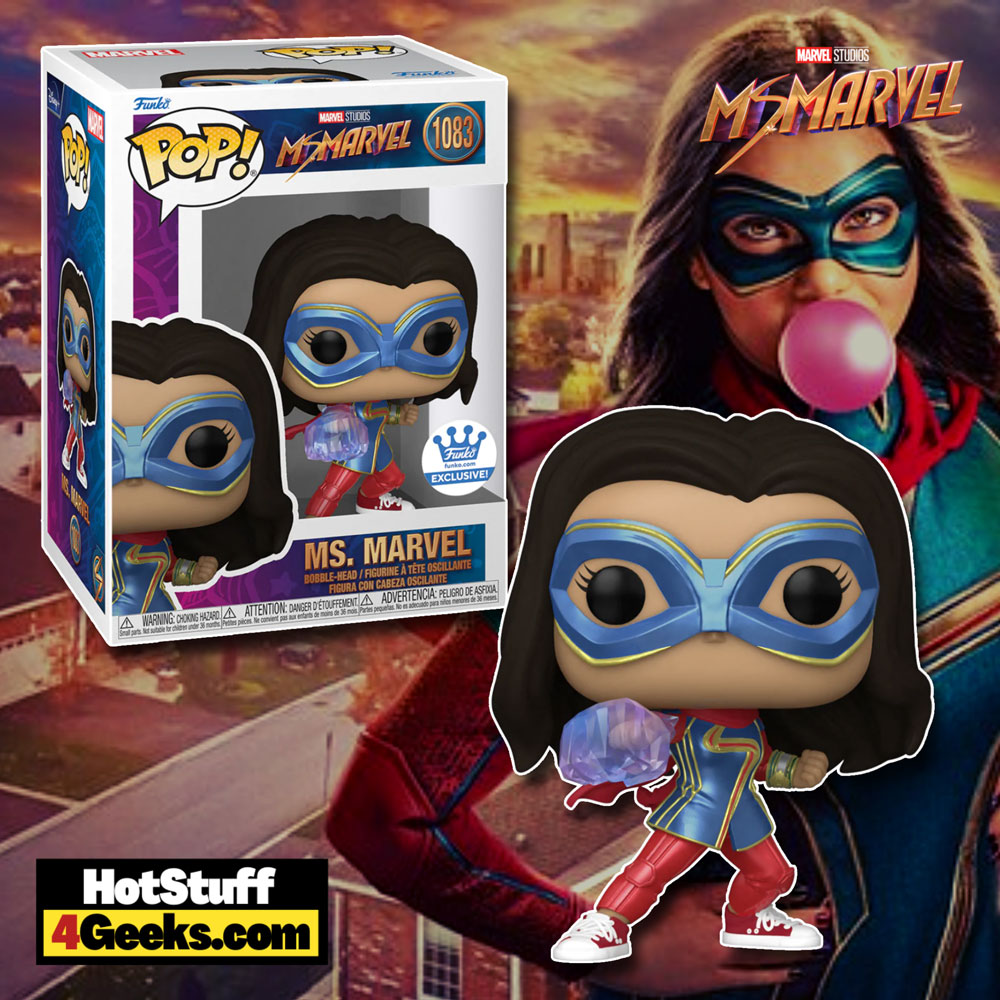 Just as in the comics, Kamala Khan's television adaptation introduces us to a young woman of Pakistani descent who grew up in New Jersey amidst a mix of Eastern and Western cultures.
In addition to showing more of the Muslim religion, Ms. Marvel has done an excellent job of presenting a bit of Pakistani culture and history in some heartwarming scenes.
However, the main changes from the series to the comics are the origin of Ms. Marvel's powers, the powers themselves, and her relationship with Captain Marvel.
Fans of Kamala Khan's comics may have been disappointed with how the young heroine gained her powers in Disney+'s new series.
In the comics, Kamala Khan has Inhuman DNA with Kree (alien) blood.
She got her powers activated when a strange green Terrigen mist surrounded her, turning into Ms. Marvel… or at least the white and blond with blue eyes version she desired to be.
In the series, there's no earthly mist and no inhuman gene.
At first, Kamala has her powers turned on by a bracelet that belonged to her great-grandmother.
Then, on a trip to Karachi, her family's hometown, she discovers that she is descended from Djin, the genies of legends and stories.
Her great-grandmother Aisha was a Djin and was born in another dimension.
While trying to save those in need with her new powers, Kamala still has to run from members of the US government's Damage Control.
She also begins to be pursued by a group of Djins who wants her new abilities to try to return to their home dimension, which puts the whole world at risk.
Even with these explanations, it is unclear why other members of her family cannot activate the bracelet's powers.
Towards the end of the series, Kamala's best friend reveals that he has investigated her DNA and discovered that she has some mutation.
Yes, it looks like Ms. Marvel will be a mutant in the MCU!
Just as in the comics, Kamala has gained morphological control of her body, being able to enlarge or shrink her entire body or parts of it.
However, there are new abilities in the series.
As a Djin, Kamala has access to Noon energy. She can use this energy to build solid plates in different ways: shields, attacks, creating platforms in the air on which she can walk through heights, etc.
The series does not feature Kamala transforming into Carol Danvers, although she always expresses her admiration for the heroine.
A post-credits scene in the final episode even confused fans when Kamala disappeared, and Carol took her place in the girl's room.
Did Kamala turn into Carol?
Apparently not. Carol Danvers was transported to New Jersey, and Kamala ended up somewhere in the universe.
The scene was a teaser for The Marvels movie, a film that will unite Captain Marvel (Carol Danvers), Ms. Marvel (Kamala Khan), and Photon (Monica Rambeau).
Check out more Ms. Marvel pops here.
Funko Pop! Marvel Studios: Ms. Marvel – Ms. Marvel With Light Arm Funko Pop! Vinyl Figure – Funko Shop Exclusive
Available at:
Starting now, you can receive 10% off in-stock items with my special link at Entertainment Earth!
 Enjoy!
As an Amazon Associate I earn from qualifying purchases
Want more stuff like this?
Get the best viral stories straight into your inbox!
Don't worry, we don't spam