NECA: Frankenstein - Ultimate Frankenstein's Monster Action Figure (Color)
Frankenstein – Ultimate Frankenstein's Monster Action Figure (Color Version) from NECA will be released on the 20th June 2021 (Fathers Day) and will be a 'first to market' exclusively at Walmart stores. There will then be a general release to all other NECA stockists later in 2021.
"Frankenstein" is one of the most legendary horror films in cinema history, and it can be said that, like "Dracula," it founded the genre at Universal studios. Boris Karloff plays the unforgettable role of the monster, who ends up taking his creator's name and achieving immortality, just like the literary work it is inspired by, Mary Shelley's novel. This "Frankenstein" has not aged at all and remains a poetic wonder.
The Ultimate Frankenstein's Monster Action Figure will be on sale as of the 20th of June, exclusive in the first few weeks to Walmart stores before moving to a general release with other retailers.
The color release of Frankenstein's Monster will have the same contents as the black & white release, with three heads, three pairs of hands, a pair of shackles, and some flowers. The new NECA images give us a look at the design principles for the Universal Monsters packaging, which utilizes the original movie posters from the 1930s.
NECA: Frankenstein – Ultimate Frankenstein's Monster Action Figure (Color) is available for pre-order at the links below.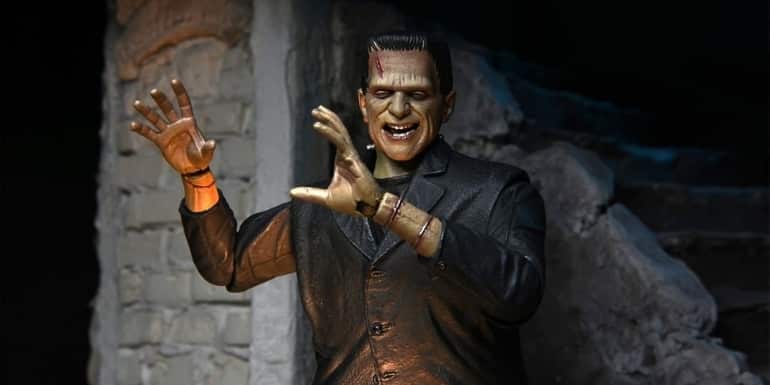 In the summer of 1816, in the city of Geneva, Switzerland, a group of friends gathered in a house challenged themselves to create scary stories to pass the time. The group included 18-year-old Mary Shelley, who worked on the awful idea of a scientist, Victor Frankenstein, generating life through the distinct parts of various corpses, only to abandon later his creation, disgusted with the result.
Although the monster is popularly known as "Frankenstein," Mary Shelley does not give him any name in the novel. She does not even describe him as a "monster." In the story, Victor Frankenstein refers to him with such nice designations as "demon," "ogre," or "thing," but never "monster." The creature claims at one point that it should be Adam, alluding to the first man according to the Bible, but that it is instead a fallen angel.
When you think of Frankenstein's monster, you are likely to imagine a green creature with a square face and bolts at the temples. However, Mary Shelley's description is that of a being with yellowish skin, long hair of shiny black, prominent teeth, and tall stature – about six feet.
Actor Boris Karloff popularized the image we know so well of the monster in the three classic horror films he starred in the 1930s. When Robert De Niro incarnated him in 1994, he adopted a look closer to the original source.