NECA: Ultimate King Kong - The Empire State Building Battle Action Figure
Ultimate King Kong with Shackles and Plane, The Empire State Building Battle Scene Action Figure by NECA will be released on the 20th June 2021 (Fathers Day) and will be a 'first to market' exclusively at Target stores. There will then be a general release to all other NECA stockists later in 2021.
When the first King Kong movie was released, no one expected the character to be the success he has become to this day.
To date, King Kong has made about eighteen appearances in films and series, some of which have been exclusively dedicated to the monster. More than ten games, eight books, and four more comic book series are also dedicated to the giant gorilla.
NECA is gearing up for several new action figures to release Father's Day 2021 in the US. This includes a brand new version of the NECA King Kong, recreating the iconic scene on The Empire State Building at the end of the 1933 movie.
The set features the existing NECA King Kong, with two head options and three sets of hands. You also get a 1930s Bi-Plane and a pair of broken shackles for Kong's wrists.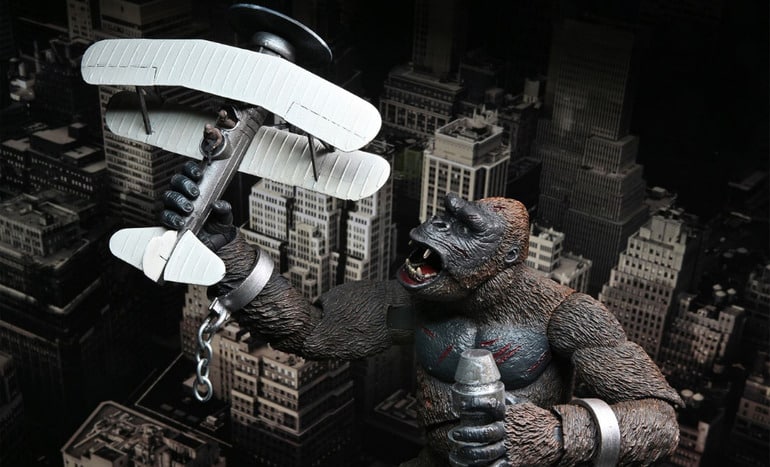 The first King Kong movie tells the story of a filmmaker who made a living making movies about wildlife and its creatures. This is how he embarks to Skull Island with his entire production crew, film crew, and actors because there was a legend about a giant creature they called Kong.
When the crew arrives on the island, they are greeted by a group of indigenous people who call the main actress "Kong's wife." The chief of the tribe even offers six indigenous women for the actress, but it is at this point that they all realize that the wisest thing to do is to return to the ship that took them to the island.
However, the tribe kidnaps the actress and offers her to Kong, the giant gorilla all those legends were talking about. After many twists and turns, Kong is eventually captured and taken to New York, where he was presented on Broadway as the world's eighth wonder.
As you might expect, the giant gorilla eventually breaks free spreading chaos throughout New York City. At this moment, the iconic image of Kong climbing to the top of the Empire State Building takes place.
NECA: King Kong – King Kong with Shackles and Plane, The Empire State Building Battle Scene Action Figure
Available at: