NEW 5FDP – Knucklehead Funko Pop! – Funko Fair 2022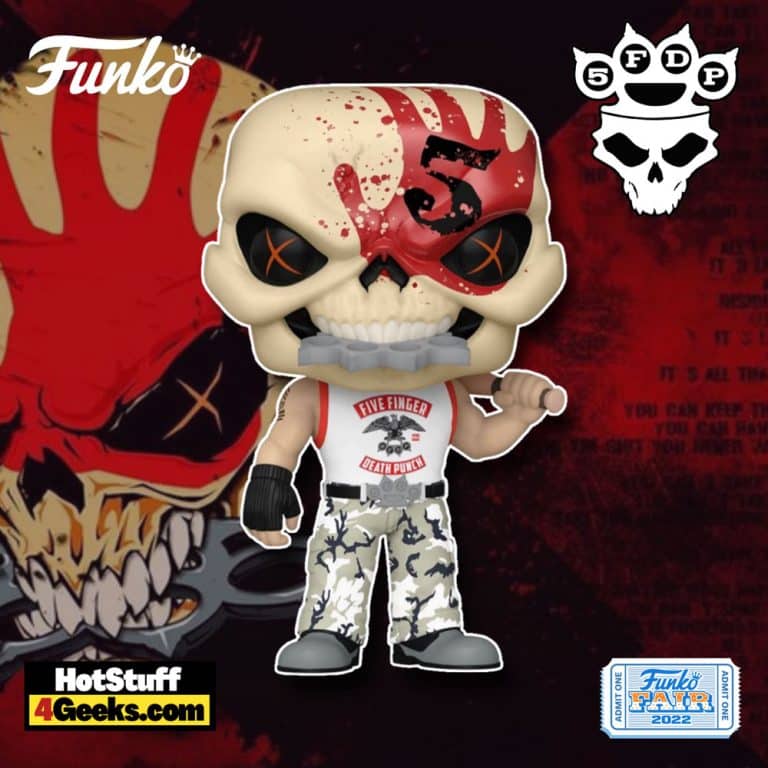 The new Funko Pop! Rocks: Five Finger Death Punch (5FDP) – Knucklehead Funko Pop! Vinyl Figure released today at Funko Fair 2022, showcases the classic skull and knuckles design of the Five Finger Death Punch's mascot, which quickly become one of modern metal's most recognizable figures.
Knucklehead adorned the entire cover of 5FDP's debut album, in 2007, appearing on every cover album ever since.
The Knucklehead Funko Pop! is now available for order at the links below (click to jump!)
Five Finger Death Punch, also abbreviated as 5FDP or FFDP, was formed in 2005 in Las Vegas by guitarist Zoltán Báthory and drummer Jeremy Spencer (an active band member until 2018).
The band's name references the 1972 martial arts film "Kung Fu – The Invincible Fist." The lead singer holds his hands aloft in a kung fu pose inspired by the film during live performances.
Lead singer Ivan L. Moody, also known as Ghost, was born in Denver, Colorado, in 1980. Before joining Five Finger Death Punch, the musician sang in Ghost Machine and Motograter. His career took off when the band achieved its first commercial success with its first album in 2007.
Electric guitarist, songwriter, and co-founder of the Five Finger Death Punch metal band is Hungarian musician and martial artist Zlotán Báthory. To this day, Moody and Báthory are members of the band (2022).
Five Finger Death Punch is committed to helping USA-American war veterans. The band played some military benefit concerts on military bases and collected donations for veterans suffering from traumatic brain injury and post-traumatic stress disorder.
The band released their first album in 2007, titled "The Way of the Fist." The first album sold more than 500,000 copies. The band released the album "War Is the Answer" just two years later, with over 1,000,000 sales.
Since their first success, 5FDP produced and released several other very successful songs and albums. Among them, the single "Walk Away," which was used as the theme song for the PPV Lockdown 2010 of "Total Nonstop Action Wrestling," the music "Dying Breed," as a soundtrack in the Splatterhouse horror video game or "Far from Home" – a song that appeared in the television series Criminal Minds.
The eighth and last album has the short name "F8" and was released on February 28, 2020. The F stands here for "Fate" (destiny).
Starting now, you can receive 10% off in-stock items with my special link at Entertainment Earth!
 Enjoy!
As an Amazon Associate I earn from qualifying purchases
Want more stuff like this?
Get the best viral stories straight into your inbox!
Don't worry, we don't spam