NEW Baymax w/ Butterfly 6″ (w/ Diamond Chase) Funko Pop!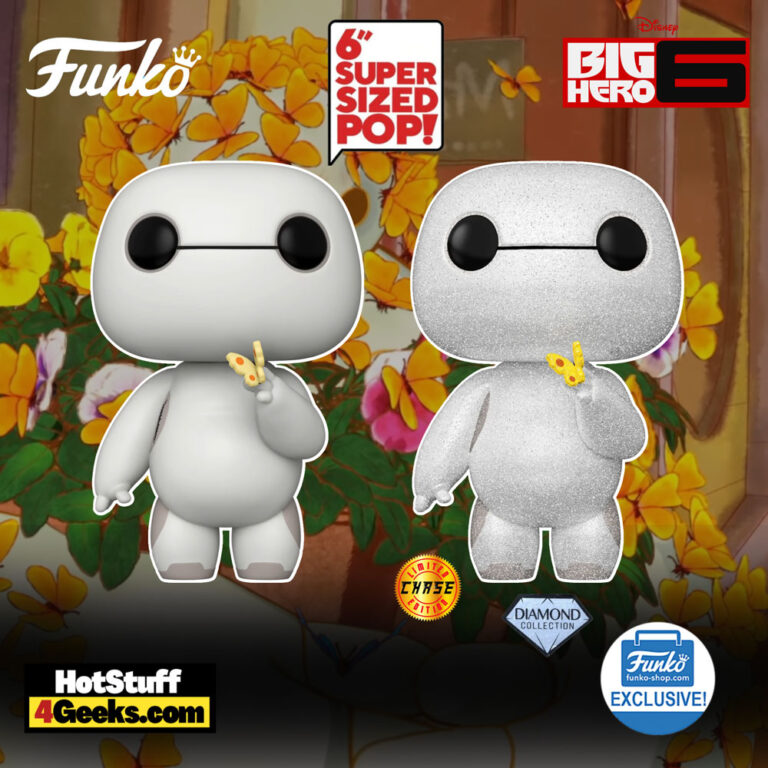 Funko is bringing the hit Disney animated film Big Hero 6 and the beloved character Baymax to life in a new way with the release of the latest Funko Pop! Disney: Big Hero 6 – Baymax With Butterfly 6-inch with Diamond Glitter Chase Funko Pop! Vinyl Figure – Funko Shop Exclusive.
You can find the pop figure at the links below – click to jump or scroll to continue reading!
This exclusive figure, designed to keep your collection safe and happy, features Baymax with a colorful butterfly suit, ready to take charge of our collection and ensure that it is well taken care of at all times.
So if you're looking for an adorable companion to help you care for your prized collectibles, look no further than this fun new Funko figure from Disney's Big Hero 6.
The 6-inch Baymax with Butterfly with Diamond Glitter Chase can be found at the links below (click to jump!)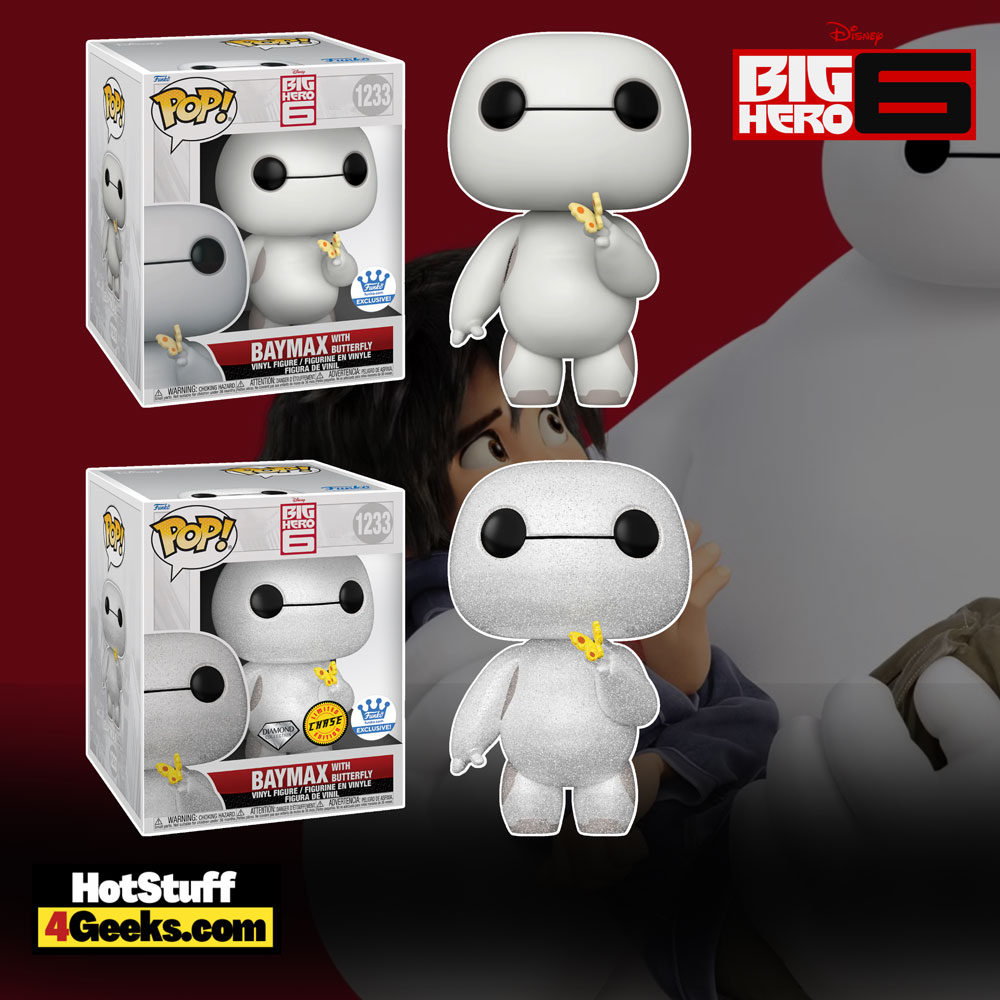 Baymax is a lovable, warm-hearted robot with a strong sense of duty and dedication.
He is compassionate, empathetic, and always willing to help those in need. His abilities include superhuman strength and the ability to fly, making him the perfect companion for any adventure.
With his incredible intelligence and advanced medical knowledge, Baymax also acts as an invaluable support system for anyone needing healing or care.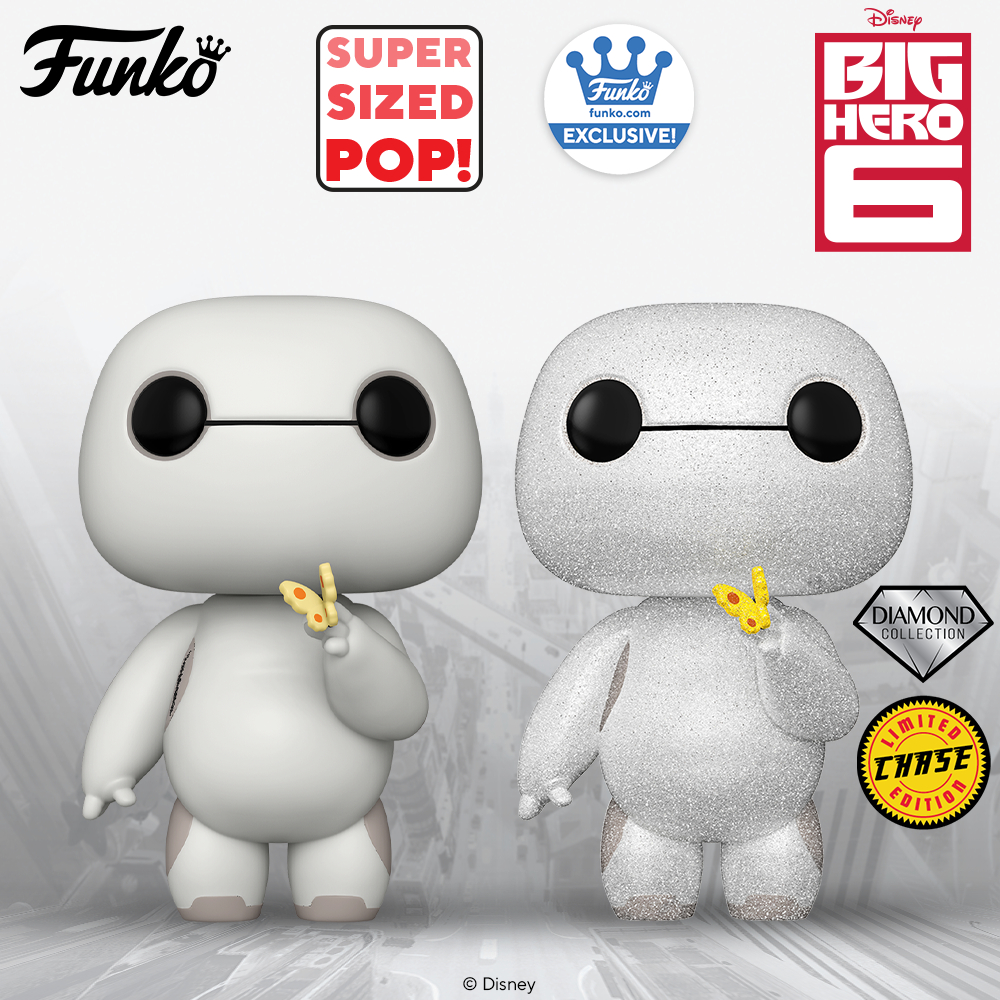 Baymax is a very helpful inflatable robot created by scientist Tadashi Hamada to be his personal health assistant.
When Tadashi passed away, the robot went on to serve his younger brother Hiro Hamada and become part of the superhero team known as Big Hero 6.
The character has a docile and caring manner because of a chip created by Tadashi.
Still, his personality and abilities can change depending on other chips installed in his system, such as when, upon joining Big Hero 6, Hiro installed one in Baymax that gave him the ability to fight.
Living with Hiro Hamada also gave Baymax the ability to understand human emotions.
Gradually, the act of protecting his companion's health stopped being a protocol to become an attitude that comes from his own will and emotional bond with the protagonist.
Tadashi Hamada programmed Baymax to have the capacity to store an impressive amount of data, to carry in its system thousands of medical procedures and equipment, and to possess super strength, which made the robot a great superhero capable of helping everyone around it.
Funko Pop! Disney: Big Hero 6 – Baymax With Butterfly 6-inch with Diamond Glitter Chase Funko Pop! Vinyl Figure – Funko Shop Exclusive
Available at:
Starting now, you can receive 10% off in-stock items with my special link at Entertainment Earth!
 Enjoy!
As an Amazon Associate I earn from qualifying purchases
Want more stuff like this?
Get the best viral stories straight into your inbox!
Don't worry, we don't spam