All the NEW Black Adam Movie Funko Pops (2022) to Collect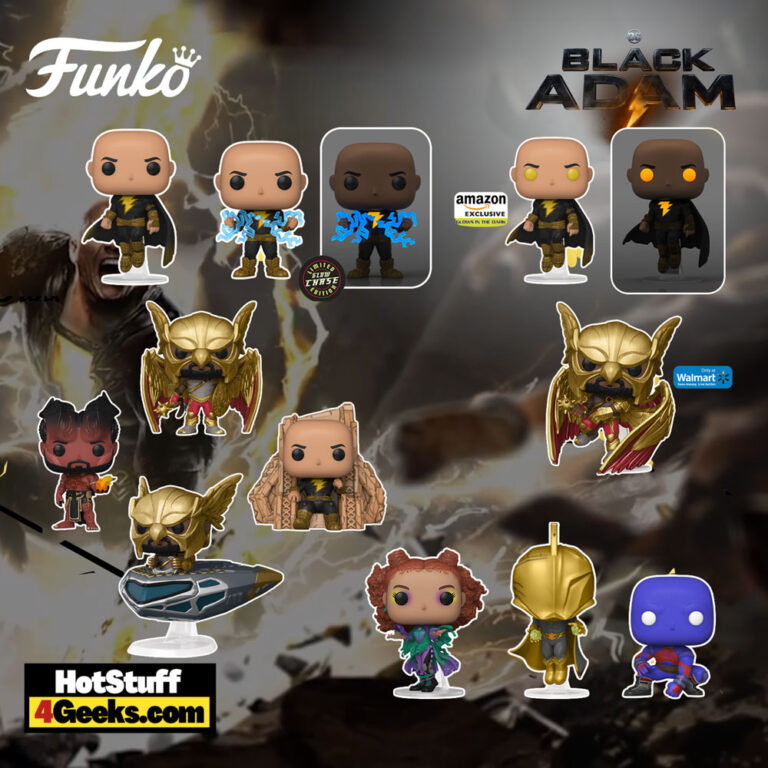 The long-awaited moment for fans seems to be closer than we imagined: Dwayne 'The Rock' Johnson will finally make his debut in the superhero DC universe, and Black Adam Funko Pop Vinyl figures are on the way.
You can find the pop figures below (click to jump!)
Black Adam, which is scheduled for release in October of this year, arrives at DC to shake up the world of one of the most powerful heroes.
The powerful anti-hero has been imprisoned for millennia. And now, the antagonist who goes up against the likes of Shazam and Superman in the comics wants revenge. Tough luck for the Justice Society!
The hierarchy of power within the collectible universe is about to change forever as the very first wave of the Funko Pops for the upcoming DC film Black Adam is unveiled:
Black Adam – Black Adam Black Adam (Lightning) With GITD Chase Variant Funko Pop! Vinyl Figure
Black Adam – Black Adam Flying Funko Pop! Vinyl Figure
Black Adam – Black Adam on Throne Funko Pop! Deluxe Vinyl Figure
Black Adam – Atom Smasher Funko Pop! Vinyl Figure
Black Adam – Cyclone Funko Pop! Vinyl Figure
Black Adam – Dr. Fate Funko Pop! Vinyl Figure
Black Adam – Hawkman Funko Pop! Vinyl Figure
Black Adam – Sabbac Funko Pop! Vinyl Figure
Black Adam Funko Pops from the film are now available for pre-order at the links below (click to jump!)
You can also find the Black Adam GITD Funko Pop! Comic Cover here.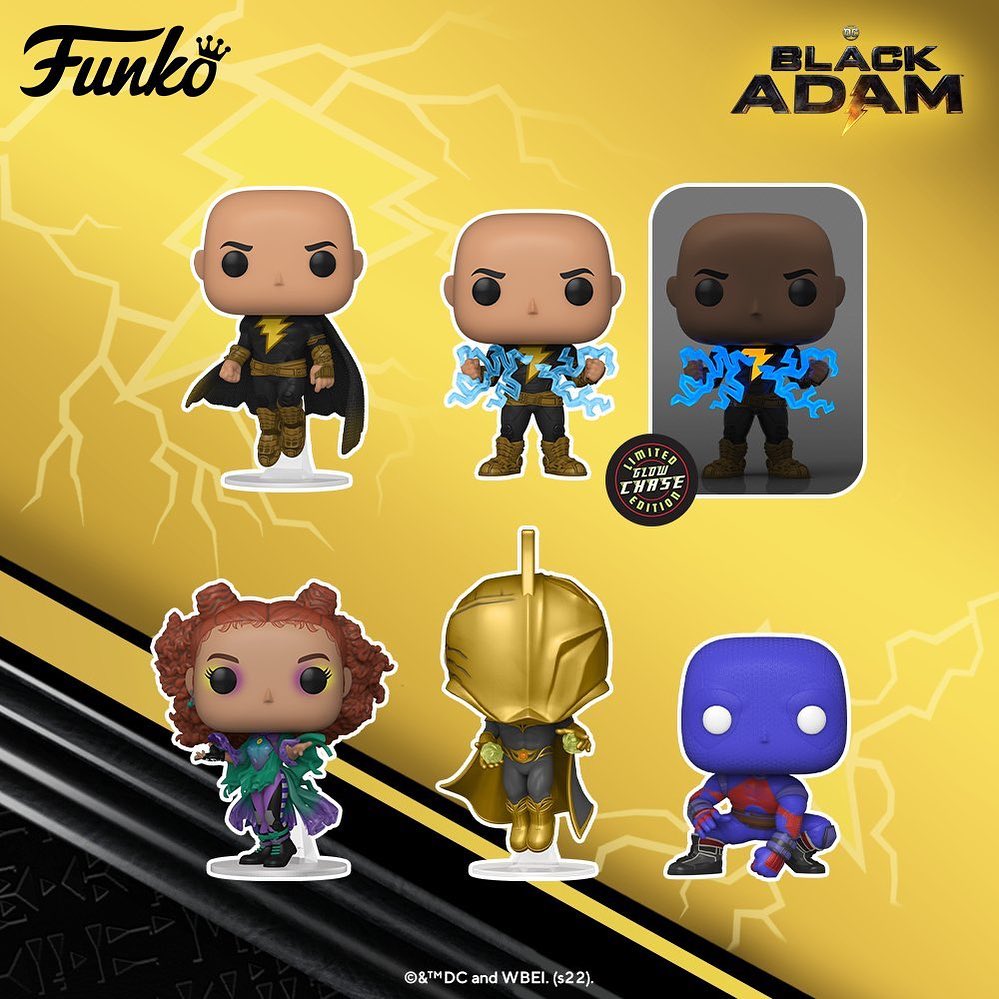 Black Adam is set to go head-to-head with either Superman or Shazam as DC's most powerful superhero in the movies.
But how is one able to defeat such a powerful character? And why is he so menacing as to stand up to a hero like the Man of Steel?
To better understand Black Adam's powers, it is interesting to know his origin in the comics. The character was created by Otto Binder (scriptwriter) and C. C. Beck (cartoonist), the duo also responsible for the origin of Shazam.
By the way, the two characters are very close in many ways, including how they get their powers.
However, while Billy Batson incorporates powers from the Greek pantheon and maintains the innocence and naivety of a child when transformed into Shazam, Teth-Adam incorporates the Black Adam with the spirit of revenge through the Egyptian pantheon.
The gods that give the character powers are:
Shu (stamina and vigor, which allow him to withstand severe physical assaults), Horus (speed, flight ability, and extreme agility in combat),
Amon (super strength, able to put him head-to-head with characters like Superman and Shazam),
Zehuti (the wisdom that he uses to defeat his enemies and plan his combat tactics),
Aton (which feeds the magic ray that confers his powers), and
Mehen (through courage offers powers such as healing factor, immortality, and indomitable will).
Thus, he equals Shazam, having been presented as a rival who could offer some resistance to the hero.
In addition, he also knows several languages, such as Egyptian, Arabic, and English, as well as a strong power of leadership, thanks to his draconian methods, which allowed him to rule his people with ease.
Another important ability is that, even without his powers, he is an excellent warrior.
Black Adam had his first appearance in Whiz Comics #2 in February 1940.
The comic had Shazam as the protagonist, and, as was usual at the time, there was little that could bring both characters down. However, in the case of Black Adam, his main weaknesses are related to magic and electricity.
Starting now, you can receive 10% off in-stock items with my special link at Entertainment Earth!
 Enjoy!
As an Amazon Associate I earn from qualifying purchases
Want more stuff like this?
Get the best viral stories straight into your inbox!
Don't worry, we don't spam