2023 NEW Black Clover: Licht With Chase Funko Pop! Exclusive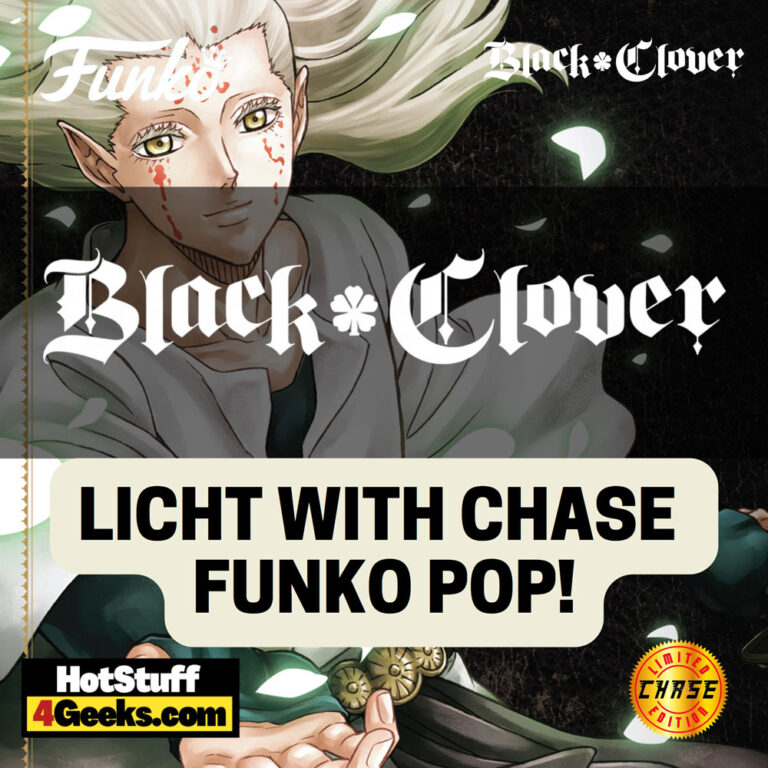 Not official until confirmed.
Introducing the new Funko Pop! Animation: Black Clover: Licht With Chase Funko Pop! Vinyl Figure Exclusive – the perfect collectible for fans of the popular new-generation anime series.
Licht, one of the most impressive elves ever seen in the anime world, is depicted in all his glory, making him an instant fan favorite. And it's no surprise that Black Clover has become a sensation among anime enthusiasts.
Although the plot may seem a bit cliché, with a protagonist who gains a mysterious power despite having no apparent ability (any similarities to My Hero Academia are purely coincidental), Black Clover is an excellent anime series that rightfully earned its place in the spotlight.
With a plethora of powerful characters, Licht stands out.
He first appeared in Episode 68 and was later revealed to be the leader of the elf tribe and the Apostles of Sephirah, adding even more intrigue and complexity to an already fascinating storyline.
So, whether you're a die-hard fan or a newcomer to the world of anime, this Pop! is a must-have for any collector. Don't miss out on the chance to own a piece of anime history!
The exclusive Black Clover: Licht With Chase Funko Pop! is an unconfirmed release. It is only official when or if Funko announces it. I'll update more information in the long run.

In February 2015, the captivating story of Black Clover hit the screens, and viewers were immediately drawn to the protagonist, Asta.
A young man with an unwavering dream of becoming the greatest wizard in the kingdom, Asta had just one major hurdle to overcome – he couldn't use magic.
However, fate had something special in store for him. Asta was bestowed with a rare five-leaf clover that granted him the power of anti-magic.
But, the question on everyone's mind was, could someone who couldn't use magic truly ascend to become the Magician King?
Asta was determined to prove everyone wrong and refused to give up, no matter what. His undying spirit and tenacity captured the hearts of millions of viewers around the world.
Sadly, after a whopping 170 episodes, the anime was put on an indefinite hiatus.
But the good news is that the manga is still ongoing, and there are whispers of an upcoming movie.
In the meantime, it's worth reminiscing about some of the series' most memorable moments.
One such moment was during the Elven Reincarnation arc, where Asta and Yuno joined forces to take down Licht, the former leader of the Elven tribe.
However, things took a dark turn when Licht reincarnated and swiftly claimed Asta's Demon Dweller sword.
The boys were up against a formidable opponent.
Licht attacked them relentlessly, and Asta suffered severe injuries and lost his black form.
Yuno, still able to fight, unleashed a Spirit Storm against Licht, but the villain quickly absorbed the spell with his sword.
With Asta unconscious, Yuno's magic absorbed, and Licht wielding the Demon Dweller sword, all seemed lost.
But Asta's indomitable willpower proved to be the deciding factor.
He regained consciousness and, together with Yuno, charged at Licht.
Though he deflected their attacks, Asta's unbreakable spirit allowed him to recover his Demon Dweller sword and turn the tide of the battle.
Starting now, you can receive 10% off in-stock items with my special link at Entertainment Earth!
 Enjoy!
As an Amazon Associate I earn from qualifying purchases
Want more stuff like this?
Get the best viral stories straight into your inbox!
Don't worry, we don't spam