NEW Black Clover: Yuno (Spirit of Zephyr) Glow Funko Pop!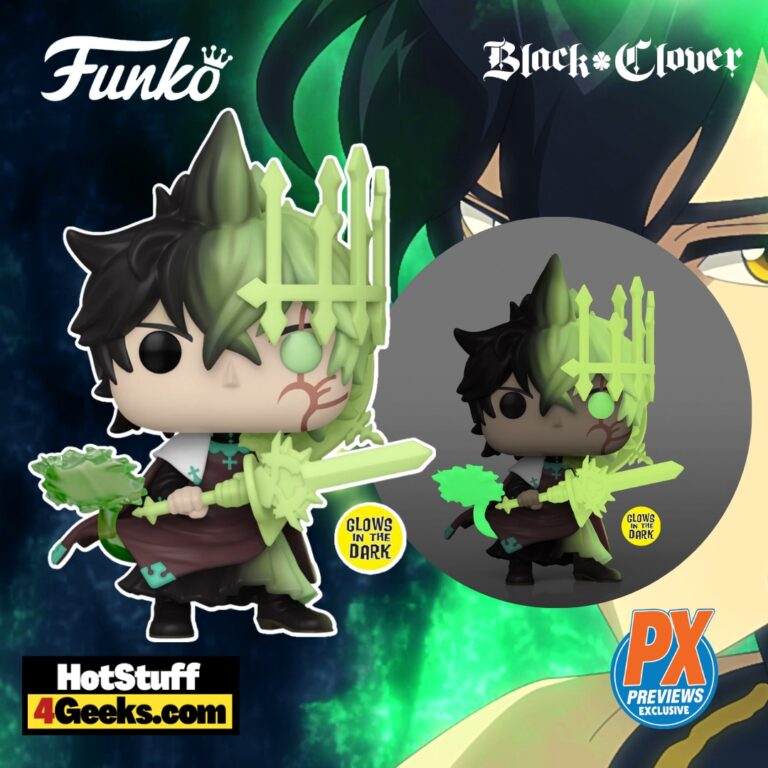 There's an exciting new addition to the world of collectibles! Fans of Black Clover prepare to be dazzled by the recently unveiled the latest Funko Pop! Animation: Yuno (Spirit of Zephyr) Glow-In-The-Dark (GITD) Funko Pop! Vinyl Figure – PX Previews Exclusive (2023). This isn't your run-of-the-mill Funko Pop! Rather, it's a PX Previews Exclusive hitting the shelves in 2023, encapsulating the mighty Spirit of Zephyr in an appealingly radiant form.
To get your hands on this Pop Vinyl Figure at its release, be sure to check out the links I've provided below – click to jump or scroll to continue reading!
A Magical Arrival: Spirit of Zephyr Yuno Glows in the Dark with Funko Pop! 2023 Release
This limited-edition collectible artfully captures the essence of Yuno's Spirit of Zephyr, immortalizing the dazzling wind spirit-based magic in glow-in-the-dark vinyl.
Its craftsmanship shines in the representation of Yuno with his majestic two-handed sword and the captivating giant tornado, the defining elements of this spell.
It's a tangible tribute to Yuno's breathtaking magic and the fierce ambition driving him.
The glow-in-the-dark feature adds an element of enchantment, replicating the awe-inspiring magic Yuno commands in the series.
It's a nod to the complex and intricate nature of Yuno's wind magic, bringing the mystical world of Black Clover to the comfort of your own home.
So, for all you magic enthusiasts and Black Clover fans, this is a must-have addition to your collection.
It's not just a toy. It's a piece of the mesmerizing magic-filled universe we've all grown to love.
The PX Previews Exclusive Yuno (Spirit of Zephyr) Glow Funko Pop! can be found at the links below (click to jump!)
Yuno Grinberryall: A Rise From Orphan to Grand Magic Knight
In the captivating world of Black Clover, a standout character emerges from humble origins to stake his claim amongst the greats.
Yuno Grinberryall's story defies the odds and pushes the envelope on the possible.
Orphaned and raised in the care of a church in the humble Hage village, Yuno is no stranger to adversity.
His tale is not just about the physical battles fought in the magic-laden land of Clover Kingdom but also the personal battles fought within himself.
Yuno is a striking figure, often drawing attention with his gold eyes and unruly black hair. His fashion sensibility blends practicality with a unique aesthetic.
Donning an ensemble of a pitch-black high-collared shirt, light brown pants, and boots, Yuno's attire is as intriguing as his magic.
Notably, he sports a necklace with a blue magic stone framed by a gold chain, accented by a cross and four-pointed stars.
This piece of jewelry is not just a mere accessory but a testament to his magical prowess.
His personality is as intriguing as his appearance.
Yuno's disposition is generally calm, bordering on emotionless, but that's merely the still water running deep.
He communicates succinctly, often leading others to misunderstand his true intent. However, this exterior belies his burning ambition to ascend to the position of the Wizard King—a purpose forged during his upbringing alongside his steadfast companion and rival, Asta.
His unique blend of magic sets Yuno apart in this magical world. Harnessing the power of the wind, Yuno manipulates this natural force with the precision of a maestro conducting an orchestra.
His proficiency in this form of magic allows him to shape objects and entities from wind through Creation Magic.
His magic also enables him to summon the wind spirit Sylph, with whom he shares a symbiotic relationship.
Together, they wield a power that resonates nearly 100%, a feat known as the Saint Stage.
Yuno's wind magic incorporates four specific spirits.
These include the Spirit of Zephyr, Boreas, Euros, and Notos, each deriving their names from Greek mythology and representing different winds.
His magic manifests as a sword, a halberd, a recurve bow and arrow, and a shield, respectively.
These creations represent a distinctive aspect of Yuno's magical prowess and profound bond with Sylph.
In this realm of magic, Yuno Grinberryall stands out not only for his spellbinding abilities but also for his remarkable journey.
His rise from an orphan to a Grand Magic Knight has been nothing short of inspiring, making him one of the most engaging characters in Black Clover.
His story serves as a reminder that one's origin does not determine their destiny, and one's determination will truly define their path.
Yuno's tale, woven from the threads of ambition, rivalry, magic, and companionship, is an exhilarating narrative.
His ascent in the ranks of the Golden Dawn, his symbiosis with the wind spirit Sylph, and his innate determination paint a portrait of a character who is just as compelling as the magic he wields.
There's no denying that Yuno Grinberryall adds a gust of fresh air to the captivating world of Black Clover.
Starting now, you can receive 10% off in-stock items with my special link at Entertainment Earth!
 Enjoy!
As an Amazon Associate I earn from qualifying purchases
Want more stuff like this?
Get the best viral stories straight into your inbox!
Don't worry, we don't spam