2023 NEW Brooklyn Nine-Nine Funko Pops! Collect Them All!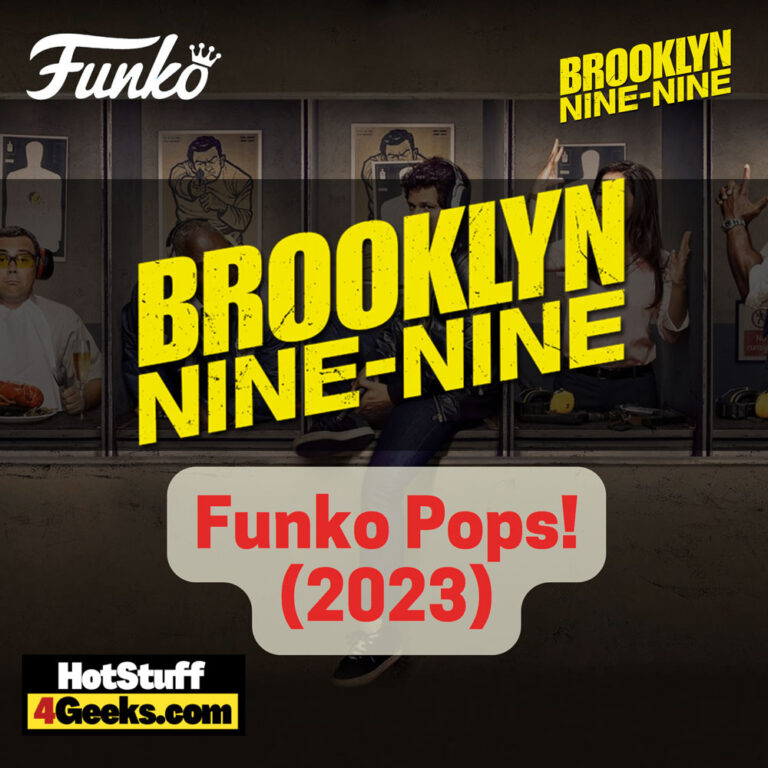 Not official until confirmed.
If you're a hit TV show Brooklyn Nine-Nine fan, get ready to take your love for the show to the next level! Funko is releasing a new line of Brooklyn Nine-Nine Pop! Figures that perfectly capture the hilarity and quirkiness of your favorite characters.
With these collectibles, you can now bring the antics of Jake Peralta and his fellow detectives into your own home. Each figure is uniquely designed with intricate detailing that captures the essence of the characters.
From Stressed Amy's anxious expression to Jake's signature bagel and Terry's beloved yogurt, these figures are a must-have for any true Nine-Niner. The Captain Holt figure even comes complete with his adorable dog, Cheddar!
These Funko Pops make great additions to any fan's collection and provide the perfect opportunity to host a Brooklyn Nine-Nine-themed viewing party.
Imagine the fun of watching your favorite episodes with a group of friends, each holding their own miniature version of the characters on the screen!
Here's a breakdown of the characters included in this release:
Brooklyn Nine-Nine: Stressed Amy Funko Pop! Vinyl Figure
Brooklyn Nine-Nine: Jake With Bagel Funko Pop! Vinyl Figure
Brooklyn Nine-Nine: Charles Funko Pop! Vinyl Figure
Brooklyn Nine-Nine: Terry with Yogurt Funko Pop! Vinyl Figure
Brooklyn Nine-Nine: Captain Holt with Dog Funko Pop! Vinyl Figure
Don't miss out on the chance to own a piece of the Nine-Nine!
Brooklyn Nine-Nine Funko Pop! Vinyl Figures are coming soon. There's no release date yet, but stay tuned because I'll update more information in the long run.

Brooklyn Nine-Nine is a hilarious police comedy set in the heart of the Big Apple.
Specifically, it's all about the 99th precinct of Brooklyn and the wacky shenanigans that occur within its walls.
This is no ordinary cop show, mind you.
It's a madcap adventure that follows the zany exploits of a group of detectives constantly trying to catch bad guys while juggling their personal lives.
Whether you're a fan of comedy or crime shows, Brooklyn Nine-Nine is the perfect mix of both.
You'll find yourself laughing out loud as the detectives stumble through their investigations, but you'll also be on the edge of your seat as they track down dangerous criminals.
The cast of the series is nothing short of brilliant. Each character is unique, quirky, and full of personality.
Every team member is a joy to watch, from Detective Jake Peralta's lovable goofiness to Captain Holt's stoic seriousness.
But don't be fooled by the comedy – there are some profound moments too.
The show explores issues like race, sexuality, and mental health with sensitivity and depth, making it much more than just a silly sitcom.
And let's not forget about the writing.
The jokes are clever and witty, the dialogue is sharp, and the plot twists are unexpected. Every episode is a fresh adventure; you never know what will happen next.
Overall, Brooklyn Nine-Nine is a must-watch for anyone who loves to laugh and loves a good crime story.
It's a show that proves that humor and suspense can coexist and that good writing and acting are the keys to a great TV show.
So grab some popcorn, sit back, and enjoy the ride – you won't be disappointed!
Funko Pop! Televison: Brooklyn Nine-Nine Funko Pop! Vinyl Figures
Starting now, you can receive 10% off in-stock items with my special link at Entertainment Earth!
 Enjoy!
As an Amazon Associate I earn from qualifying purchases
Want more stuff like this?
Get the best viral stories straight into your inbox!
Don't worry, we don't spam