2023 NEW Cher (Turn Back Time) Diamond Glitter Funko Pop!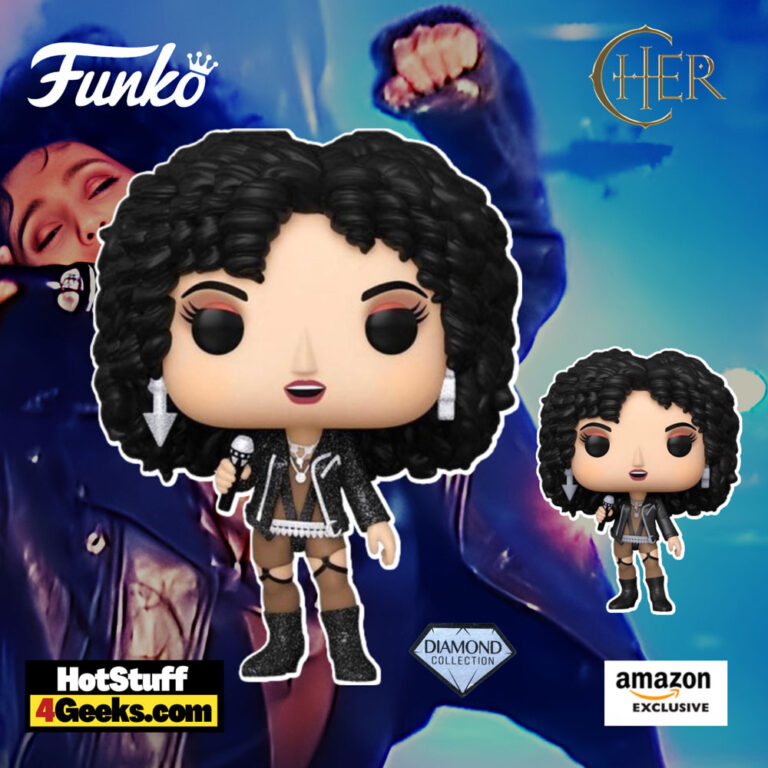 Pop icon Cher is known for many things: her impeccable sense of style, her legendary voice, and her timeless hits. She has been a fashion trailblazer for decades, fearlessly experimenting with her style and pushing boundaries.
The new Funko Pop! Rocks: Cher (Turn Back Time) Diamond Glitter Funko Pop! Vinyl Figure – Amazon Exclusive is a blast from the past. It depicts Cher in the "If I Could Turn Back Time" musical video, brimming with sexual innuendo and a lot of '80s attitude. The pop figure is now available for pre-order at the links below – click to jump or scroll to continue reading!
When it comes to pop music, there is only one goddess: Cher. Known for her distinctive voice and outlandish style, Cher has been a fixture on the music scene for over five decades.
From her early days as part of the folk-rock duo Sonny & Cher to her recent work as a solo artist, Cher has always pushed the boundaries of what is possible in pop music.
In addition to her musical achievements, Cher is also an Oscar-winning actress and a successful fashion icon.
Cher is a timeless icon, and now she can be a part of our Funko collection! This glittery pop figure is perfect for any fan of the Goddess of Pop, and it's sure to add some sparkle to our life.
Cher may not turn back time, but she'll definitely brighten up our day.
The Amazon-exclusive Cher Diamond Glitter Funko Pop! is now available for pre order at the links below (click to jump!) There's also a common! 
In her 1989 music video "If I Could Turn Back Time," Cher made headlines for rocking an all-leather outfit that left little to the imagination.
While some people criticized her for being too revealing, Cher didn't let the haters get her down—she just kept on being fabulous.
The song was released in 1989 as part of Cher's album "Heart of Stone." It was written by Diane Warren, who also penned hits like Toni Braxton's "Un-Break My Heart" and Beyonce's "I Was Here."
The song quickly becomes a global smash, hit number 1 in several countries, and remains one of Cher's most popular songs to date.
The music video for "If I Could Turn Back Time" is just as legendary as the song itself.
It features Cher performing aboard the USS Missouri in a skin-tight black bodysuit. The risque outfit caused quite a stir at the time, with many calling it indecent.
In fact, the music video was banned by several TV networks, including MTV, making it the first music video to be banned from the network. Nevertheless, it remains one of the most iconic music videos of all time.
"If I Could Turn Back Time" is an '80s classic that still holds up today. Thanks to its catchy tune and risque music video, it's a song that has truly stood the test of time.
So next time you feel nostalgic for the '80s or need a pick-me-up, queue up Cher's timeless hit and enjoy!
Starting now, you can receive 10% off in-stock items with my special link at Entertainment Earth!
 Enjoy!
As an Amazon Associate I earn from qualifying purchases
Want more stuff like this?
Get the best viral stories straight into your inbox!
Don't worry, we don't spam