NEW DC Artist Series: Two-Face Funko Pop! – Funko Fair 2022
Two-Face is the best at looking cool and being crazy at the same time. So celebrate your favorite villain with this Funko Pop! DC Artist Series: Two-Face Funko Pop! Vinyl Figure – Target Exclusive from Funko Fair 2022. This collectible captures the infamous bad-guy two-sides in some notorious art colors.
Two-Face, also known as Two-Face, is one of the most prevalent foes in Batman's extensive gallery of villains, despite both sharing the same obsession with justice and the law.
Harvey Dent worked closely with Batman before a tragic accident turned him into a villain. The Dark Knight feels guilty for failing to prevent Harvey from becoming one of Gotham's most dangerous psychopaths.
Two-Face Funko Pop! Art Series is a Target Exclusive and is available for order at the links below (click to jump!)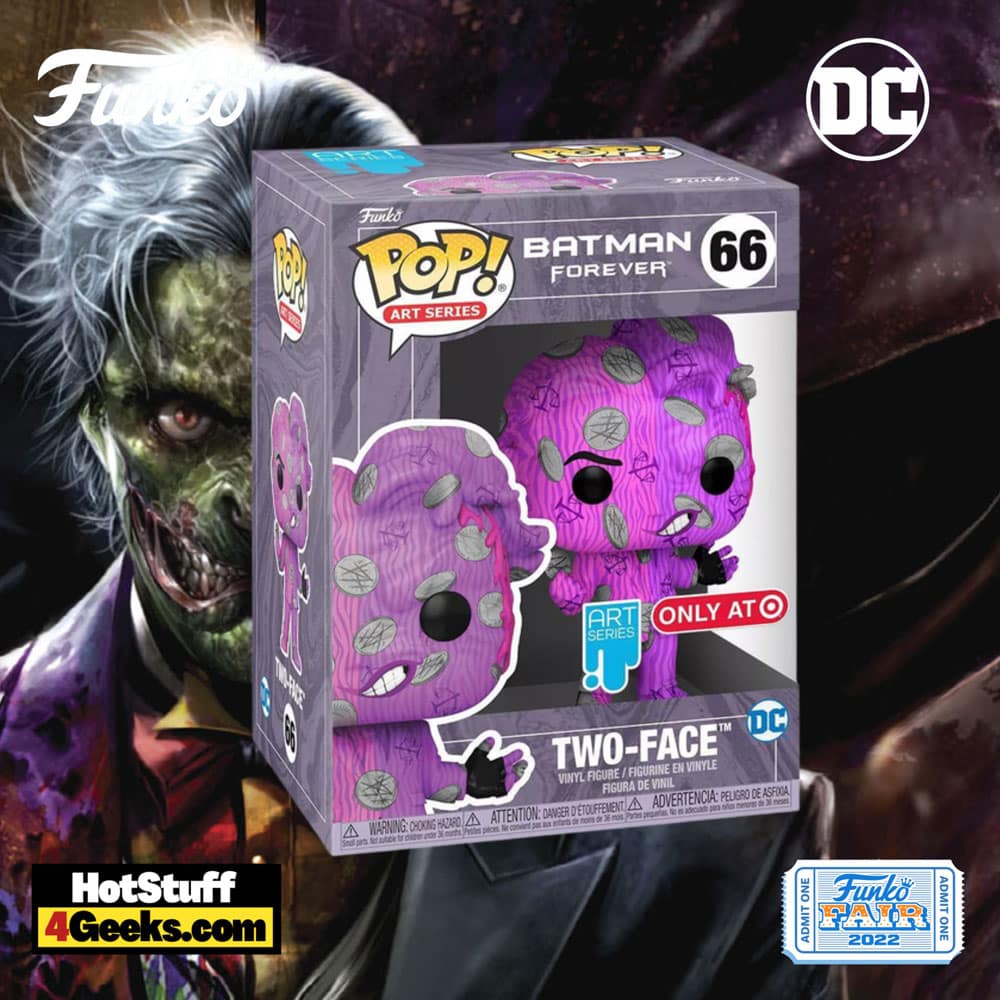 Although the Joker is considered Batman's most dangerous and important foe, Two-Face's deep tragic connection to the Night Lord's past makes him the most tragic of all.
Created by Bob Kane and Bill Finger, he debuted in Detective Comics #66 (1942). As a curiosity, the character was initially named Harvey Kent, but his last name was quickly changed to avoid the similarity with Clark Kent.
Born and raised in Gotham, Harvey Dent grew up in a lower-class home in a particularly violent environment. Mistreated by an alcoholic and abusive father (who used a two-sided coin), Harvey suffered from an early age several mental problems that marked him irreparably.
Despite suffering from paranoia and bipolar disorder, he was a good student and obtained a law degree. Then, trying to fulfill his desire to make Gotham a better place, he managed to become a district attorney.
Harvey always stood out for his dedication to his profession, blind trust in justice, and incorruptibility. So when Batman began to act in Gotham a few months after he was sworn in, Dent became one of his first advocates within the law.
During the trial of mobster Sal Maroni, Maroni threw acid in Dent's face, which would become horribly deformed. With half of his face turned into a monstrous reflection of his inner demons, Harvey quickly lost his mind, becoming obsessed with duality and turning to a life of crime.
However, in The New 52 continuity, Dent worked as a defense attorney before moving up. While collaborating with Batman and Commissioner Gordon, he was attacked by Erin McKillen, a former client and mobster he had sent to Blackgate shortly after becoming district attorney.
McKillen escaped from prison, murdered his wife Gilda, and was ultimately responsible for Harvey Dent's rampage into madness after smashing his face with acid.
Clearly inspired by the Jekyll and Hyde myth, Harvey Dent's mastermind was obsessed from the beginning with the number two.
His evolution is the perfect (and sad) portrait of the psychologically tormented hero. Finally, he falls from grace and succumbs to his inner demons, becoming a dangerous criminal obsessed with the duality of being human.
As the spoiled child of the Gotham City District Attorney's office, Dent worked side by side with a young Captain James Gordon, and an inexperienced Batman to cleanse the city of corruption and organized crime.
However, the friendly relationship between the three would break down when Dent assumed his Two-Face identity.
Starting now, you can receive 10% off in-stock items with my special link at Entertainment Earth!
 Enjoy!
As an Amazon Associate I earn from qualifying purchases
Want more stuff like this?
Get the best viral stories straight into your inbox!
Don't worry, we don't spam